Chasers' Dziedzic tosses 6 2/3 hitless innings
Royals southpaw fans six; Jackson breaks up no-hitter in ninth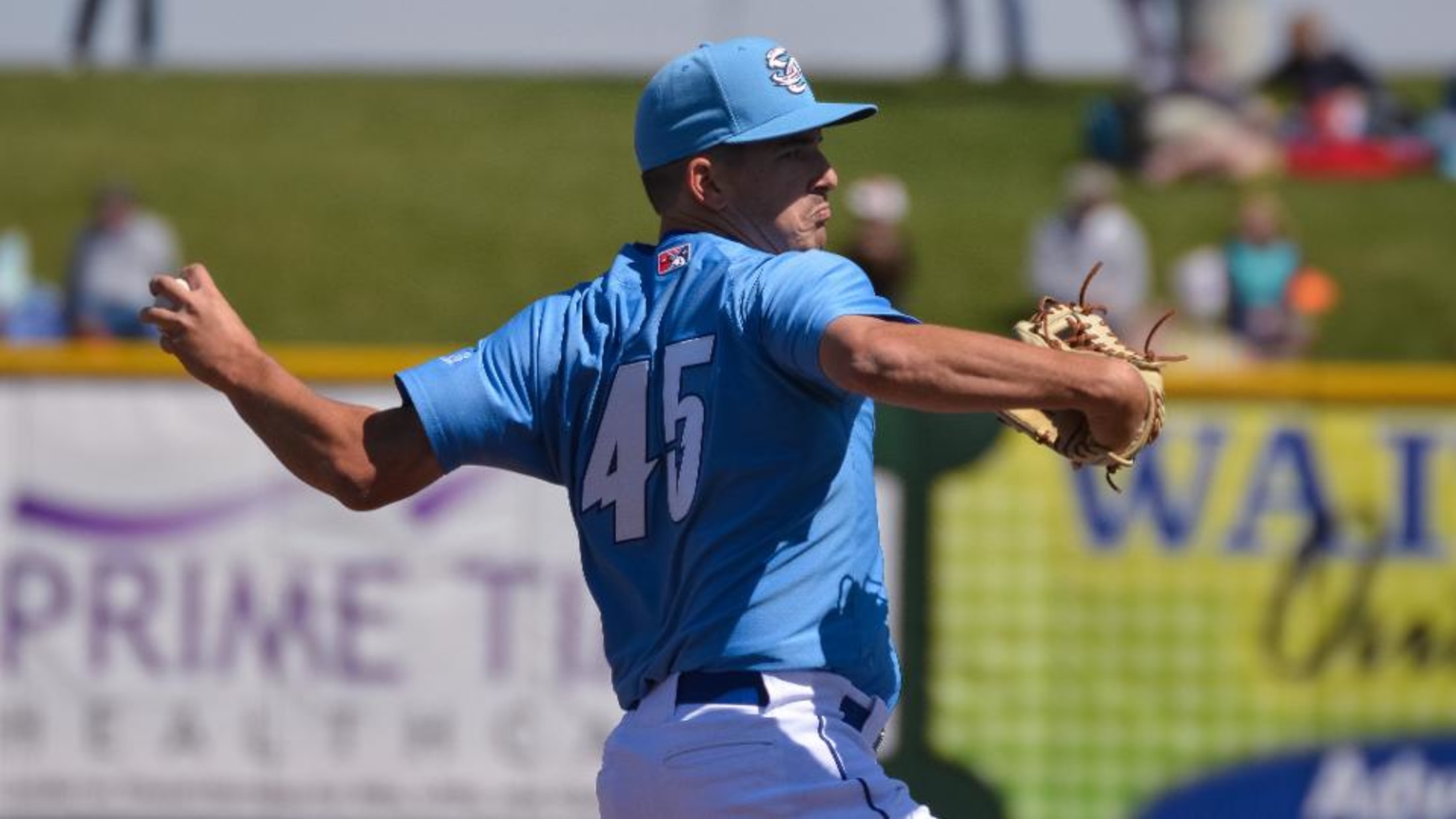 Jonathan Dziedzic is tied for third in the Pacific Coast League with 16 strikeouts and eighth with a 1.04 ERA. (Minda Haas Kuhlmann)
As he handed the ball to manager Brian Poldberg in the top of the seventh, it finally hit Jonathan Dziedzic -- and that was the only thing that hit him on Sunday. The Royals left-hander tossed 6 2/3 hitless innings, allowing two baserunners and striking out six, as Triple-A Omaha held New Orleans
As he handed the ball to manager Brian Poldberg in the top of the seventh, it finally hit Jonathan Dziedzic -- and that was the only thing that hit him on Sunday.
The Royals left-hander tossed 6 2/3 hitless innings, allowing two baserunners and striking out six, as Triple-A Omaha held New Orleans to one hit in a 7-0 blanking at Werner Park.
"I was trying hard not to think about what was going on too much," Dziedzic said. "After I was pulled, I kind of looked up and realized it all. Nobody had said anything to me until afterwards when a couple of guys were talking about what was going on."
Box score
The 26-year-old southpaw was efficient early, recording four punchouts and needing 42 pitches to get through the Baby Cakes lineup the first time.
"I felt pretty good in my warmups before the game and I tried to carry that into my outing," Dziezic said. "My catcher, Parker Morin, was calling a great game and we were in a great rhythm. He definitely took some of the pressure off of me as the game went on."
Dziedzic (2-1) continued his perfect roll into the middle innings, retiring the side on nine pitches in the fourth and collecting another strikeout in the fifth.
"I was relying on my changeup a lot and would mix in a curveball on occasion. When I got ahead, I was using a fastball inside or a changeup down in the zone. We were sticking to the scouting report we had coming into the game," the 2013 13th-round pick said.
After Dziedzic retiring his 16th hitter in a row, New Orleans got a man on when Isaac Galloway reached on a throwing error by shortstop Ramon Torres. Dziedzic walked Ryan Jackson but quickly snapped back into form by sitting down the next two hitters.
"Following the error, I felt like a I made a couple of good pitches to Jackson; unfortunately I walked him," he said. "But the biggest thing is to stay focused on what we went over before the game and not let the baserunner throw you off your game. So I just kept attacking the hitters the same way and trusted my stuff."
When Dziedzic was given the green light to begin the seventh, he knew he was on a short leash. The Texas native got Brandon Barnes to ground out before putitng a bow on his outing by fanning Destin Hood.
"I had a feeling, because I had a couple of long innings, that I was getting pretty close to my pitch limit," he said. "Early in the year you don't want to go too far over, so I was trying to be as efficient as I could to get quick outs before handing it over to the bullpen."
Major League veteran Bobby Parnell relieved Dziedzic and finished off the inning before working a clean eighth to put the Storm Chasers three outs away from their first no-hitter in 20 years. When Parnell's outing was over, Dziedzic was in the dugout to congratulate him, but the two made no mention of what was going on.
"I told Bobby, 'Good job' and he told me, 'Good job' and then we both just went and sat on the bench and tried not to think about it," Dziedzic said.
Royals top prospect Matt Strahm took over to begin the ninth and allowed a leadoff single to Jackson. Even though he lost the no-hit bid, Strahm was able to preserve the shutout with three quick outs.
"When we were shaking hands, Strahm kind of gave me a smile, joking around a bit," Dziedzic said. "In the end, we won the game and our pitching staff tossed a shutout, so you can't really ask for more than that."
In three starts this season, Dziedzic has a 1.04 ERA and 0.81 WHIP with 16 strikeouts over 17 2/3 innings.
"Last year, I was having some trouble with command, so I'm focused on attacking hitters in order to get ahead. Right now, timing-wise I feel good and, hopefully, things will keep going as they are," he added.
Torres hit a grand slam in the second inning and Whit Merrifield went 3-for-4 with a double for the Storm Chasers.
On Friday, Scott Copeland went seven innings and combined with Hunter Cervenka and Brandon Cunniff on New Orleans' first no-hitter since 2001.
Michael Leboff is a contributor to MiLB.com.