June 28: Ducks hit four homers, but SeaWolves claw back for 11-10, 10-inning win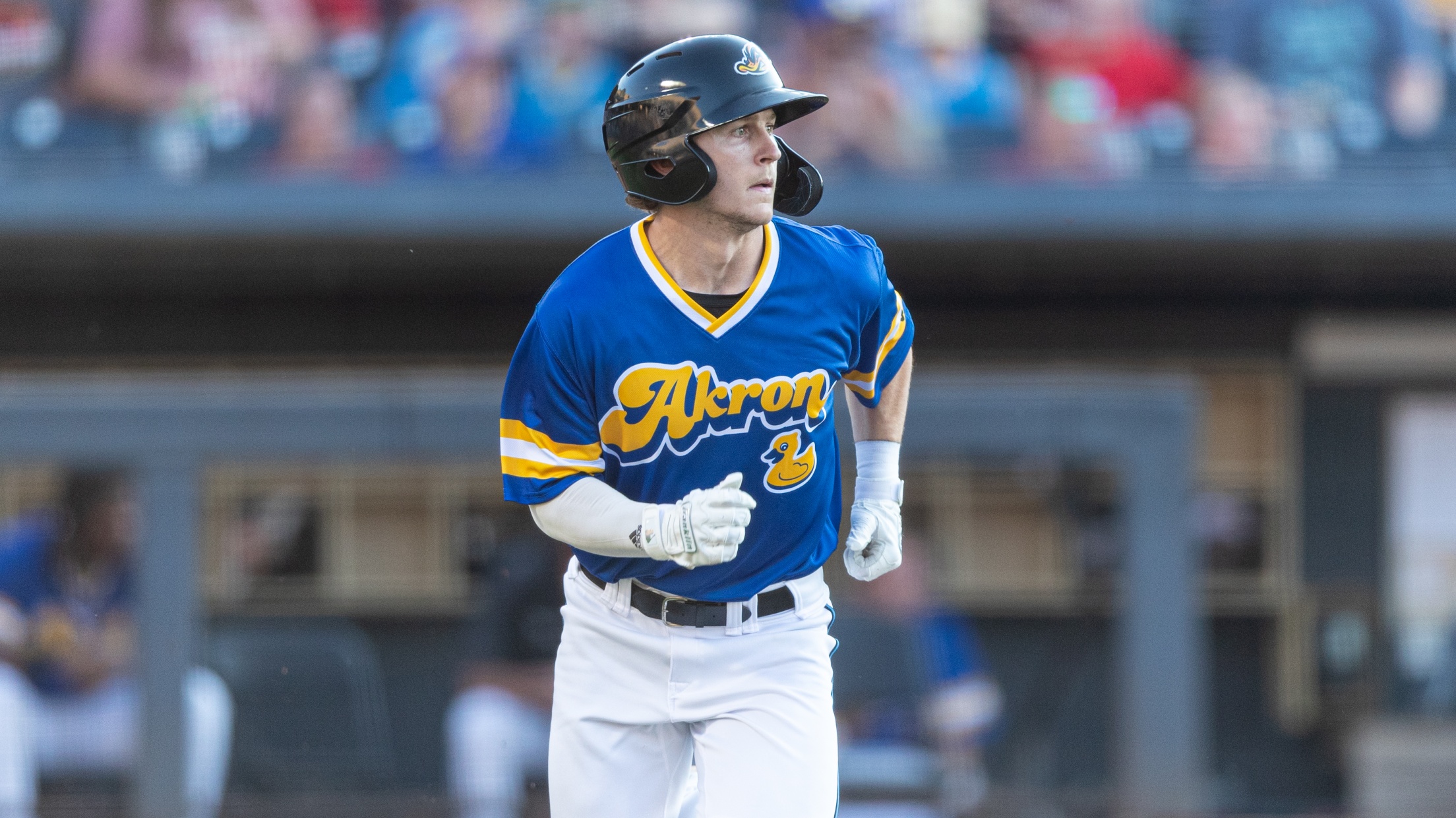 Chris Roller hit a game-tying inside-the-park home run (his third home run with Akron this season) in the ninth inning Tuesday in Erie. (David Monseur, Accent Images Photography)
June 28 RubberDucks Game Recap | Box Score Erie SeaWolves (1-0, 40-30) 11, Akron RubberDucks (0-1, 40-30) 10 WP: Yaya Chentouf (3-1) LP: Thomas Ponticelli (0-1) Save: None Summary The Akron RubberDucks hit four home runs, tying a season high, but Erie rallied for its first lead of the game
June 28 RubberDucks Game Recap | Box Score
Erie SeaWolves (1-0, 40-30) 11, Akron RubberDucks (0-1, 40-30) 10
WP: Yaya Chentouf (3-1) LP: Thomas Ponticelli (0-1) Save: None
Summary
The Akron RubberDucks hit four home runs, tying a season high, but Erie rallied for its first lead of the game with a five-run eighth inning, and the SeaWolves won the series opener on a 10th-inning leadoff walk-off double by second baseman Wenceel Perez on right-hander Thomas Ponticelli's only pitch for an 11-10 Erie victory Tuesday night at UPMC Park.
Turning Point
Akron led from the first inning until the eighth, when the SeaWolves rallied from a 9-5 deficit for five runs to overtake the RubberDucks. Right-hander Kyle Marman walked catcher Dillon Dingler to begin the inning and gave up back-to-back one-out singles to make it 9-6. With the bases loaded, including the tying run, right-hander Cade Smith entered and allowed a sacrifice fly by Perez, before third baseman Andre Lipcius hit a game-tying two-run double, and first baseman Dane Myers hit an RBI single to give Erie its first lead at 10-9.
Mound Presence
Right-hander Hunter Gaddis struck out five batters in a row from the first to the third innings. He gave up three runs, including a two-run home run to right fielder Eric De La Rosa, while working through the first five innings, allowing six hits and two walks with eight strikeouts. Left-hander Eli Lingos allowed an earned run in the sixth inning. Marman was charged with five runs in 1 1/3 innings, and Smith was charged one in 1 2/3 innings. Ponticelli allowed an unearned run.
Duck Tales
Left fielder George Valera hit his team-high 13th home run in the first inning, first baseman Micah Pries hit his 12th in the second, and right fielder Jhonkensy Noel hit his first in Double-A (and Guardians organization-leading 20th this season) in the fourth to help build a 4-1 lead. Shortstop José Tena hit a three-run double in the sixth inning to make it 7-3. Center fielder Chris Roller hit a ninth-inning inside-the-park homer to tie the game, 10-10, off right-hander Yaya Chentouf – the first inside-the-park home run for Akron since Jonathan Engelmann hit one in Bowie on June 20, 2021.
Micah Pries ate his Wheaties this morning :) pic.twitter.com/hmltuLGjRl

— Akron RubberDucks (@AkronRubberDuck) June 28, 2022
New guy has some power. pic.twitter.com/rgMUHjoEpi

— Akron RubberDucks (@AkronRubberDuck) June 28, 2022
🚨INSIDE THE PARK HOME RUN🚨 CHRIS ROLLER !! pic.twitter.com/DfWWbBtAT7

— Akron RubberDucks (@AkronRubberDuck) June 29, 2022
Notebook
Tena's three-run double gave him his first three-RBI game of the season…Akron hit four home runs for the second time this season (also June 10 in Somerset)…Akron lost three straight games for the first time since May 29-June 2…Akron is 5-4 in extra innings and 10-11 in one-run games…Game Time: 3:21…Attendance: 1,831.
On the Pond
The RubberDucks continue their six-game series in Erie at 6:05 p.m. EDT Wednesday. Left-hander Joey Cantillo (4-3, 2.04 ERA) is scheduled to face SeaWolves right-hander Wilmer Flores (3-1, 3.26 ERA). The game broadcast, powered by FirstEnergy, is on 640 WHLO, the 640 WHLO iHeartRadio channel, and akronrubberducks.com, and available on MiLB.TV. Tickets for RubberDucks home games are available at akronrubberducks.com/tickets.