July 2: RubberDucks defy defeat in 10-9, 12-inning win in Erie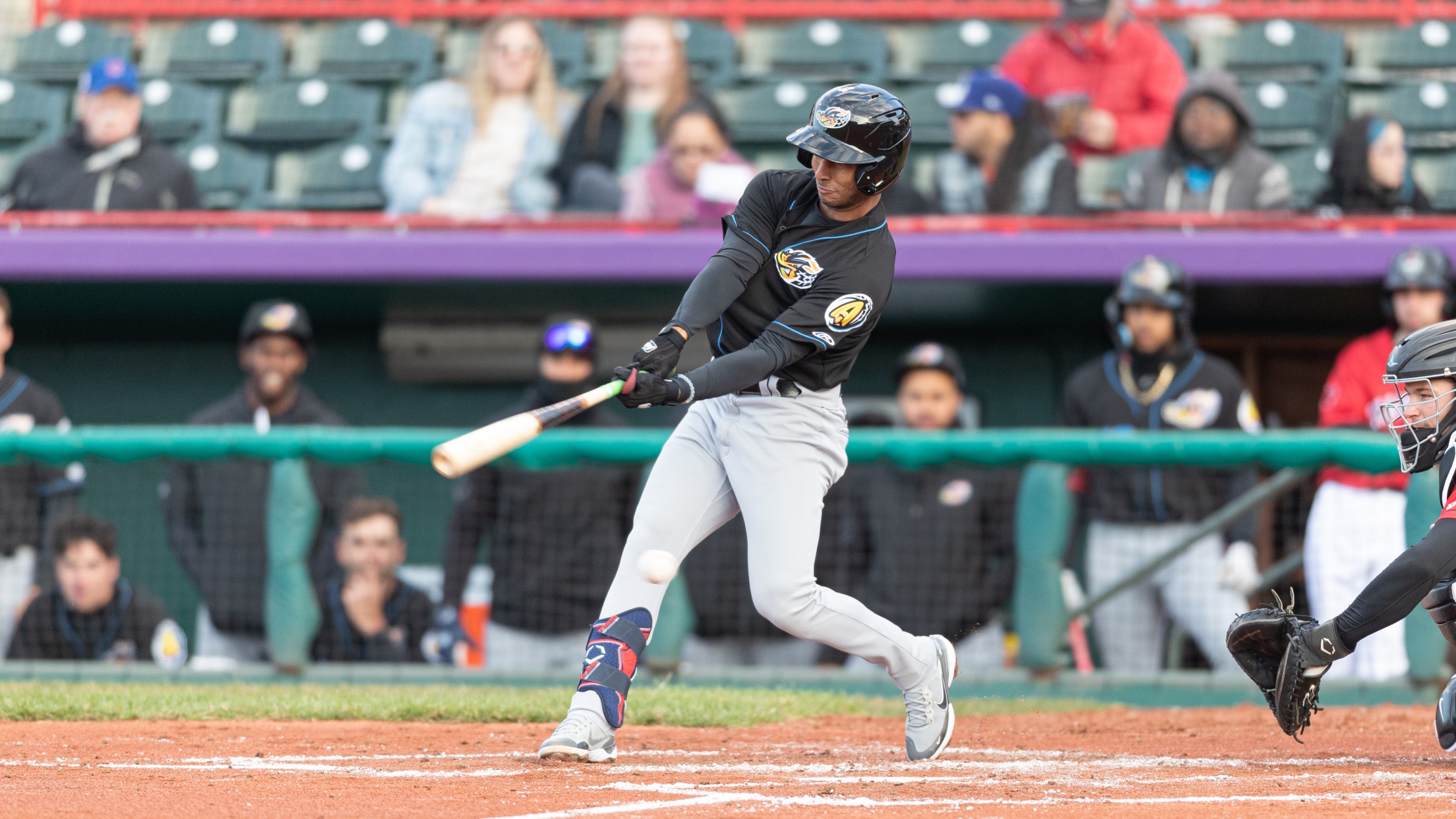 Brayan Rocchio hit the game-tying double and go-ahead home run in Saturday's win in Erie. (David Monseur, Accent Images Photography)
July 2 RubberDucks Game Recap | Box Score Akron RubberDucks (2-2, 42-31) 10, Erie SeaWolves (2-2, 41-32) 9, (12 innings) WP: Robert Broom (2-0) LP: Zac Houston (0-2) Save: None
July 2 RubberDucks Game Recap | Box Score
Akron RubberDucks (2-2, 42-31) 10, Erie SeaWolves (2-2, 41-32) 9, (12 innings)
WP: Robert Broom (2-0) LP: Zac Houston (0-2) Save: None
Summary
The RubberDucks overcame a 6-1, seventh-inning deficit and being down to their final strike, as Akron second baseman Brayan Rocchio hit a game-tying double in the ninth inning and a tie-breaking two-run home run in the 12th inning to lead a 10-9, 12-inning win – the season's largest comeback victory – over the Erie SeaWolves at UPMC Park Saturday night.
Turning Point
After Rocchio's ninth-inning RBI double, the game was tied, 6-6, through the 11th inning. With shortstop José Tena placed at second base, Rocchio led off the 12th against right-hander Zac Houston with a two-run home run to right-center field – his third in two games – for an 8-6 lead. Left fielder George Valera reached on an error, and right fielder Jhonkensy Noel hit a two-run homer to left field – for his second straight two-homer game – to make it 10-6.
JHONKENSY NOEL LANDS ONE ON THE ROOF.

This dude is unreal. 🤯 pic.twitter.com/n1xmHcj7U4

— Akron RubberDucks (@AkronRubberDuck) July 3, 2022
Mound Presence
Right-hander Tanner Burns allowed a first-inning, two-run homer to first baseman Quincy Nieporte. Burns allowed three earned runs on three hits and four walks with six strikeouts in 3 1/3 innings. In the fourth, right-hander Kyle Marman entered and allowed right fielder Daniel Cabrera's two-run home run for a 4-0 Erie lead. After Marman's 1 2/3 innings, right-hander Cade Smith started the sixth and gave up a double, three walks and Nieporte's two-run single to make it 6-1. Left-hander Eli Lingos pitched 1 1/3 scoreless innings. Right-hander Robert Broom shut out Erie from the ninth through the 11th, allowing a 12th-inning, three-run homer to shortstop Gage Workman before finishing the game for four innings.
Duck Tales
After right-hander Chance Kirby tossed five scoreless innings, Noel took him deep to lead off the sixth inning to cut it to 4-1. In the seventh against right-hander Brendan White, third baseman Daniel Schneemann and catcher Angel Lopez hit consecutive singles, first baseman Marcos Gonzalez walked, and Tena hit a two-run single to left-center field. Valera hit a two-out RBI single off right-hander Kyle Zurak, who threw a wild pitch to make it 6-5. With two outs in the ninth against right-hander Yaya Chentouf, Tena doubled to right-center field, and Rocchio hit a game-tying double to right field.
NOEL 💣 pic.twitter.com/hLUHyvYXbl

— Akron RubberDucks (@AkronRubberDuck) July 3, 2022
JOSE! JOSE! JOSE! JOSE! 📣

Tena scores ✌️ pic.twitter.com/mwulwbvTF9

— Akron RubberDucks (@AkronRubberDuck) July 3, 2022
Hey, we'll take it. pic.twitter.com/fEFnagmYLv

— Akron RubberDucks (@AkronRubberDuck) July 3, 2022
Jose Tena keeps us alive! 😏 pic.twitter.com/BTZhqEw6BF

— Akron RubberDucks (@AkronRubberDuck) July 3, 2022
Rocchio ties the ballgame in the top of the 9th!! 😍🥰😍🥰😍🥰 pic.twitter.com/F8vDJGA1iH

— Akron RubberDucks (@AkronRubberDuck) July 3, 2022
Notebook
Micah Pries extended a 10-game hitting streak, the club's longest this season…Akron has hit 13 home runs in four games in Erie…The RubberDucks are 6-4 in extra innings…Game Time: 4:22 (season long)…Attendance: 5,090.
On the Pond
The RubberDucks conclude their series in Erie at 6:05 p.m. EDT Sunday. Right-hander Gavin Williams (0-1, 2.89 ERA) is scheduled to face SeaWolves right-hander Markus Solbach (2-4, 4.29 ERA). The game broadcast, powered by FirstEnergy, is on 640 WHLO, the 640 WHLO iHeartRadio channel, and akronrubberducks.com, and available on MiLB.TV. Tickets for RubberDucks home games are available at akronrubberducks.com/tickets.