Bisons' Borucki stellar in Triple-A debut
Jays No. 14 prospect records second straight scoreless start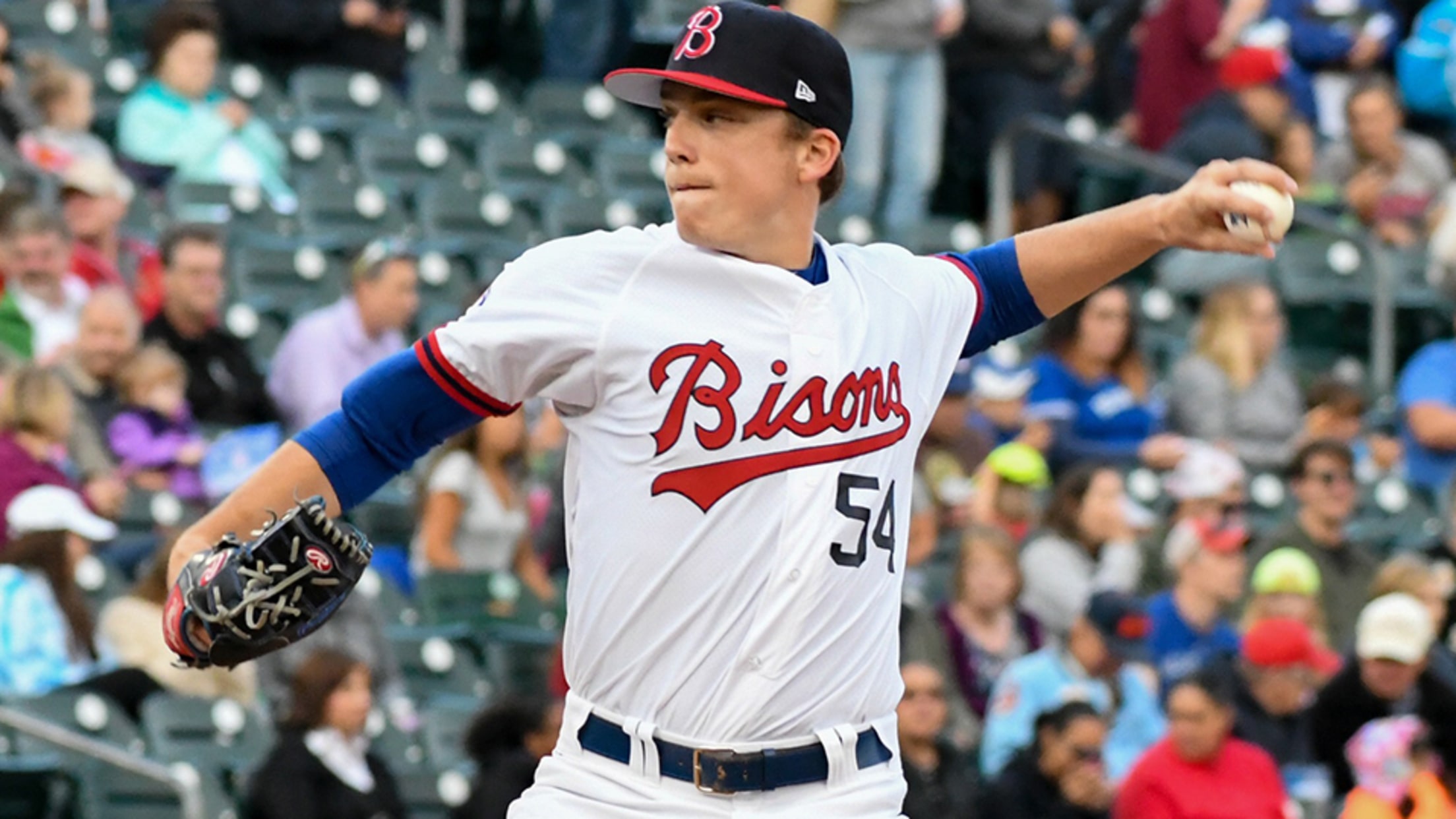 In seven Double-A starts, Ryan Borucki sported a 1.94 ERA and held opposing batters to a .187 average. (Joe Hrycych/Buffalo Bisons)
Ryan Borucki knows how to make a first impression. The left-hander hurled seven scoreless innings in his debut with Double-A New Hampshire on July 23. He did more of the same in his first start for Triple-A Buffalo on Thursday night.The Blue Jays' 14th-ranked prospect did not yield a run
Ryan Borucki knows how to make a first impression. The left-hander hurled seven scoreless innings in his debut with Double-A New Hampshire on July 23. He did more of the same in his first start for Triple-A Buffalo on Thursday night.
The Blue Jays' 14th-ranked prospect did not yield a run over six innings en route to the Bisons' took a 4-2 victory over the Pawtucket Red Sox at Coca-Cola Field. Borucki allowed six hits and a walk while striking out six in his 26th, and likely final, start of the season.
"It's definitely been a whirlwind this year. I've been trying to enjoy it as much as I could," the 23-year-old said. "I never thought in a million years that I would be in Buffalo at the end of the year. It was definitely not an environment I'm used to."
Gameday box score
After being selected out of high school in the 15th round of the 2012 Draft, Borucki required Tommy John surgery that kept him out for all of the 2013 season.
In each of the past three years, he has shifted to a different level during the season, twice going up and the third time moving a step backward. Borucki broke camp last spring with Class A Advanced Dunedin and made six starts before being sent down to Class A Lansing for the remainder of the year.
"Missing time in '13 definitely set me back a little bit," the Illinois native said. "I just had to keep going and stay motivated throughout those rehabs."
Borucki made the most of his second chance in the Florida State League to begin his 2017 campaign, compiling a 6-5 record and a 3.58 ERA with 109 strikeouts in 18 starts. That was followed by an impressive run with Double-A New Hampshire, where he went 2-3 with a 1.94 ERA and struck out 42 over 46 1/3 innings while holding opposing batters to a .187 average.
"My biggest priority was just trying to stay healthy," he said. "That's what I'm most proud about, not about the numbers, just the fact that I was able to stay healthy for 26 starts."
The 6-foot-4, 175-pound lefty started his night off with a bang, registering his first two Triple-A strikeouts to open the game and working around Matt Dominguez's single to center by getting Bryce Brentz to bounce into a forceout.
"Once I struck out that first guy, I kind of settled down a little bit," Borucki said. "I actually did the same thing in New Hampshire when I faced Trenton, my first batter there was a strikeout. It just really calmed my nerves and just settled down."
Jantzen Witte tagged Borucki for a one-out double the following inning and Tzu-Wei Lin was issued a free pass, but he coerced a ground-ball double play from Mike Miller to get out of trouble.
"I just try to pitch my game, try to control the outside part of the plate and just try and get as much weak contact as I could," Borucki said. "I left a couple pitches up, they made me pay for it, and I just tried to minimize the damage as much as I could."
The Illinois native struck out two in a perfect third, then overcame a leadoff single by Dominguez in the fourth and a two-out knock from Dan Butler in the fifth to keep Pawtucket off the board. In the sixth, Borucki sandwiched a pair of singles from Brian Bogusevic and Brentz around Dominguez's flyout and was again the beneficiary of a double play from Blake Swihart to complete his outing in 85 pitches, 5 for strikes.
"The outside part of the plate fastball, especially arm-side, that's where I have success is when I control that part of the plate," Borucki said. "Then I just put my changeup right on top of it."
Christian Lopes contributed a solo homer and No. 13 Blue Jays prospect Rowdy Tellez capped a three-run eighth with an RBI single for the Bisons.
Pawtucket's Witte doubled twice, singled and drove in a run and Dominguez finished 3-for-4.
Gerard Gilberto is a contributor to MiLB.com. Follow and interact with him on Twitter, @GerardGilberto4.