Yarbrough, Bulls sharp in Game 1 shutout
Rays No. 23 prospect delivers again in Governors' Cup opener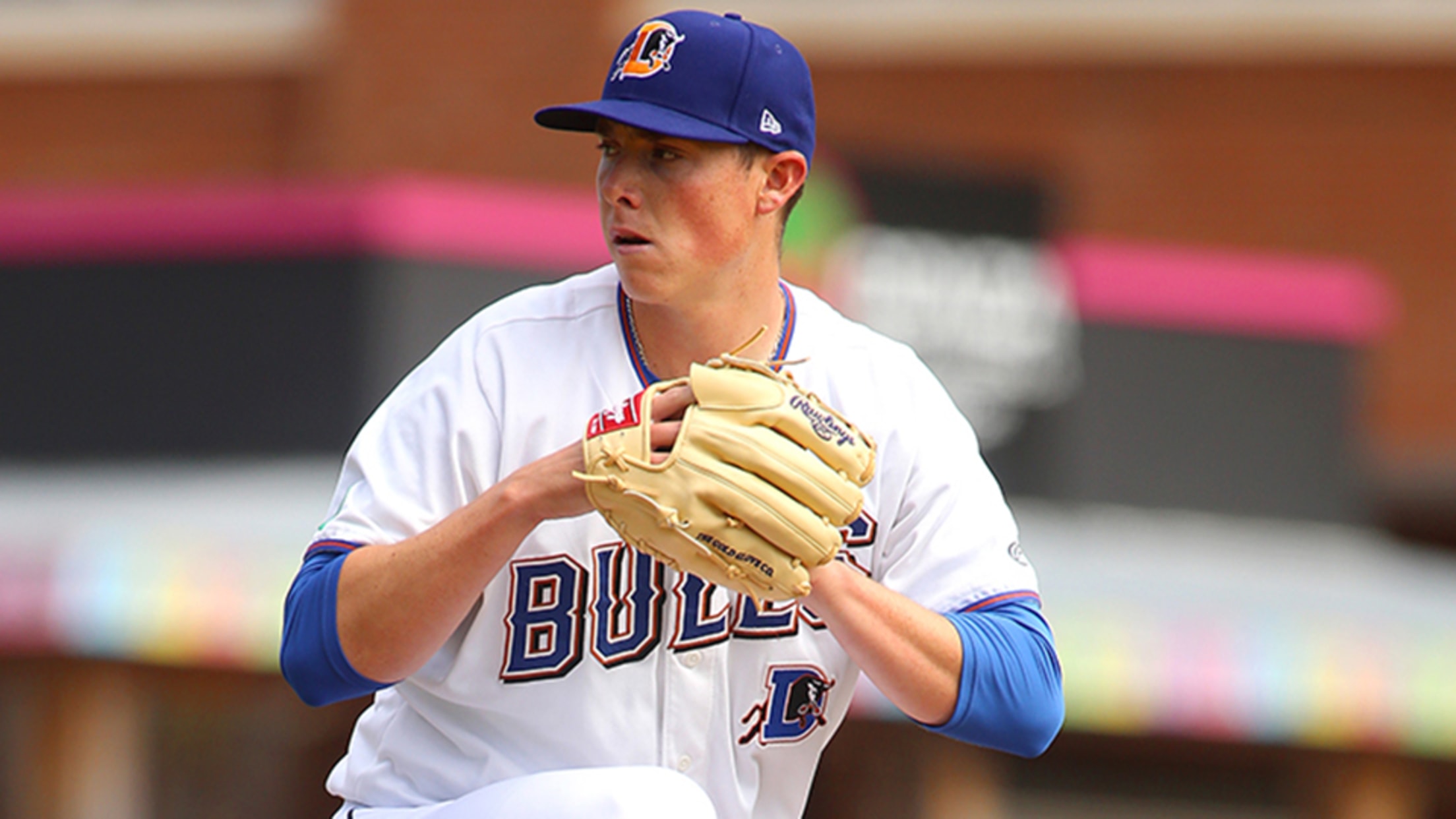 Ryan Yarbrough missed out on pitching for Jackson in the postseason last year due to injury. (Durham Bulls)
DURHAM, North Carolina -- Ryan Yarbrough's credentials have become impeccable the past couple of seasons, but he was lacking postseason accomplishments.He has made up for that in a hurry.
DURHAM, North Carolina -- Ryan Yarbrough's credentials have become impeccable the past couple of seasons, but he was lacking postseason accomplishments.
He has made up for that in a hurry.
Tampa Bay's No. 23 prospect delivered his second consecutive playoff gem for Triple-A Durham, this time holding the Scranton/Wilkes-Barre RailRiders to three hits over seven innings of Tuesday's 6-0 victory in Game 1 of the Governors' Cup Finals.
"Especially how we've played this year, I want to contribute as much as possible," Yarbrough said. "I wanted to stay aggressive out there."
Only one of the three singles allowed by the left-hander left the infield.
Gameday box score
Yarbrough, who hails from Lakeland, Florida, had been watching news reports almost nonstop earlier in the week as Hurricane Irma plowed through his home state.
"I'm glad everyone is safe," he said.
Although his father's home had been without power, but Yarbrough knew his dad was scrambling to find a way to watch his playoff start online. If he was able to do so, his father tuned into another sterling outing by the 25-year-old.
Yarbrough retired 11 batters in a row during one stretch until Mason Williams' one-out infield single in the sixth inning. After he struck out Donovan Solano, Williams was erased on a stolen-base attempt.
So the 2014 fourth-round pick faced the minimum number of batters from the third through seventh innings. He departed with a 6-0 lead after throwing 83 pitches, 53 for strikes.
"I feel fine," Yarbrough said. "I just wanted to keep it going for the team."
The southpaw, who got the Bulls off to a winning start in the semifinal round in the series opener last week against the Indianapolis Indians, led the league in strikeouts with 159 in 157 1/3 innings during the regular season.
"He has had a tremendous season and he's finishing the season strong," Bulls manager Jared Sandberg said. "We saved some innings for him (with shorter August outings) for the postseason. The way he has finished up is right where we wanted him."
Before an offseason trade from the Mariners, Yarbrough was the 2016 Pitcher of the Year in the Southern League. But he was sidelined by a groin injury and unable to pitch in the playoffs for the Double-A Generals.
So the 25-year-old never appeared in a postseason game as a professional until last week.
"I was like a team cheerleader last year," Yarbrough said. "But to go out and produce this year was awesome. That's something I definitely wanted to do."
Mason Williams and Donovan Solano singled in the first two at-bts of the game for the RailRiders. But a strikeout and a double play thwarted that threat.
"They came out and put some pressure on him early," Sandberg said. "We get that double play, and then go out there and score three runs for him. I think that settled him down a little bit."
Just like last week's Game 1 of the semifinals, Yarbrough had to wait through a pregame rain delay to get on the hill.
"Last start was the same thing, so I kept the same mindset," he said of the 59-minute wait. "I wanted to go out there and put us in a good situation."
Complete playoff coverage
Durham catcher Michael McKenry said the duo established a good pattern early.
"He's a workhorse," McKenry said. "He was making all his pitches. We were trying to get them to chase a little out of the zone and make soft contact."
Mike Broadway and Jeff Ames threw an inning of relief apiece to complete the three-hitter.
Rays No. 10 prospect Justin Williams made his Triple-A debut, doubling on the first pitch of his first at-bat in the second. He scored on Kean Wong's two-out single.
• Get tickets to Game 2»
That was the only hit in four at-bats for Williams, an outfielder who batted .301 in his first full season in Double-A with Montgomery.
The Bulls scored three times in the first inning, including an RBI single by Patrick Leonard. They added two more in the sixth on McKenry's two-out single.
Game 2 is scheduled to begin at 6:35 p.m. ET on Tuesday at Durham Bulls Athletic Park.
Bob Sutton is a contributor to MiLB.com.