Beede on cruise control for River Cats
Giants prospect hurls 6 2/3 shutout frames; Arroyo stays hot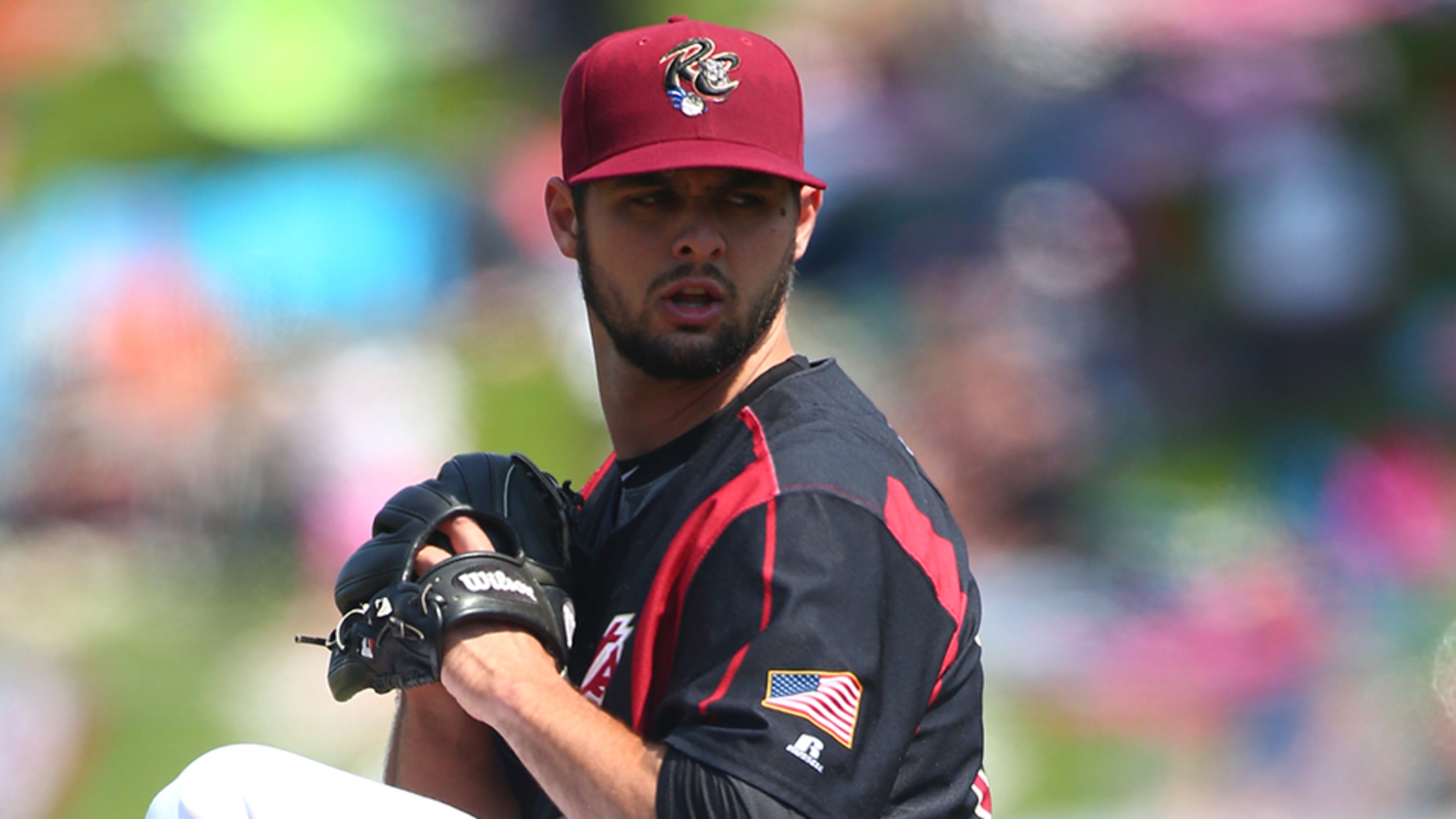 Tyler Beede lowered his ERA by 2.52 points with a scoreless effort on Wednesday. (Ralph Thompson)
Five nights ago, Tyler Beede was roughed up for six runs on five hits over four innings against Triple-A Salt Lake. Rather than letting that get to him when he faced the Bees again, the  Giants' top prospect reveled in the challenge.Beede held Salt Lake to three hits over 6 2/3 scoreless
Five nights ago, Tyler Beede was roughed up for six runs on five hits over four innings against Triple-A Salt Lake. Rather than letting that get to him when he faced the Bees again, the Giants' top prospect reveled in the challenge.
Beede held Salt Lake to three hits over 6 2/3 scoreless innings Wednesday before Sacramento dropped a 7-4 decision to the Bees at Raley Field.
Box score »
"Having a rough outing against a team and then having to face them in your next start is a good test," Beede said. "I used to take bad outings as a downer and dwell on it for a few days and let it ride into my next start, but now I've learned to embrace those bad outings as a positive in order to get better for my next start."
The 23-year-old right-hander rolled through the first inning, retiring the Bees in order on nine pitches.
"Getting into a groove early on was important to me," said Beede, who finished with four strikeouts. "I wanted to stick to my strengths early on and, luckily, my sinker was moving, especially late in the zone, so I was able to get some soft contact, which was able to set a nice tempo for me."
The River Cats jumped out to a 2-0 lead in the bottom of the frame, thanks to Christian Arroyo's second homer in as many nights. The long ball extended the Giants' No. 2 prospect's hitting streak to 12 games.
"He's one of the more talented hitters I've ever seen," Beede said. "He's always learning about the game, about hitting, about approach, and being able to implement that at such a young level is why he's taking his game to the next level. Hitting is difficult, but the tear he is on right now is just a byproduct of his work ethic and simplifying things at the plate."
Beede put together another clean frame in the second and retired the first two batters in the third before Matt Williams drew a two-out walk. He quickly erased the mistake by getting Eric Young Jr. to line to center field on the next pitch.
"For me, less is more," the Vanderbilt product said. "When I'm not trying to throw hard is when I can tap into some velocity later in the game, which allows me go deeper into the game and set us up for a win."
After a double play erased a leadoff single in the fourth, the 2014 first-round pick allowed the next two hitters to reach before getting Rey Navarro looking to escape unscathed.
"I really was able to trust my sinker to get out of that inning," Beede said. "Whenever I get into a jam like that I don't want to nibble too much. I was able to trust my pitches in the zone, knowing that a ball in play isn't necessarily a bad thing. I was certainly happy with my process tonight."
From there, Beede retired six of the next seven batters.
For the first time this season, the Massachusetts native was given the chance to come out for the seventh. He got two quick groundouts but was lifted after allowing a single to Ramón Flores.
Beede spent all of 2016 with Double-A Richmond, where he pitched to a 2.81 ERA and 1.28 WHIP in 24 starts. After an impressive showing at Spring Training, the Giants assigned him to Triple-A for the first time in his career. In three starts with the River Cats, he has a 3.78 ERA and 1.20 WHIP.
Beede exited with a 2-0 lead that Arroyo padded with an RBI single in the seventh. But the Bees scored six times in the eighth against relievers Roberto Gomez and Josh Osich (1-1), who recorded two outs and was charged with four runs on two hits and two walks.
Cody Ege (1-2) worked 1 1/3 hitless innings for the win.
Arroyo, MLB.com's No. 85 overall prospect, went 4-for-5 with four RBIs and is hitting .479 through his first 12 games at Triple-A.
Michael Leboff is a contributor to MiLB.com.