SAL notes: Bishop glad to be with Orioles
Shorebirds left-hander didn't foresee professional pitching career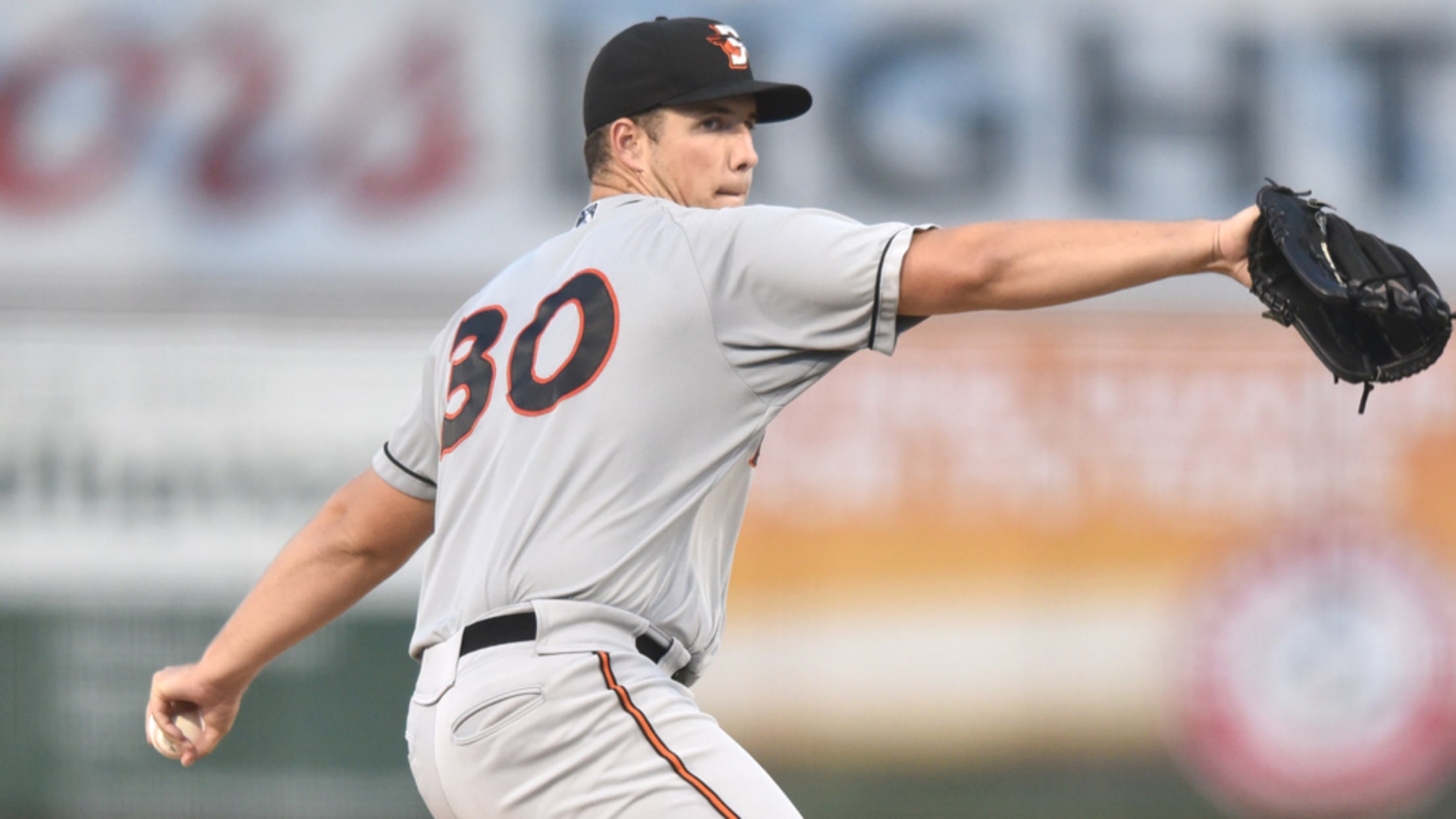 Cameron Bishop is 8-5 with a 2.95 ERA and 87 strikeouts compared to 18 walks in his first full season. (Ken Inness/MiLB.com)
There have been a couple times over the last several years when Cameron Bishop would have been surprised to learn that by 2018 he'd be a standout member of the Class A Delmarva pitching staff.In fact, Bishop did not envision his days on the diamond extending beyond his 2014 senior
There have been a couple times over the last several years when Cameron Bishop would have been surprised to learn that by 2018 he'd be a standout member of the Class A Delmarva pitching staff.
In fact, Bishop did not envision his days on the diamond extending beyond his 2014 senior season at Brea Olinda High School in Brea, California. His focus centered on academics, which led to the Brea Mayor's Youth Community Service Award and being named a Bank of America student leader. He also helped the nonprofit organization DreamCatchers get started at his high school.
"It's kind of like Make-A-Wish, only we work with hospice," Bishop said. "We granted dreams for hospice patients. Most of them were simple and easy. For example, one wanted us to clean her house. It was an extremely rewarding experience."
His future changed during his final high school season, in the spring of 2014, when the left-hander began pitching. He displayed impressive arm strength with his 6-foot-4 frame and wound up striking out 77 batters in 63 2/3 innings while posting a 1.65 ERA. The Arizona Diamondbacks drafted him in the 32nd round, but Bishop decided to continue his baseball career at UC Irvine.
A two-way player during his first two seasons with the Anteaters, Bishop had 30 RBIs and a 4.55 ERA in 31 2/3 innings as a freshman. He proceeded to strike out 79 batters in 70 1/3 frames with a 4.61 ERA as a sophomore before being tabbed as the top prospect in the summer West Coast League. His progress suggested that he had a chance to be drafted early in 2017 until he suffered an oblique injury while throwing a bullpen session just prior to the start of his junior season. It sidelined the southpaw for the entire campaign.
"It was definitely frustrating, especially going into it thinking I had a chance to be high on the Draft board," Bishop said. "I was hoping to pitch well for Irvine during the season, but I got hurt. All you can think about when you're hurt is, 'I'm done. I guess I'll wait until next year and hopefully be healthy and pitch well then.' Luckily, the Orioles saw something in me and gave me a shot, which is all you can ask for as a ballplayer. Now, here I am."
Signed at the last minute by Baltimore after the team drafted him in the 26th round, Bishop has impressed during his short time in pro ball. He debuted last summer with Class A Short Season Aberdeen in the New York-Penn League, splitting two decisions while posting an 0.78 ERA in 35 innings over eight starts. He's spent the entire 2018 slate with the Shorebirds, with whom he owns an 8-5 record while ranking third in the South Atlantic League with a 1.03 WHIP and sixth with a 2.95 ERA.
"It's been a good ride so far and I'm excited about finishing this season strong," Bishop said. "I have a list of things I need to work on, but becoming more consistent is at the top. I have a lot of outings where I do well but there seems to be one inning that bites me. I'm working on remaining locked in and not looking toward the future while staying in the present. I'm also trying to get better off-speed command with my changeup and slider. There are several things I need to do, but I'm happy with the way my arm feels and the way my body is responding in my first full season."

In brief
Adios, amigos:
Two of the SAL's more productive sluggers were part of deadline deals. Asheville first baseman
Chad Spanberger
, who had 22 home runs with 75 RBIs while batting .315/.363/.579, was traded to Toronto as part of the deal that sent reliever Seung-hwan Oh to Colorado. The Braves dealt Rome third baseman Jean Carlos Encarnacion, who had a team-high 57 RBIs to go with 10 homers and a slash line of .288/.314/.463, to Baltimore as part of the package for starting pitcher
Kevin Gausman
.
Mound domination:
Lakewood owns the best overall record in the SAL this season at 67-40, thanks in large part to the pitching staff's 2.79 ERA, the lowest among all full-season Minor League teams. The BlueClaws' 20 shutouts are nine more than second-ranked Augusta, and Lakewood also leads the league with 1,003 strikeouts. Left-handers
David Parkinson
and
Will Stewart
rank first and second on the circuit with ERAs of 1.51 and 1.88, respectively. Parkinson owns an 8-1 record, while Stewart is 7-0.
Two firsts:
Columbia shortstop
Hansel Moreno
recorded the first inside-the-park home run in the Fireflies' three-year history when he accomplished the feat on July 28 during a 5-1 victory over the GreenJackets. He also notched the first inside-the-parker at Augusta's SRP Park. Two days earlier at Rome, Moreno had a traditional home run, his second of the season, in a 14-5 loss to the R-Braves.
Bill Ballew is a contributor to MiLB.com.