Salem's Gonzalez spins another scoreless gem
Red Sox prospect extends Carolina shutout run to 20 2/3 innings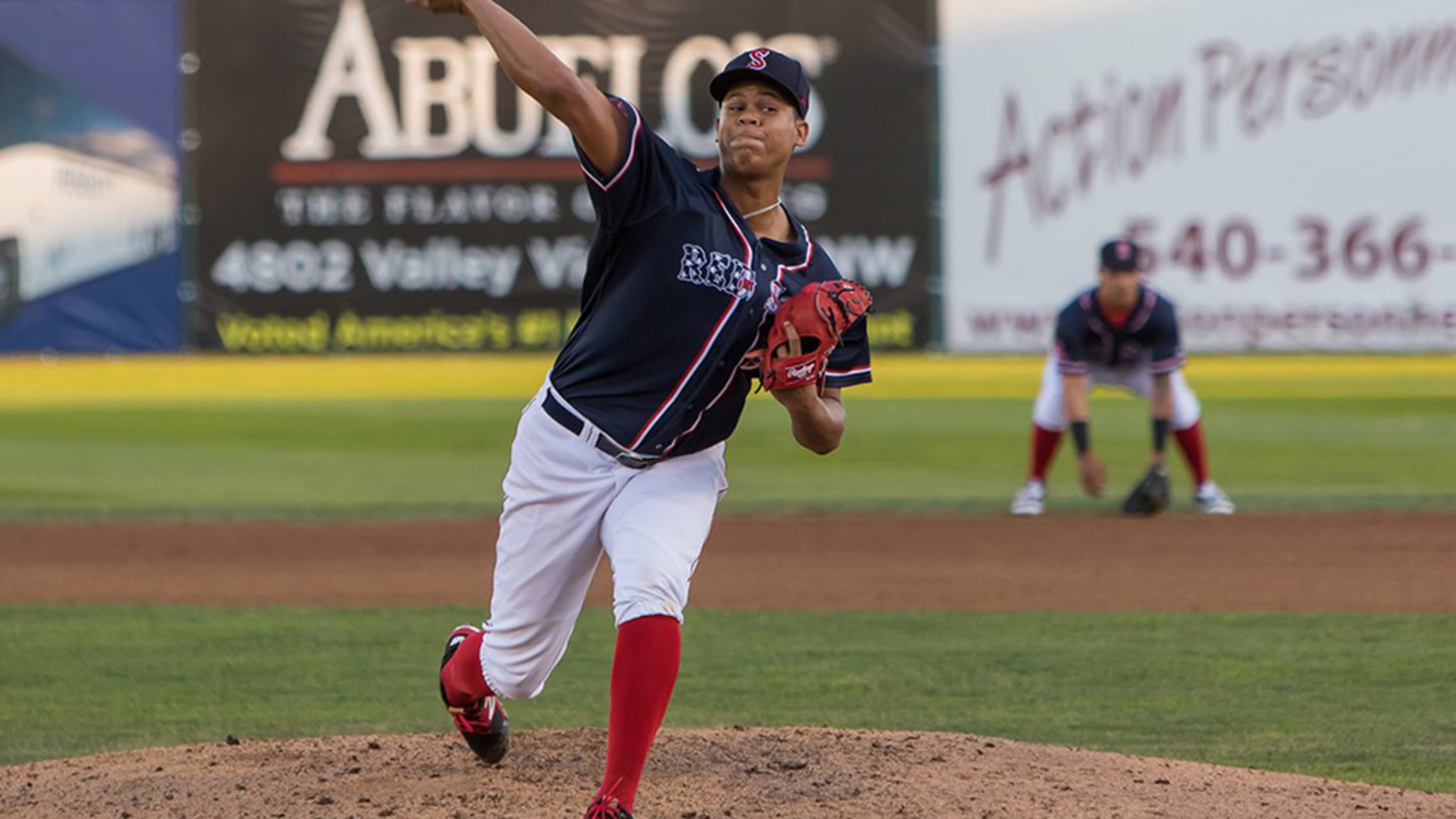 Daniel Gonzalez has 31 strikeouts and six walks in six starts since a promotion from Class A Greenville. (Salem Red Sox)
While he might not have the most overpowering stuff, Daniel Gonzalez keeps hitters guessing by using a deceptive arm slot with all of his pitches. It's an approach that continues to work. The Red Sox farmhand allowed three hits and fanned a season-high nine over seven scoreless innings as Class A
While he might not have the most overpowering stuff, Daniel Gonzalez keeps hitters guessing by using a deceptive arm slot with all of his pitches. It's an approach that continues to work.
The Red Sox farmhand allowed three hits and fanned a season-high nine over seven scoreless innings as Class A Advanced Salem topped Winston-Salem, 5-1, on Saturday night at Haley Toyota Field.
"He has a nice four-pitch mix that he throws for strikes," Red Sox pitching coach Paul Abbott said. "The fastball is deceptive. It has sneaky life thanks to the three secondary pitches. They're all different in their own way, with shape and velocity. His changeup is his best secondary [pitch]. They have four left-handers and it was a really nice pitch to use for them. It made his fastball more valuable. He has a curveball that he can steal strikes with and his slider off of the curveball and fastball is a nice pitch, too."
The right-hander spent the bulk of the season with Class A Greenville, going 7-3 with a 3.39 ERA in 23 games, including six starts. But Gonzalez also made four starts with Salem in May and June, throwing six scoreless innings in a 3-1 win over the Dash in his final appearance on June 8.
Since returning from Class A on Aug. 25, the 21-year-old has posted back-to-back scoreless outings and hasn't surrendered a run in the Carolina League in 20 2/3 innings -- the longest stretch for any pitcher in the Red Sox organization this year. In six starts with Salem, Gonzalez (5-0) owns a 1.31 ERA and 0.87 WHIP in 34 1/3 frames.
Gameday box score
"He's pitching with a lot of confidence right now and it just exudes when he is on the mound," Abbott said. "He moves it in and out. ... It's been back-to-back impressive outings after going into the eighth [on Aug. 26 against Wilmington] and today giving us seven. We still have a pulse looking at the playoffs, so today was a big game for us."
Things got off to an inauspicious start for Gonazlez as Bryant Flete led off the game with a double to left before Louis Silverio singled to put runners on the corners. The native of Venezuela fanned No. 26 White Sox prospect Jameson Fisher and got Seby Zavala to pop out to shortstop before catcher Austin Rei nabbed Silverio trying to steal second.
"There's no stress in [Gonzalez's] demeanor," Abbott said. "Even with the first-and-third, you just didn't see him fazed at all. He just made quality pitches and got out of it and then cruised from there. He was definitely walking around with a lot of confidence and between the lines nothing changes."
Matt Rose smacked a one-out double in the second, but the 6-foot-5, 180-pounder retired the last 17 hitters, including the final four with swinging strikeouts. Gonzalez threw 65 of 96 pitches for strikes and faced two batters over the minimum.
"He stays on line and doesn't try to overdo any pitch," Abbott said. "As he moves up and continues to do that, hitters aren't going to be able to focus on one pitch. When he gets behind, he does what he needs to do to pitch backwards and he doesn't give in. That'll work later, that'll work up higher.
"By the time he gets to that point in the game [the seventh inning], the lineup's seen him a few times and they haven't scored a run and they don't know what he's going to throw. The guys are flustered swinging and missing at his changeup or a slider off the plate, but he's got enough on his fastball with that in the back of their mind, they can't sit on one pitch. So when he gets to that inning, he has an advantage because he's already in their head."
Gonzalez's latest efforts couldn't have come at a better time as Red Sox are still in the mix for a playoff spot.
• Get tickets to a Sox game »
"It's been great, he's stepped up and won two big games for us," Abbott said. "We would've been eliminated with a loss today and we weren't. We're going to need a lot of help, but it's fun going down to the last three games and still be in the hunt and having a reason to play for something."
Conrad Gregor launched his fourth home run of the season and scored twice, while Tyler Spoon singled twice and drove in two runs for Salem.
Andrew Battifarano is a contributor to MiLB.com. Follow him on Twitter, @AndrewAtBatt.