Lamet fans career-high 13 for Chihuahuas
Padres No. 12 prospect needs just 5 1/3 innings to set mark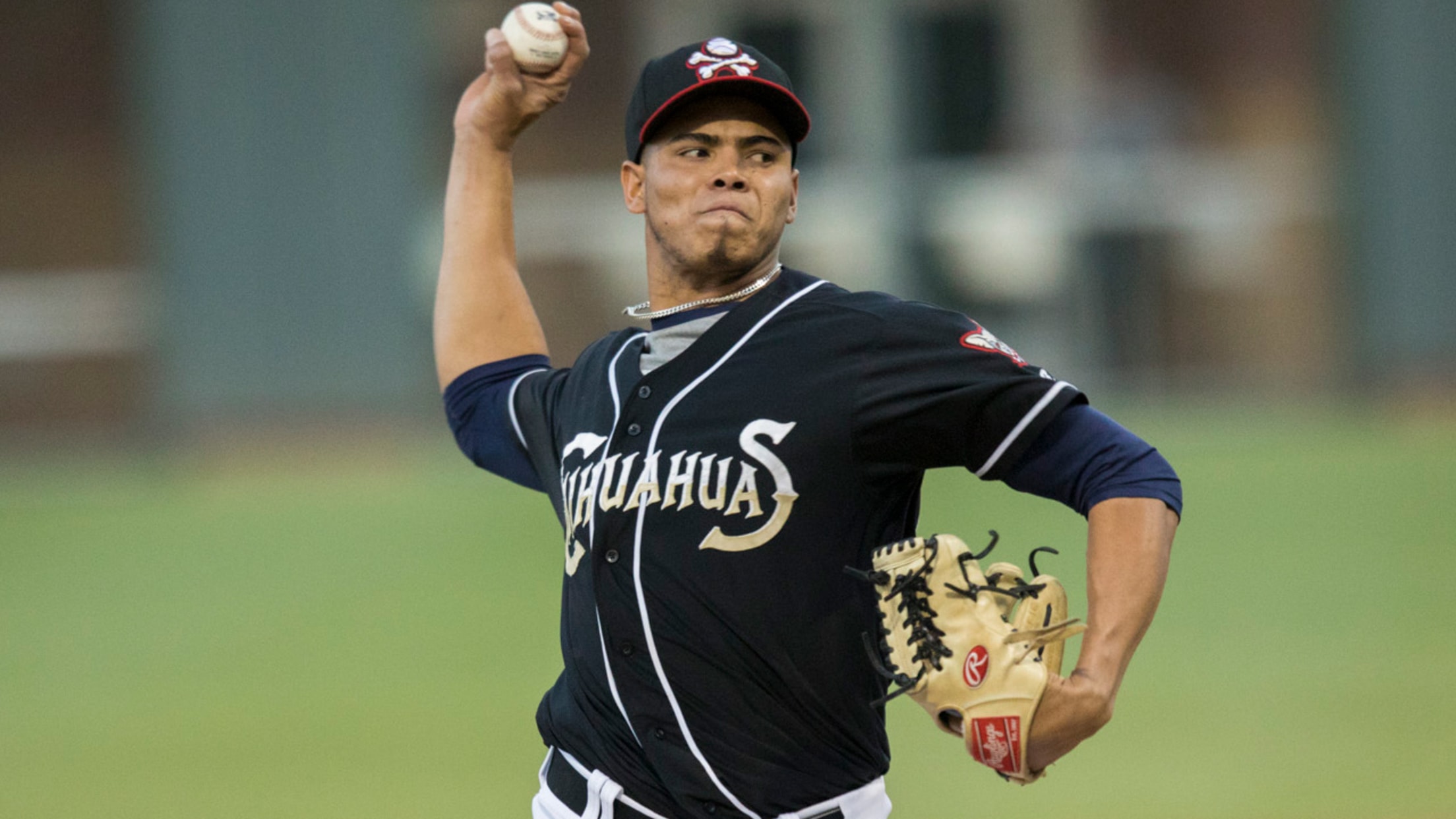 Dinelson Lamet made 28 combined starts across three levels in 2016. (El Paso Chihuahuas)
Triple-A Chihuahuas pitching coach Bronswell Patrick praised how well Dinelson Lamet spotted fastballs to induce weak contact on the ground Thursday night.It was something the Padres No. 12 prospect barely had to do.Lamet struck out a career-high 13 while allowing one run on three hits with three walks over 5 1/3
Triple-A Chihuahuas pitching coach Bronswell Patrick praised how well Dinelson Lamet spotted fastballs to induce weak contact on the ground Thursday night.
It was something the Padres No. 12 prospect barely had to do.
Lamet struck out a career-high 13 while allowing one run on three hits with three walks over 5 1/3 innings, but Triple-A El Paso fell to visiting Tacoma, 6-5 in 10 innings, at Southwest University Park.
"He had his fastball and slider working for him," Patrick said. "He was able to elevate fastballs when he was ahead in the count. He was also able to locate fastballs away tonight, and his slider was probably the best I've seen. I mean, his slider was a wipeout slider.
"He's worked hard in his bullpen sessions trying to get that thing right. His last outing, it was kind of backing up on him. Tonight, he showed that he can stay on top of the ball."
Lamet struck out two in each of the first three frames before fanning the side in the fourth and fifth innings. The 24-year-old didn't allow a hit until Tyler Smith reached on an infield single to second in the fifth, and Tacoma's lone run against the right-hander came on Gordon Beckham's leadoff homer to left-center field in the sixth.
His previous career high was 10 strikeouts for Double-A San Antonio on Aug. 3 at Corpus Christi. Lamet started 28 games in a breakout 2017 season between Class A Advanced Lake Elsinore, San Antonio and El Paso, but Patrick had never seen him this good before Thursday.
Box score
"Last year, I just felt like even with his stuff, his breaking ball wasn't as good as we saw it tonight," he said. "I think guys were just going up there and looking for one pitch, and that was his fastball, and when it was pretty much middle (of the plate), they didn't miss it. Now he's able to spot that thing glove-side. He even threw some two-seamers that were at the bottom of the zone to get a couple ground balls.
"I think he's learning how to use his two-seamer. He's able to spot the fastball down and away to right-handed hitters, and he's mixing in a good changeup and his slider has gotten a lot better."
The grounders, all to the right side, were the only outs on balls in play of the 16 Lamet recorded. Mariners No. 9 prospectDaniel Vogelbach bounced out to second in the first. Ben Gamel grounded out to first in the second, and Beckham was retired on a ground ball to second in the third.
"That's the best I've seen him since I've had him," Patrick said. "He was great. He had everything working."
Lamet's developmental track has been unique. The native of the Dominican Republic signed with the Padres in 2014 when he was 22. Last year's three-level climb made him a name to watch.
"I think throughout the whole organization, everybody's impressed with what he's done," Patrick said. "He was able to jump-start and get to Triple-A. He's proven that he belongs here. He's done everything we've asked of him coming out of Spring Training, and he's showing that he has the confidence to go out and get the job done. What he showed tonight, that was big league stuff."
The outing also enabled the 6-foot-4, 187-pound righty to make up for work he missed his last time out. He lasted just 2 1/3 innings on April 14 in Tacoma in a game that featured a long rain delay.
"It was a well over an hour delay, so he wasn't able to go back out there," Patrick said. "Throughout the time leading up to today, we threw a couple bullpens in between just to keep him sharp, kind of did an up-and-down, simulated two-inning stint just to get him ready for his start. It worked out because it kept him locked in."
Lamet's 13 K's set a Chihuahuas single-game franchise record by one pitcher. Carlos Fisher, Logan Bawcom, André Rienzo and Mike Dimock combined to fan five more, setting the team's single-game record for a staff.
And the day will provide a foundation to build on moving forward in 2017.
"Stay focused," Patrick said. "Continue to do what you've done. Don't let up. Just because you did it one time tonight, you've got to continue to do that. I'm not saying he's got to go out and strike out 13, but some of the walks that he had, they weren't bad misses. I think he's just got to stay focused, continue to use his two-seamer and use his elevated fastball up in the zone. That's something we'll work on."
El Paso led when Lamet departed, 5-1, but Tacoma rallied quickly. Vogelbach bashed a grand slam off Fisher in the seventh and Tuffy Gosewisch doubled in the eventual game-winner on a drive to right in the 10th.
Tyler Maun is a contributor to MiLB.com. Follow him on Twitter @TylerMaun.