Padres' Tatis continues swinging hot bat
Shortstop tallies five doubles for the week in Winter League ball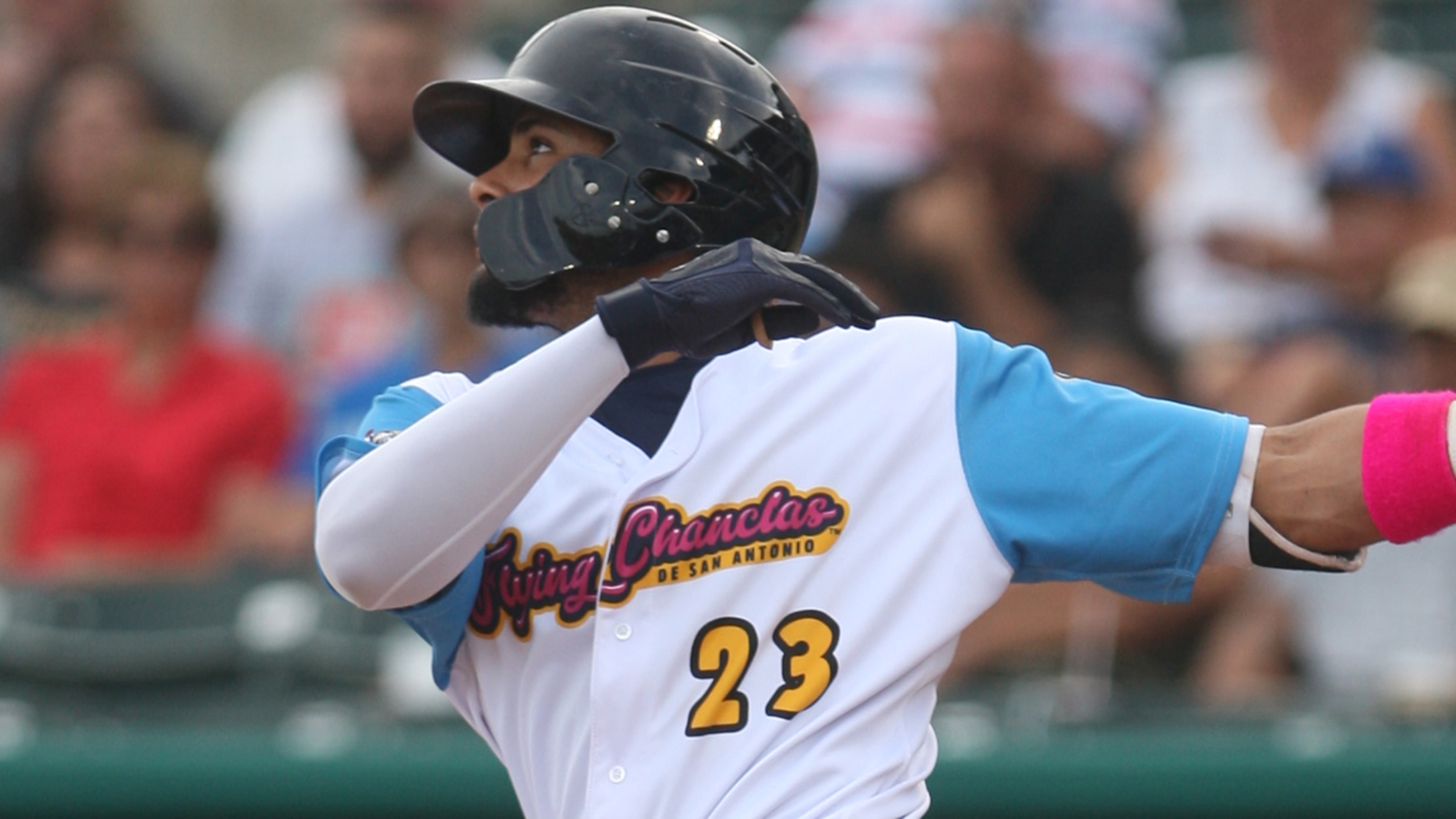 Fernando Tatis posted a.277/.390/.508 slash line through his first 19 games for Estrellas Orientales. (Shawn E. Davis/MiLB.com)
Though the Arizona Fall League is in the books, that doesn't mean baseball is over for the year. Winter leagues are going on across the globe with top prospects getting in extra at-bats and innings before the 2019 season. Here's a look at some of baseball's top ranked prospects who
Though the Arizona Fall League is in the books, that doesn't mean baseball is over for the year. Winter leagues are going on across the globe with top prospects getting in extra at-bats and innings before the 2019 season. Here's a look at some of baseball's top ranked prospects who fared best over the week of Dec. 2-8.
Fernando Tatis Jr. (Estrellas Orientales, Dominican Winter League) -- 5 G, 5-for-17, 4 2B, 3 R, 2 BB
San Diego's top prospect collected hits in seven of his last eight games, including four of five for the last week. Tatis only notched one multi-hit game for the week, when he doubled in a two-hit showing on Dec. 4 against the Toros del Este, but nonetheless continued an upward climb in his slash line. After his Estrellas fell to the Leones del Escogido on Dec. 2, Tatis was batting .269/.377/.519. Following Friday's win over the Aguilas Cibaenas, baseball's No. 2 overall prospect sat at .277/.390/.508.
Eloy Jiménez (Gigantes del Cibao, Dominican Winter League) -- 5 G, 8-for-18, 2 2B, 3 RBI, 2 R, 3 BB
Last week, we noted baseball's No 3 prospect had only played in two games this winter, but Jimenez still made it onto the list. One full week later, he's here again. The top White Sox prospect boasts at least one hit in all seven he's played so far for the Gigantes and added both extra-base hits this week in a 3-for-5 performance with a pair of doubles Friday. Jimenez batted .407/.467/.630 through his first seven games in the Dominican Republic.
Yonathan Daza (Tiburones de la Guaira, Venezuelan Winter League) -- 3 G, 6-for-13, 1 2B, 3 R
After a sluggish start back home in Venezuela, Maracay native Yonathan Daza has picked it up in recent days. The center fielder rapped three hits last Sunday before tacking on three more over a two-day span at Zulia on Wednesday and Thursday. The No. 18 Rockies prospect has established his hit tool as his professional calling card in eight professional seasons, especially in five since coming to the United States. He boosted his line to .313/.356/.406 after starting at 211/.286/.316 after his first five games for the Tiburones.
Isan Díaz (Gigantes del Carolina, Puerto Rican Winter League) -- 5 G, 6-for-15, 2 2B, 2 RBI, 2 R, 3 BB
Diaz busted out of a slide with a big week for Carolina. Following an 0-for-2 line on Dec. 2, the infielder batted .462 for the week. After posting three hits in his Gigantes season debut on Nov. 15, The ninth-ranked prospect hadn't put up another multi-hit game until a three-hit showing on Dec. 5. He followed that with two more knocks the next night, bumping his average from .231 to .288 and his OPS from .601 to .748 in two games. For the winter, Diaz is batting .277/.351/.369.
Gage Hinsz (Gigantes del Carolina, Puerto Rican Winter League) -- 1 GS, 6 IP, 3 H, 0 R, 1 BB, 3 K
Pittsburgh's No. 19 prospect made the headlines for non-baseball reasons earlier this year when he underwent open heart surgery to repair a valve that forced him to miss the entire season. Back in action, the right-hander has been solid as Diaz's Gigantes teammate. Hinsz put together his best outing on Dec. 5, going six scoreless innings against Caguas. The Billings, Montana, native has made four starts for Carolina, three of which have been scoreless. Hinsz's ERA sits at 1.43 with just three earned runs allowed in 19 innings. He's fanned 15 batters while walking six walks, limiting opponents to a .182 average.
Génesis Cabrera (Tigres del Licey, Dominican Winter League) -- 2 G, 1 1/3 IP, 0 H, 0 R, 0 BB, 2 K
Cabrera saw limited action for the week but has been dominant this season for the Tigres. The Cardinals' No. 13 prospect dropped his ERA to 1.46 with two more scoreless appearances against Cibaenas and Este. Cabrera has struck out 17 while walking just two, scattering seven hits through 12 1/3 innings this year. The lefty has mostly been used in short bursts, pitching a full frame in just eight of his 18 appearances. He hasn't allowed a hit since Nov. 25.