TinCaps' Tatis highlights Players of the Week
Padres No. 6 prospect batted .462 with seven extra-base hits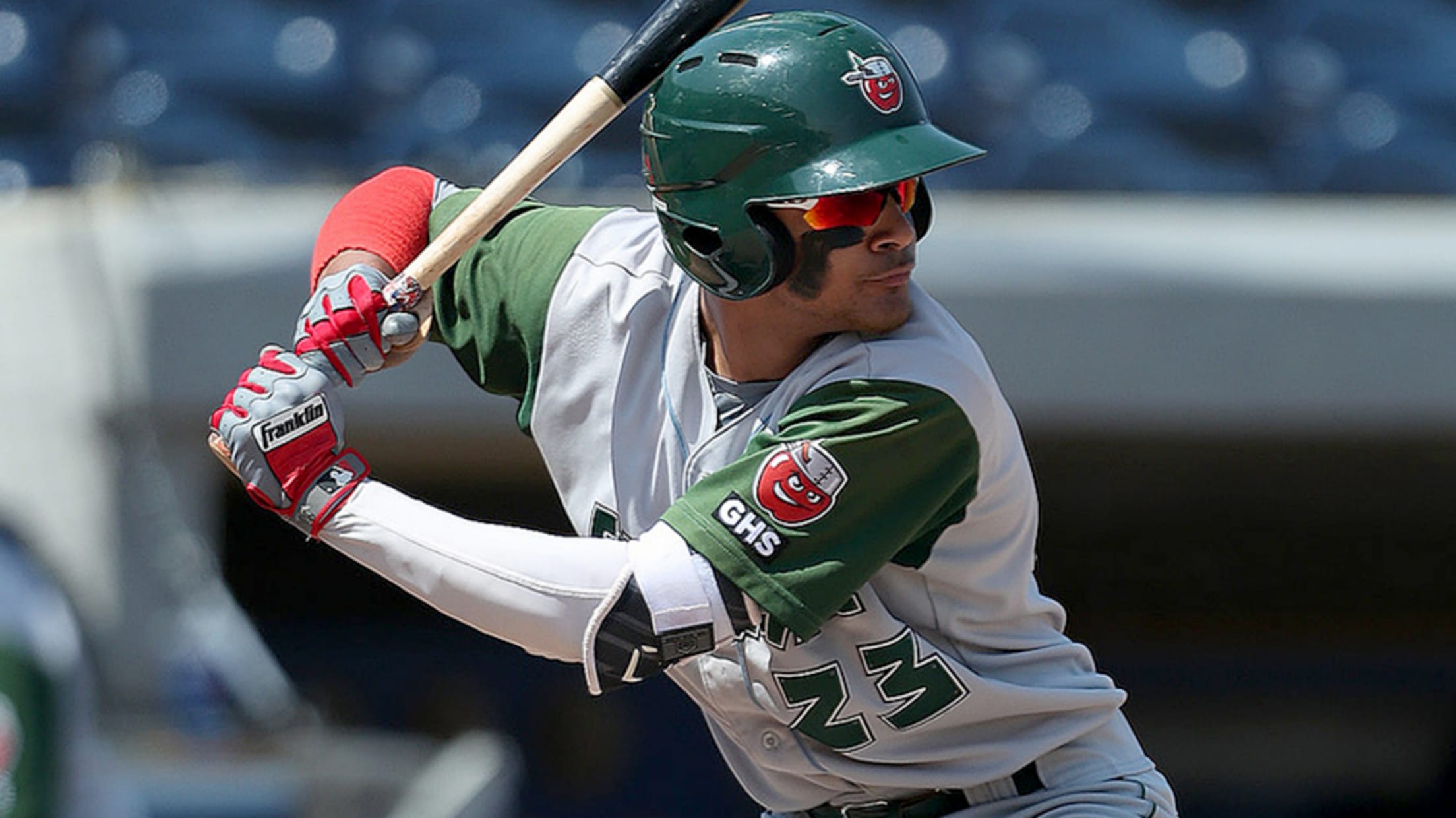 Fernando Tatis Jr. leads Class A Fort Wayne with a .481 slugging percentage over 41 games. (Andrew Woolley/Four Seam Images)
Many Minor Leaguers make a habit of checking in with their parents, especially during their first full season, when the daily grind can be most daunting. For Fernando Tatis Jr., he has an 11-year Major League veteran on the other end of the line."He watches when he can and goes
Many Minor Leaguers make a habit of checking in with their parents, especially during their first full season, when the daily grind can be most daunting. For Fernando Tatis Jr., he has an 11-year Major League veteran on the other end of the line.
"He watches when he can and goes to the app all the time to see how I did," Tatis said of his namesake, who played for the Rangers, Cardinals, Expos, Orioles and Mets from 1997-2010. "He calls me every day with advice and to see how I'm doing. We're on an everyday basis."
The younger Tatis has had a lot of positive news to share lately.
On Monday, the Padres' No. 6 prospect was named Midwest League Player of the Week for May 15-21. He went 12-for-26 with three homers, a triple, three doubles and six RBIs in seven games for Class A Fort Wayne to take the honor, the first such award of his professional career.
Tatis' biggest performance of the week came last Tuesday when he went 3-for-5 with a homer, two doubles, three RBIs and a walk in an 11-4 win over Lansing. He also put together a 15-game hitting streak starting May 4, but ended Sunday when he went 0-for-3.
• View the Pitcher of the Week winners »
But as consistent as he's become in his first full season, it's the 18-year-old shortstop's power that's begun to stick out. Seven of his 17 extra-base hits this season have come in the last week, and his six homers in 180 plate appearances with the TinCaps already trump the four he collected in 188 plate appearances with Class A Short Season Tri-City in 2016.
Listed at 6-foot-3 and 185 pounds, Tatis has the ability to put some pop into his performance. MLB.com gave him a 55 grade for his power on the 20-80 scouting scale, but Tatis said he's worked to improve in that department.
"I tried to get stronger and bigger and did a lot to work on that [in the offseason]," he said. "Now, I'm just trying to put the ball on the barrel. I was talking with my dad, and he told me that I'm big enough to hit for power and average, so he told me to try to do both. Just swing hard."
It took some time for those lessons to result in production on the field. Tatis opened at .230/.313/.345 with two homers, six doubles and 29 strikeouts in April. So far in May, he's hitting .352/.432/.648 with four homers, two triples and five doubles and admitted he tried to bite off more than he could chew in the first month.
"It was probably like three weeks in [before things clicked]," he said. "I started trying to hit the ball to right field more, and I just started seeing the ball well and putting some spin on it. I keep working on my approach to use the big part of the field. Just stay short with my hands, look for my pitch and when I get it, don't miss it."
The native of the Dominican Republic turned 18 on January 2, and the fact that he's been able to identify issues and adjust quickly at that age should be encouraging to everyone involved in the youngster's development, including his father.
"My dad kept telling me before the season, 'You're not a kid any more. You have to be a man,'" Tatis said. "'You have to eat well, stay healthy. Don't do stupid things.' I think about that a lot."
Below is a full list of the Minor League Offensive Players of the Week for May 15-21:
Sam Dykstra is a reporter for MiLB.com. Follow and interact with him on Twitter, @SamDykstraMiLB.