Missions pile up 24 strikeouts in walk-off win
Padres' Lloyd fans 12; team falls one shy of Texas League mark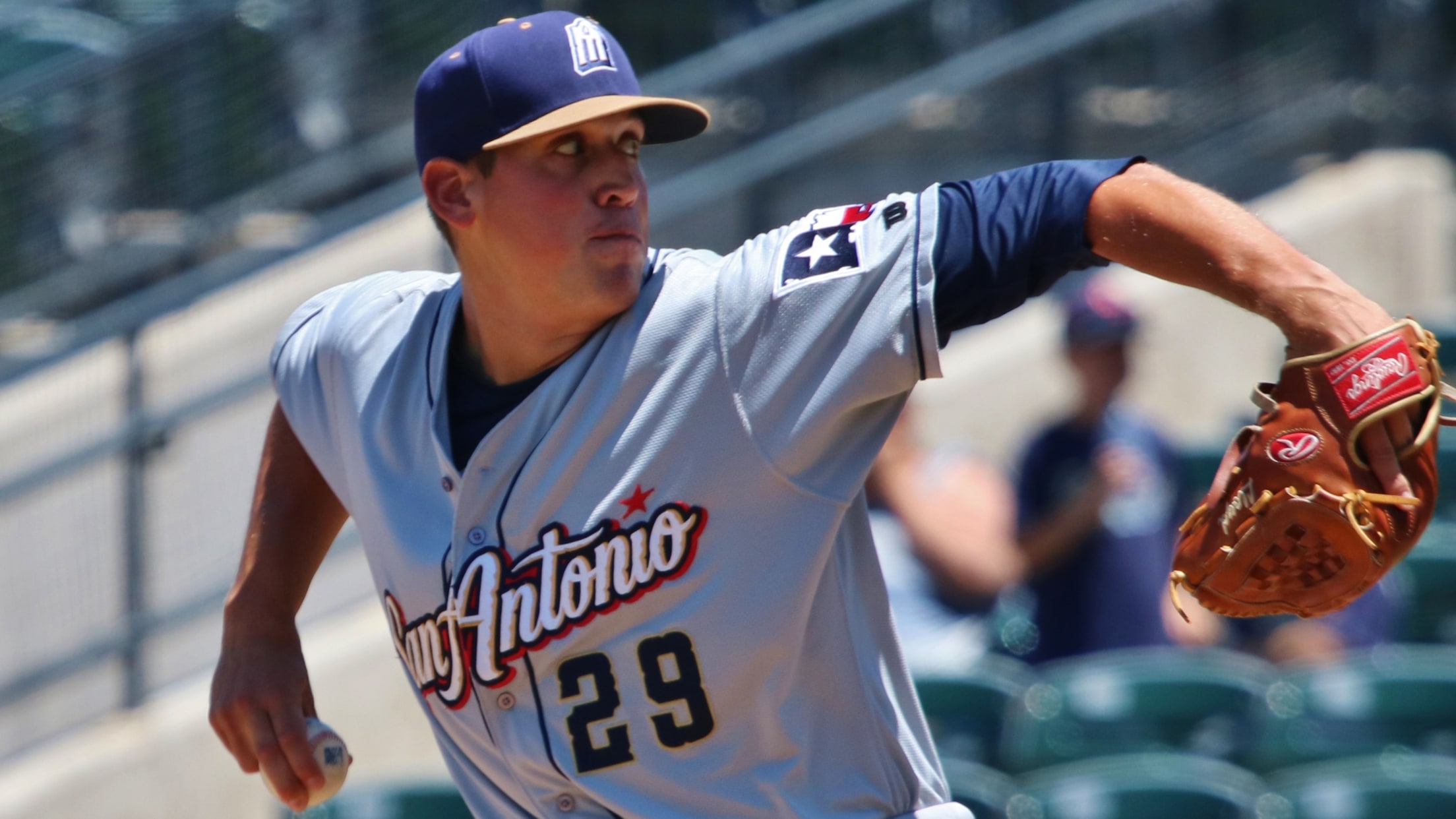 Kyle Lloyd moved into third place in the Texas League with 53 strikeouts, three behind Frisco's Connor Sadzeck. (Tammy Tucker)
Double-A San Antonio needs 10 strikeouts to earn fans at Nelson Wolff Stadium a Whataburger breakfast sandwich. On Tuesday, the crowd had its free morning meal by the sixth inning. By the 11th, they could have had another.Led by starter Kyle Lloyd, the Missions racked up 24 strikeouts -- one
Double-A San Antonio needs 10 strikeouts to earn fans at Nelson Wolff Stadium a Whataburger breakfast sandwich. On Tuesday, the crowd had its free morning meal by the sixth inning. By the 11th, they could have had another.
Led by starter Kyle Lloyd, the Missions racked up 24 strikeouts -- one shy of the Texas League record -- in a 2-1, 14-inning win over visiting Tulsa.
The record of 25 was set by Shreveport against Tulsa on May 22, 2001. Those teams also own the record for most combined strikeouts in a game with 43. The Missions and Drillers also fell one short of that mark.
Gameday box score
Two starts removed from pitching San Antonio's first nine-inning no-hitter in 38 years, Lloyd got his team started by fanning 12 while giving up a run on three hits and a walk over 6 1/3 frames.
"He was getting ahead of the hitters really well and then he would finish them off with the splitter," Missions pitching coach Jimmy Jones said. "It had good action tonight. It's a difficult pitch to hit anyway, but when it's on, it's really, really difficult to hit."
The 26-year-old right-hander turned things over to the bullpen after giving up an RBI double to Matt Beaty in the seventh. From there, Cesar Vargas, Trey Wingenter, Brad Wieck, Aroni Nina and Wilmer Torres combined for 12 punchouts over 7 2/3 frames of two-hit relief.
None of the Missions knew how many strikeouts they had, but the stadium public-address announcer eventually clued them in. Lloyd said they never suspected it might be a record.
"Somebody went in and we heard the announcer say how many we had through 12," Lloyd said. "Then everybody started to pay attention to it. We were just trying to throw up zeros, I think, trying to win the game and trying to get our offense back up."
Jones found out about the near-record from a public relations staffer after the game. The coach said he plans to let the players know about the feat on Wednesday.
"I don't know if they knew how many strikeouts we had at all, but they were just feeding off each guy that went out there," Jones said. "[Tulsa] was aggressive and they were attacking the hitters, and they wanted to do the same thing."
Lloyd, who has made two starts with historical implications in his last three outings, tried to keep things in perspective.
"I've been fortunate," the California native said. "A lot of help behind me. The catchers have been doing a great job as well. Just trying to go pitch by pitch and not get ahead of myself."
"Both teams, even their pitchers, did a really good job," Jones added. "They showed really, really good stuff."
San Antonio won the game with two outs in the 14th when Ty France scored on a throwing error by third baseman Beaty. Stephen McGee hit the grounder off reliever Karch Kowalczyk (1-1).
Torres (1-0) got the win after striking out three and allowing two hits over two scoreless frames.
Drillers starter Scott Barlow gave up one run on three hits and three walks with a career-high 10 strikeouts in six innings.