Patino sharp again in TinCaps' win
Padres No. 12 prospect tosses 5 2/3 scoreless innings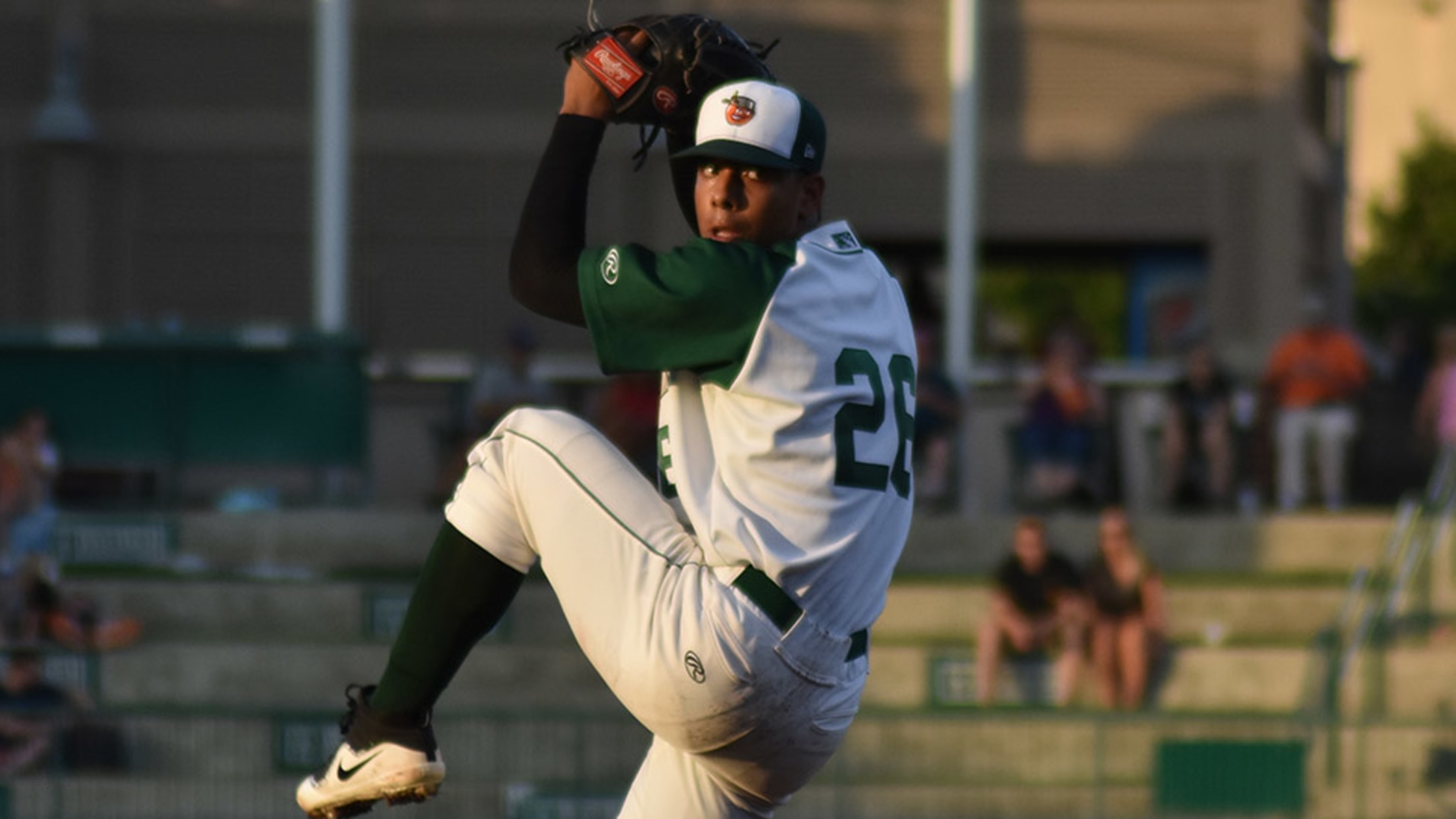 Luis Patino would rank second in the Midwest League in ERA if he had enough innings to qualify. (Fort Wayne TinCaps)
Luis Patiño continues to pitch well beyond his years.The 18-year-old right-hander delivered shutout ball into the sixth inning Saturday as Class A Fort Wayne beat Lansing, 3-1, at Cooley Law School Stadium.Patino, the Padres' 12th-ranked prospect, allowed a pair of singles and three walks over 5 2/3 innings, striking out five
Luis Patiño continues to pitch well beyond his years.
The 18-year-old right-hander delivered shutout ball into the sixth inning Saturday as Class A Fort Wayne beat Lansing, 3-1, at Cooley Law School Stadium.
Patino, the Padres' 12th-ranked prospect, allowed a pair of singles and three walks over 5 2/3 innings, striking out five to improve to 6-3.
Gameday box score
The Colombia native has five scoreless starts of at least five innings this season and has given up two hits or fewer four times, with three of those hitless appearances.
"Everything was working," Patino said. "My fastball, curveball, slider and changeup, I can say everything was working. You know during a game you have to use all your stuff. I am working hard every day on my command and my delivery and that's how I get my confidence on the mound."
Patino, part of the Padres' 2016-17 international spending spree during which they dropped $40.8 million in bonuses for players like Michel Baez and Adrian Morejon, has surrendered one home run over 76 1/3 innings and has a .233 opponents' batting average.
"Thank God for the pitching coaches in San Diego, [Dominican Summer League], [Arizona League] and in Fort Wayne for giving me the opportunity to work every single day, in the bullpen or flat mound," he said. "Every single day, you learn something. [Now] I can throw my fastball down, up, inside, outside, and for this I thank all my coaches here and in San Diego."
While he had just one clean inning against the Lugnuts, Patino was extremely efficient through the first five, throwing 62 pitches and allowing one hit and one walk. He struck out three in the second, although Andres Sotillo reached on a wild pitch. The righty stayed in the game until issuing two-out walks in the sixth to Chavez Young and Ryan Noda, but Danny Sexton got Sotillo to ground out and escape trouble.
Padres No. 30 prospect Owen Miller doubled, singled three times and scored a run to lead the Fort Wayne offense. The TinCaps broke through in the second, scoring first on a bases-loaded wild pitch that plated Gabriel Arias, who had singled. They added two runs in the third as Miller singled, Arias doubled and Kelvin Melean cashed them both in with a single to right field.
Lansing got its only run in the eighth as Young legged out an infield hit and Noda walked. Facing Fred Schlichtholz, Sotillo singled home Young, but Vinny Capra struck out to end the threat.
But Patino was the standout. A native of Barranquilla who signed for $120,000, he has a fastball that can reach 98 mph and scouts say he possesses a feel for pitching that belies his age. His curveball is a swing-and-miss offering that has good depth and late, top-to-bottom bite, while his changeup has shown improvement.
"Last year, I threw 92, 93, 94," Patino said. "In the offseason, I got a chance to go to Arizona and work on the weight program with San Diego. The team gave me an opportunity work on my body and my command and everything. I was lifting, running, I kept working and I can throw 95 and 98, and I can throw 100, but I don't pay attention to that.
"The pitching coaches tell me, 'Pitching is not just throwing hard, it's throwing inside, outside and working every single day on my command."
Matt Gunter (4-6) gave up three runs on seven hits over four innings for Lansing.
Vince Lara-Cinisomo is a contributor to MiLB.com. Follow him on Twitter @vincelara.