'Weird' Storm lefties exceptionally good
Padres prospects Lauer, Lucchesi bask in California All-Star glow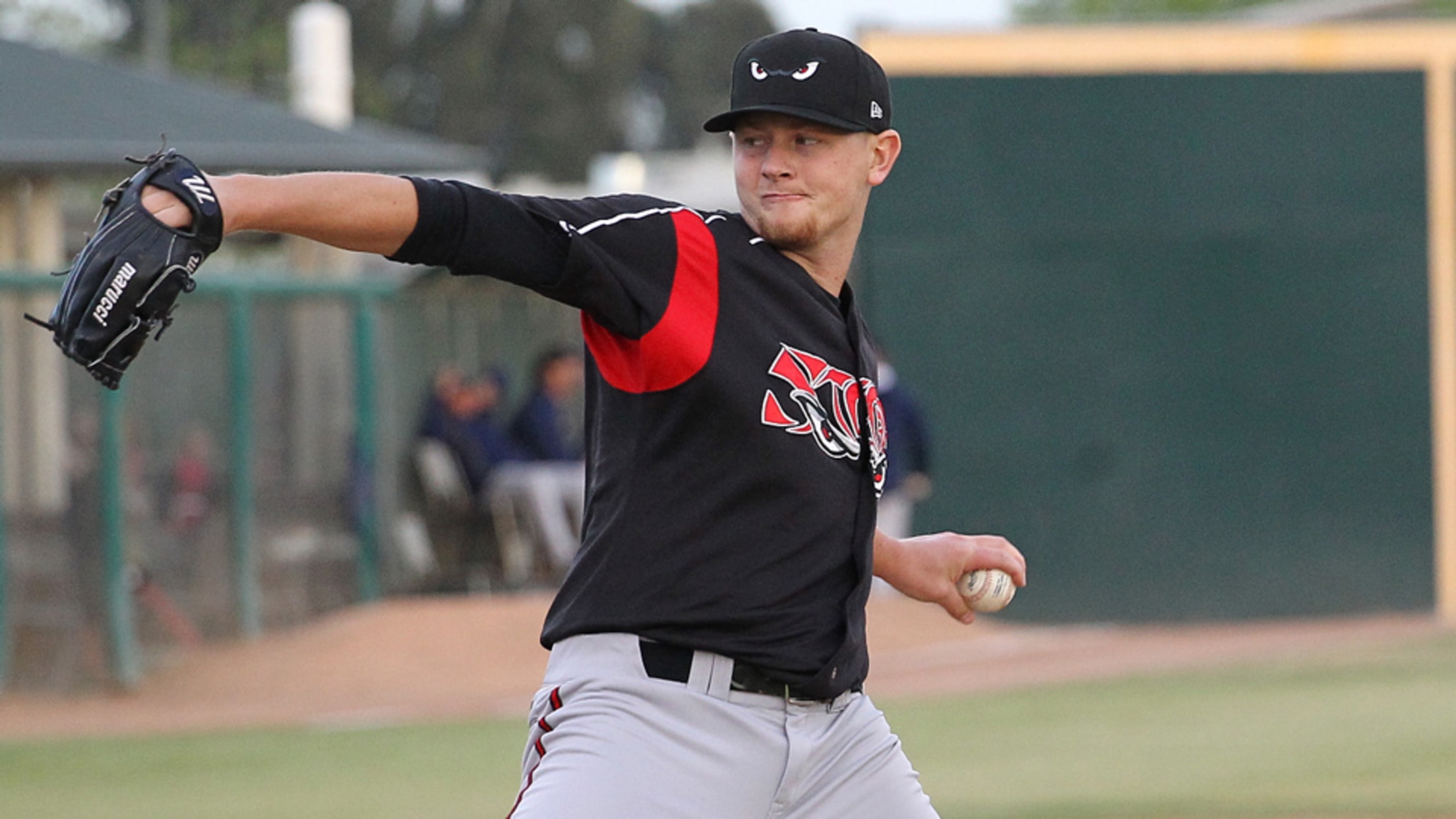 Eric Lauer has recorded 76 strikeouts against 16 walks over his first 62 2/3 innings at the Class A Advanced level. (Ben Sandstrom/MiLB.com)
Of 14 pitchers on the California League South Division All-Star team, seven came from the Lake Elsinore Storm. And of those seven, two finished the first half ranked first and second in ERA. Eric Lauer, Tuesday night's All-Star starter, leads the loop with a 2.15 mark, while fellow left-hander Joey Lucchesi
Of 14 pitchers on the California League South Division All-Star team, seven came from the Lake Elsinore Storm. And of those seven, two finished the first half ranked first and second in ERA.
Eric Lauer, Tuesday night's All-Star starter, leads the loop with a 2.15 mark, while fellow left-hander Joey Lucchesi is at 2.39 and is second among active Cal Leaguers with 89 strikeouts. Visalia's Jose Almonte has 91.
The southpaws -- ranked No. 8 and No. 28 among the Padres' top prospects -- both were drafted last year, Lauer in the first round out of Kent State and Lucchesi in the fourth round of of Southeast Missouri State. They enjoy a good relationship -- at the ballpark and away from it.
"We're normally roommates on the road. Lefties have got to stick together a little bit because everybody thinks we're weirdos," Lauer said. "I think [Lucchesi] might have done a little more weirding out than me -- I like to think, at least. We have a lefty pitching coach [Glendon Rusch], so we take the reins on that one because he's on our side. Lefties are the best."
Lucchesi took issue with the notion that he'd done the most "weirding out" of his right-handed teammates.
"No, if you look at the kid, you can just definitely tell who's the weirder one. The answer is Eric," he joked. "He's just a standoffish kind of person, so he'll just make fun of whatever. He's definitely the weirder one. Just have a conversation with him."
Whichever of the duo is more of an oddball, nobody can question the results. And they agree that they fed off one another during the first half.
Nuts' Bishop leads North to victory
"We help each other out," Lauer said. "We talk about how we want to attack hitters and kind of different things we see in different teams. It's fun to be able to talk to another lefty because a lot of times, you're talking to righties and you can't really go at hitters the same way a righty can because you're not throwing the same pitches and they're not breaking the same way. It's nice to have another lefty around."
Of course, their games are not identical.
"[Lucchesi] has a different pitch than I do," said Lauer, a 22-year-old Ohio native. "He throws this unhittable 'churve' kind of thing, we call it. It's a really good pitch. He calls it his changeup, but I call it a churve because it has the same movement as his curveball, but somehow it's different."
Lauer has added an off-speed offering this season that's impressed Lucchesi.
"You know, he didn't have a changeup before this year, so I would say I admire him for learning a changeup this year," the 24-year-old California native said. "He's been playing catch with me and practicing it, and it's working really well. He's throwing it for strikes, strikeouts."
Specific pitches aside, their approaches are similar enough that they're able to hold beneficial pow-wows between starts.
"As a pair, I would say we gel together. We talk about how to strike out the other teams, weaknesses and all that," Lucchesi said. "We share all that. We're in kind of a friendly competition -- who's going to do better? It kind of motivates you, you know?"
But when Lake Elsinore goes on the road to Modesto, San Jose or Stockton, they go their separate ways. Lucchesi stays at his family home in nearby Newark. As for his roommate, well ...
"He just gets the room for himself, so it's a pretty much luxury for him," Lucchesi said. "I don't know what kind of weird stuff he does, but he gets the room to himself."
Josh Jackson is a contributor to MiLB.com. Follow and interact with him on Twitter, @JoshJacksonMiLB.