MWL notes: TinCaps' Lawson taking strides
Padres' No. 29 prospect showing his potential after rocky start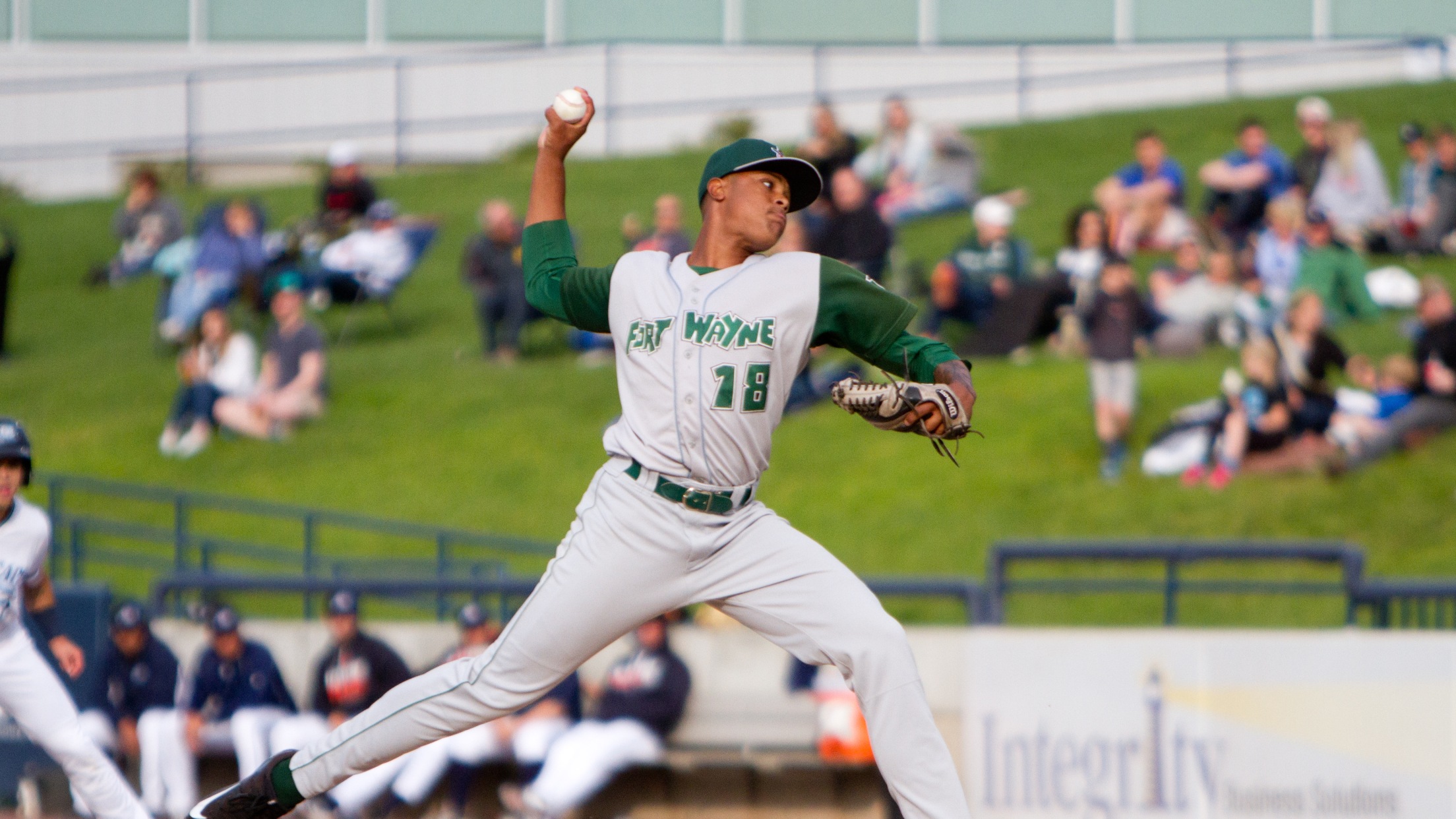 Reggie Lawson has struck out 25 batters over his last four starts with Fort Wayne. (Emily Jones/MiLB.com)
When Reggie Lawson earned Player of the Week honors as a high school pitcher last year, a publication interviewed him for a Q&A. One of the questions: Which three players would he like to have dinner with?Lawson, selected 71st overall by the Padres in the 2016 Draft, said his list
When Reggie Lawson earned Player of the Week honors as a high school pitcher last year, a publication interviewed him for a Q&A. One of the questions: Which three players would he like to have dinner with?
Lawson, selected 71st overall by the Padres in the 2016 Draft, said his list included Aaron Sanchez, a right-handed pitcher with the Blue Jays.
Why Sanchez?
"Aaron Sanchez is from Barstow, California, and I'm from Victorville, California, which is only 20 minutes away," Lawson said.
It turns out that Sanchez's family saw the article and let Aaron know. Sanchez took it from there.
"He texted me and asked if I wanted to go to dinner with him," Lawson said.
After getting over the initial shock, Lawson set up a dinner with Sanchez. It was a valuable experience for the 19-year-old, who's getting used to the fast-paced world of professional baseball.
"Aaron talked to me about life and baseball in general," Lawson said. "It was my mom and I, and him and his dad. He's really a great guy."
Lawson has kept in touch with Sanchez.
"I talk to him a lot," Lawson said. "Before the Draft, he gave me a big heads-up on his experience in the Minor Leagues and getting to the Show. He's definitely had a big influence on me. I knew what I was getting into thanks to Aaron."
Lawson, who opened eyes when he received a $1.9 million bonus that was more than double the slot allocation, has started to make significant strides with Class A Fort Wayne.
Lawson, the Padres' No. 29 prospect, joined the TinCaps in late May from extended spring training. He was rocked early on, saddled with a 9.64 ERA after his first three starts.
However, the 6-foot-4 right-hander has been providing the Padres with flashes of his bright potential of late, winning two of his last three starts and yielding just two hits and three runs while fanning 10 over his last 10 innings.
Although he can light up the radar gun at 95 mph, Lawson's curveball has been a crucial aspect of his repertoire.
"Sometimes my curveball can be a little sloppy and it's not as sharp as I want it to be," Lawson said. "The curveball has been a difference-maker lately. It's been better than it usually is, and it's setting up my fastball. Burt Hooton, our pitching coach, has been working with me on a change-up that's a power pitch."
Teammate and fellow right-hander Mason Thompson said Lawson's fierce competitiveness is another reason he's shoved losing aside.
"Reggie is a fierce competitor out there," Thompson said. "He really gets after it. You're never going to have him beat … no matter what the score is, no matter what the situation. He goes out there and competes his butt off every day. It's special getting to go through everything with him. I feel that we're similar in a lot of ways. You can definitely learn a lot from him."
Thompson also claims that Lawson's competitive streak extends off the mound.
"Reggie is a fierce competitor in everything," he said. "He claims he's the best [NBA] 2K player on the team. He will be in the apartment, yelling and screaming and getting after it. He hates to lose. He hates to lose in 2K, he hates to lose in baseball, he hates to lose in anything. It's a good trait to have. That's how you're going to make it in this game. You have to have that extra drive. He definitely has that."

In brief
Swing and a miss:
Peoria and Beloit combined for 38 strikeouts in
a 12-inning battle
on June 26. Peoria batters struck out 23 times, making the first time Beloit pitchers combined for at least 20 strikeouts since Aug. 27, 2006, when the Snappers were involved in a 19-inning game. Beloit scored the decisive run last week on a wild-pitch strikeout in the top of the 12th and sealed the victory with a pair of strikeouts in the bottom of the frame.
Walk-off drama:
Great Lakes notched its third walk-off victory of the second half and seventh of the season on June 30 against West Michigan.
Carlos Rincon
smacked a homer in the 11th inning to give the Loons a 4-3 victory. It was Rincon's third walk-off hit of the season. Six of Great Lakes' walk-off wins have come via home runs.
Curt Rallo is a contributor to MiLB.com.