Podorsky supplies offense in TinCaps' win
Padres prospect goes 5-for-5, scores three runs, plates two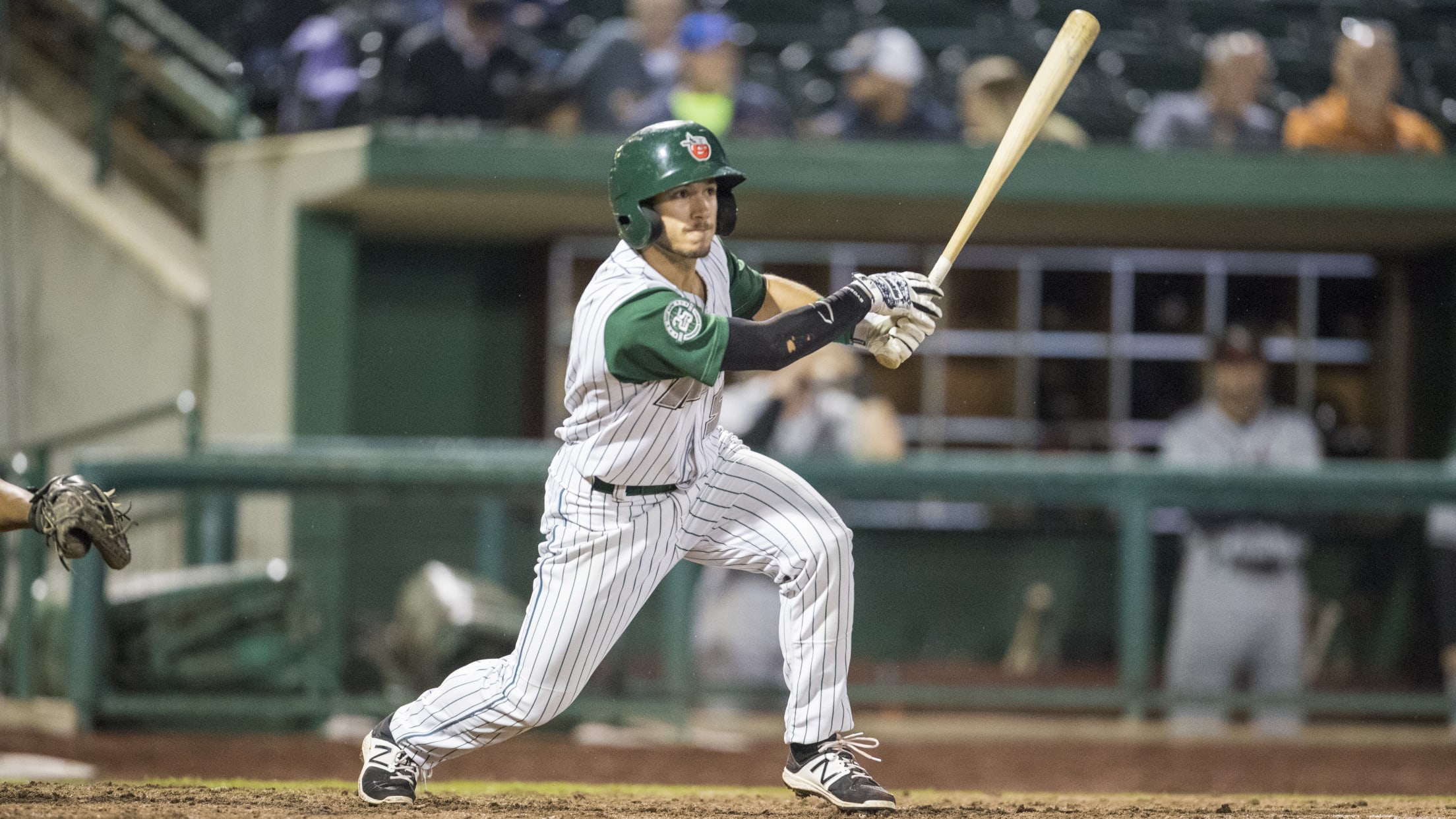 Robbie Podorsky raised his batting average 42 points to .337 after his perfect night at the plate. (Fort Wayne TinCaps)
Robbie Podorsky may have found a home again in the leadoff spot.Batting at the top of the lineup for a second night in a row, the Padres prospect went 5-for-5 with a triple, three runs scored and a pair of RBIs to lead Class A Fort Wayne to a 5-2
Robbie Podorsky may have found a home again in the leadoff spot.
Batting at the top of the lineup for a second night in a row, the Padres prospect went 5-for-5 with a triple, three runs scored and a pair of RBIs to lead Class A Fort Wayne to a 5-2 victory over Great Lakes on Friday at Parkview Field.
Gameday box score
"It was just one of those lucky nights," Podorsky said. "I came in with a good game plan and stuck with it, but still, everything just happened to go my way. I'll take it."
The 25th-round pick in last year's Draft began the game by working the count full against right-hander Edwin Uceta (1-4) and hitting a sharp grounderl into the hole at short for a single. After stealing second with two outs, he scored on a base hit to left field by 21st-ranked prospectLuis Campusano to tie the game, 1-1.
Podorsky led off again in the third and wasted no time as he crushed the first pitch into left and motored around the basepaths for his third triple of the season. He came home two batters later on a sacrifice fly by Padres No. 16 prospect Jeisson Rosario.
"I don't remember much of it, to be honest. I was just seeing ball pretty well and I took an aggressive hack at the first pitch," he said. "It was a good count to attack on and I stuck with my approach and got a triple."
Podorsky turned around a 2-2 fastball from Uceta in the next frame for a two-out base hit that scored Nick Feight. He quickly picked up his 12th stolen base but was stranded in scoring position.
In the sixth, the McNeese State product laid down a well-executed bunt on the first pitch from southpaw Justin Hoyt. Hoyt fielded it and fired to first, but it was not in time to get Podorsky.
The 23-year-old put down another bunt in the eighth and drove in Jack Suwinski on a squeeze play with two outs. He beat the throw to first again, then capped Fort Wayne's scoring when 10th-ranked Esteury Ruiz hammered a triple to right.
"Batting leadoff sets up the entire team for the entire game," Podorsky said. "You get the first look at the pitcher, so you have to be patient and see what he's all about, try to give an in-game scouting report to the rest of the team. So that's what I tried to do."
His impact on the game wasn't limited to his bat. He made a full-extension diving catch in left on a sinking line drive off the bat of Jared Walker to start the ninth.
It was Podorsky's biggest game since he tied the Northwest League record with a six-hit effort for Class A Short Season Tri-City last July 15.
Padres No. 24 prospect Luis Patiño got the start for the TinCaps but did not factor in the decision after yielding a run on four hits with a walk and five punchouts over four innings. Korey Anderson (2-0) got the win, despite giving up a run on three hits with a walk in two frames. Evan Miller retired all four batters he faced for his second save.
Rob Terranova is a contributor to MiLB.com. Follow him on Twitter @RobTnova24.