France channels Gwynn on career day
Padres prospect homers, doubles twice, drives in six runs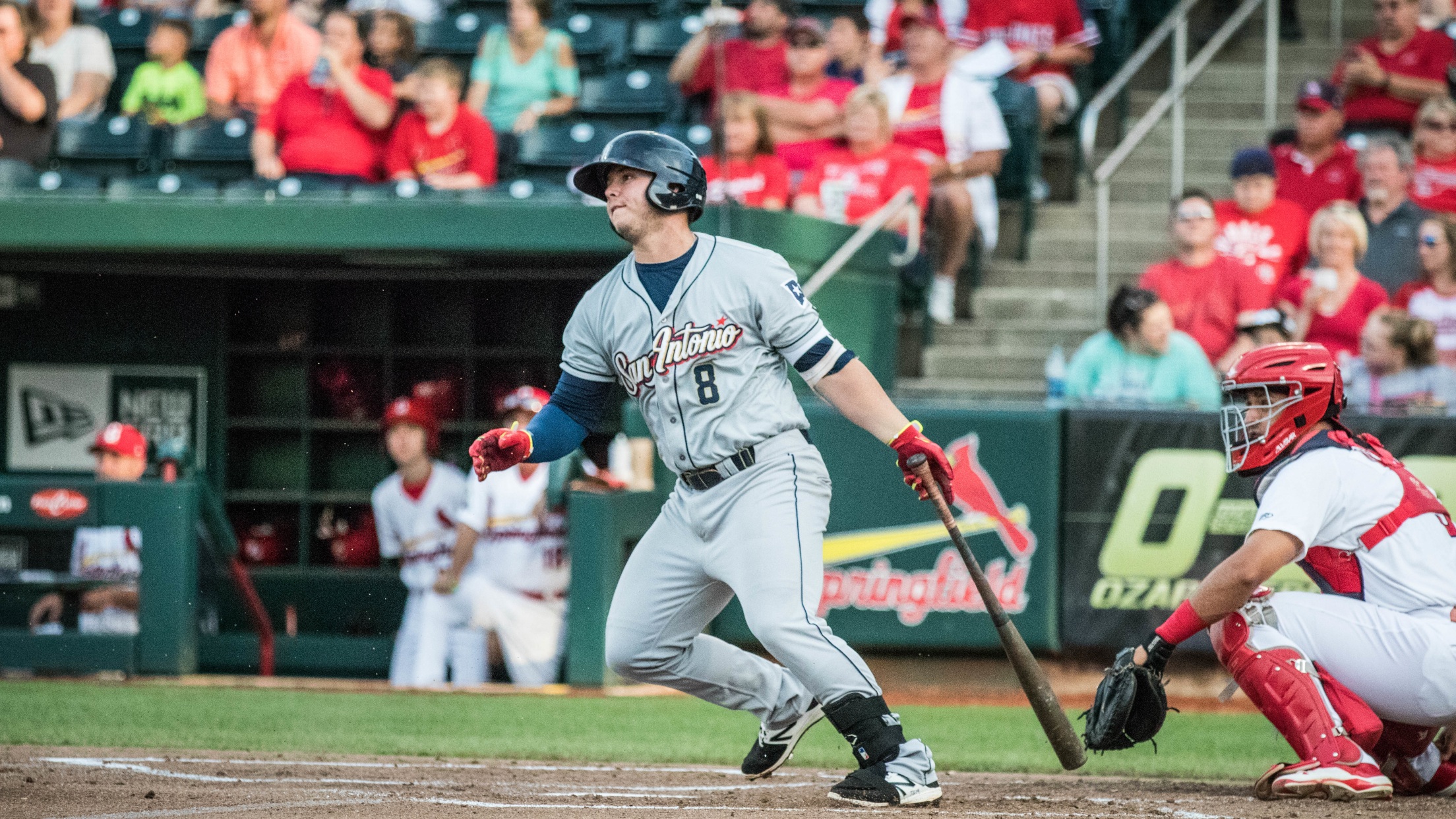 Ty France has recorded multiple hits in 10 of his 23 games since joining San Antonio on May 12. (Jeremy Davis/MiLB.com)
During a stretch of some unlucky games, Ty France remembered some advice he got from then-San Diego State baseball coach -- and Hall of Famer -- Tony Gwynn. "His big thing was don't overdo things. If it's working, stick with it," the Padres infielder said. "I've been keeping that in the
During a stretch of some unlucky games, Ty France remembered some advice he got from then-San Diego State baseball coach -- and Hall of Famer -- Tony Gwynn.
"His big thing was don't overdo things. If it's working, stick with it," the Padres infielder said. "I've been keeping that in the back of my head and going off of that. One of the things that he said was, 'Know who you is,' kind of jokingly. I base my role off of that."
France had Gwynn in mind Sunday as he homered, doubled twice and collected a career-high six RBIs to lead Double-A San Antonio to a 6-1 win over Springfield at Hammons Field.
Gameday box score
"It felt good to get back in the swing of things," France said. "I had been struggling a little bit at the plate the last few games. I'd been seeing the ball well but just not getting results. To get some results was a nice change."
Since a promotion from Class A Advanced Lake Elsinore on May 12, the 22-year-old has a .353/.391/.588 slash line with three homers and 15 RBIs in 23 Texas League games. But France had only three hits in his first 13 at-bats in June.
"Since I've been here in San Antonio, I've found a routine that's been working for me," he said. "I haven't changed anything up, I'm still seeing the ball well, but I hadn't had much luck or finding any holes. It was nice to get a couple of knocks.
"The only thing I did different today -- because we had an early game, so we didn't take on-field BP -- I did some tee work and flips. I don't want to say I relaxed a little bit but just went out there and didn't try to do too much today. I think that was helpful."
The 2015 34th-round pick flied to left in the second inning and was plunked on a 2-2 pitch from Chris Ellis in the fourth. With two outs and the bases loaded in the fifth, France ripped a three-run double to left field to erase a 1-0 deficit.
San Antonio had scored six times over the previous three games, so the California native was looking to do some damage in a run-producing spot.
"I came up with the bases loaded and two outs and really kind of stepped up and took a breath and was like, 'I want to get this done here,' because we had been struggling to score some runs," he said. "I just tried to clear my head, worked the count full and got something I could handle. From that point on, it kind of motivated me and put me in a little better spirit."
Before his at-bat in the seventh, the San Diego State product realized Springfield's staff had given him a steady diet of fastballs. So he swung at the first pitch from Corey Littrell and doubled to center to score Franmil Reyes from first.
"My previous three at-bats, they had started me with first-pitch fastballs," he said. "With a guy on, I knew they didn't want to get behind in the count. I figured they'd try to go first-pitch fastball again, start off 0-1, but I was looking for it and he left it up where I could hit it."
France capped his career day in the ninth when he smoked Blake McKnight's offering over the right-center field wall for a two-run homer.
"I was just trying to put it in play," he said. "It was a 2-0 count and I figured I'd get something to hit, and he left it middle-out. I just put a good swing on it and, luckily, it carried out."
Even with 10 multi-hit games since joining San Antonio, France isn't thinking about the future. He just wants to get home.
"Well, we have a 12-hour bus ride ahead of us, so that's what's on the mind right now," he said with a laugh. "Luckily, we have an off day tomorrow, so we get to rest up."
Padres No. 22 prospectJosé Rondón added three hits and scored twice in support of Brett Kennedy (5-3), who fanned a season-high eight while allowing a run on four hits over six innings.
Dickie Joe Thon homered and singled for Springfield.
Andrew Battifarano is a contributor to MiLB.com. Follow him on Twitter, @AndrewAtBatt.