SAL notes: Cave finding target for Augusta
Giants righty focused on improving accuracy with GreenJackets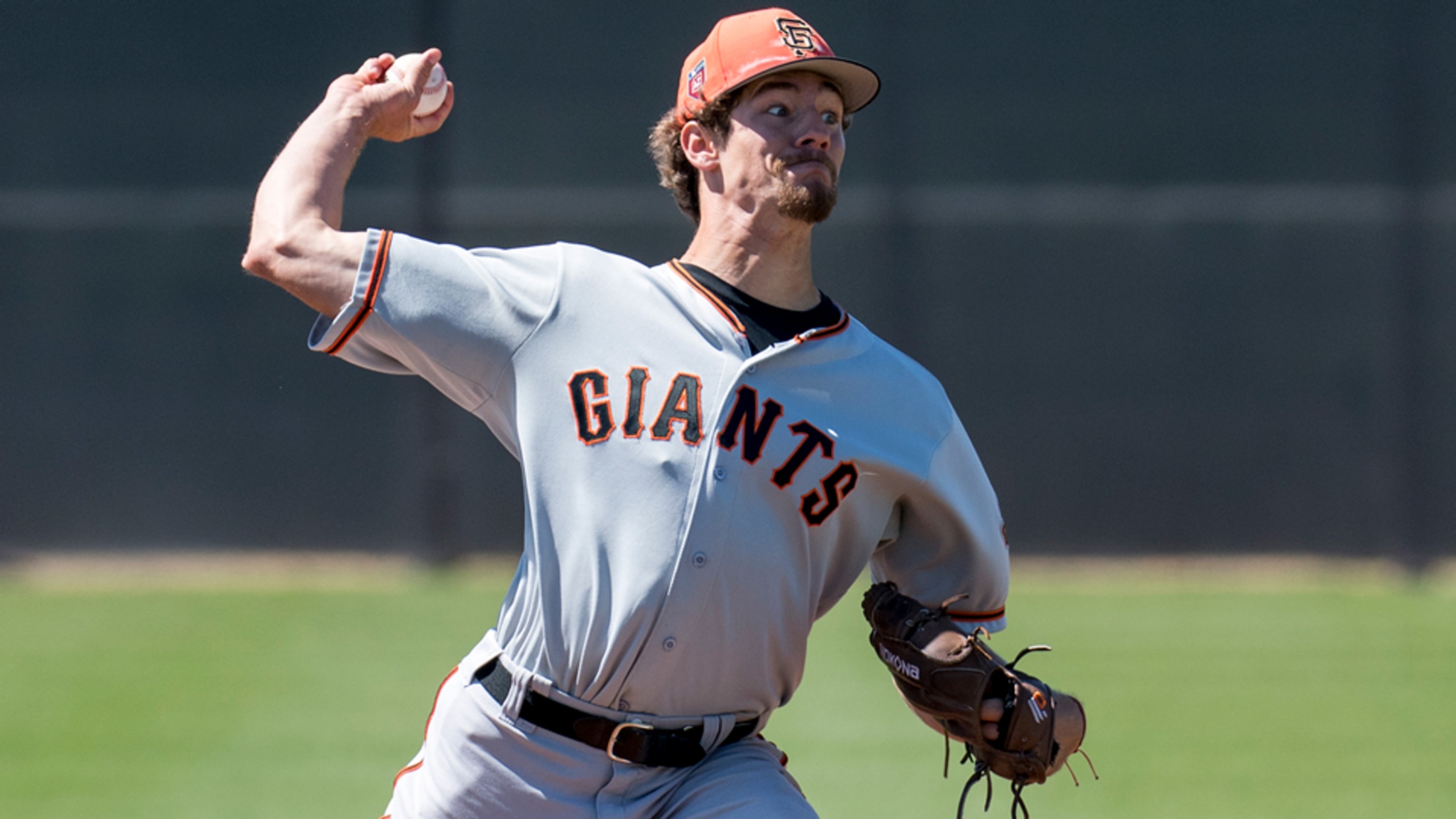 Garrett Cave's fastball rates a 65 on the 20-80 scouting scale, according to MLB.com. (Jared Ravich/MiLB.com)
Hall of Famer Christy Mathewson once said, "A pitcher's speed is worth nothing if he cannot put the ball where he wants to. To me, control is the first requirement of good pitching."That statement from the legendary Giants right-hander is as true today as it was a century or so
Hall of Famer Christy Mathewson once said, "A pitcher's speed is worth nothing if he cannot put the ball where he wants to. To me, control is the first requirement of good pitching."
That statement from the legendary Giants right-hander is as true today as it was a century or so ago when Mathewson was quoted. And no one understands it better than Garrett Cave, the 18th-ranked San Francisco prospect who is making strides in putting his pitches where he wants to with Class A Augusta after battling control problems throughout much of his amateur career.
"We're working on a lot of stuff and taking it outing by outing," Cave said. "I've been throwing the ball pretty well this year and a big reason for that is, I'm working with people who really understand how to coach a player.
"The biggest thing has been maturing and learning my body. I've always been a guy who throws hard but quite honestly didn't always know where it was going. Coming out of high school, I had the pure talent but I didn't know how to harness it. Now I'm being taught how to harness it and the results are speaking for themselves."
Hailing from Bushnell, Florida, Cave displayed an electric arm at South Sumter High School, which led to his being drafted by the New York Yankees in the 17th round in 2014. Though appreciative of the opportunity, he decided to turn down the Yankees' overtures and attend Florida International University. He continued to struggle with his control for two seasons while posting an ERA close to 5.00 in 25 appearances with the Panthers before transferring to Division II powerhouse Tampa for his junior campaign.
"I struggled somewhat during my freshman year and had to deal with some adversity and learn how to handle that," the 2017 fourth-round pick of the Giants said. "From there, it was stepping stones and building blocks along the way. Everyone has to learn how to battle and fight through difficult situations and I was able to do that in college."
Cave credits several of his collegiate coaches for helping him get closer to his ultimate goal, even if at times it felt like he was taking baby steps. He took his first major stride by leading the Cape Cod League with 10 saves and touching 98 mph in 2016. Once he arrived in Tampa, the right-hander worked with associate head coach (and former Yankees hurler) Sam Militello to further understand his body and harness his fastball command.
Splitting his 18 outings equally between starting and relieving with the Spartans, Cave went 5-2 with four saves and a 4.23 ERA as a junior. He also posted the third-best season in Tampa history by averaging 12.26 strikeouts per nine innings and the fifth-best campaign in program annals with an opponents' batting average of .199.
After signing with the Giants last summer, Cave went 1-1 with three saves in four opportunities along with a 5.85 ERA in 14 relief appearances at Salem-Keizer. He displayed a mid-90s fastball along with a hard upper-80s slider, a 12-to-6 curveball and a promising changeup. The potential of a four-pitch repertoire led the organization to use Cave as a starter this season with the GreenJackets.
To date he has started 15 of 16 outings and owns a 4-4 record with a 5.12 ERA, which is skewed somewhat after allowing nine earned runs in 3 1/3 innings against Columbia on July 2. He has surrendered only 60 hits in 63 1/3 innings and has 70 strikeouts but also has walked 41 and hit 10 batters.
Cave admits he loves the pressure and the chance to contribute on a daily basis as a reliever but also enjoys the role of having his team depend on him in a big way every fifth day. As far as his long-term role is concerned, Cave knows that decision is up to the Giants. In the meantime, his focus is on taking Mathewson's comments to heart while continuing to make progress with one of the more electric arms in the San Francisco farm system.
"I feel my development has really taken off in the past year, especially in learning how to pitch to hitters and understanding what they look for and how to get guys out," he said. "I've really grown in that aspect. It's not just throwing hard and hoping they swing at it. There's now a method to the madness and I'm learning a lot about myself in order to discover how to play this game for a long time."

In brief
Torrid stretch:
After enduring a June swoon at the plate, Asheville left fielder
Casey Golden
's bat got as hot as the weather as the calendar turned to July. In a three-day span from June 30-July 2, the UNC Wilmington product went 7-for-13 with five runs scored, four homers and nine RBIs. Through games of July 4, he was tied for second in the SAL with 52 RBIs and ranked third with 18 home runs, 149 total bases and a .548 slugging percentage.
Power-ful month:
West Virginia posted the best record in the SAL in June by going 19-8, which is the best mark during the month in franchise history (2005-present). The Power also ranked first during June with 12 saves, tied for second with 22 steals and third with a 3.21 ERA and 5.0 runs per game.
Cedrola to the Reds:
Greenville outfielder
Lorenzo Cedrola
, who ranks third in the SAL with a .318 batting average, was traded by Boston to the Cincinnati organization in exchange for $1.5 million in international amateur signing bonus pool allocation. The 20-year-old from Venezuela signed with the Red Sox in 2015 and has a career batting average of .302.
Bill Ballew is a contributor to MiLB.com.