Slania twirls seven-inning gem for Squirrels
Giants righty retires 18 of final 20 batters in two-hit shutout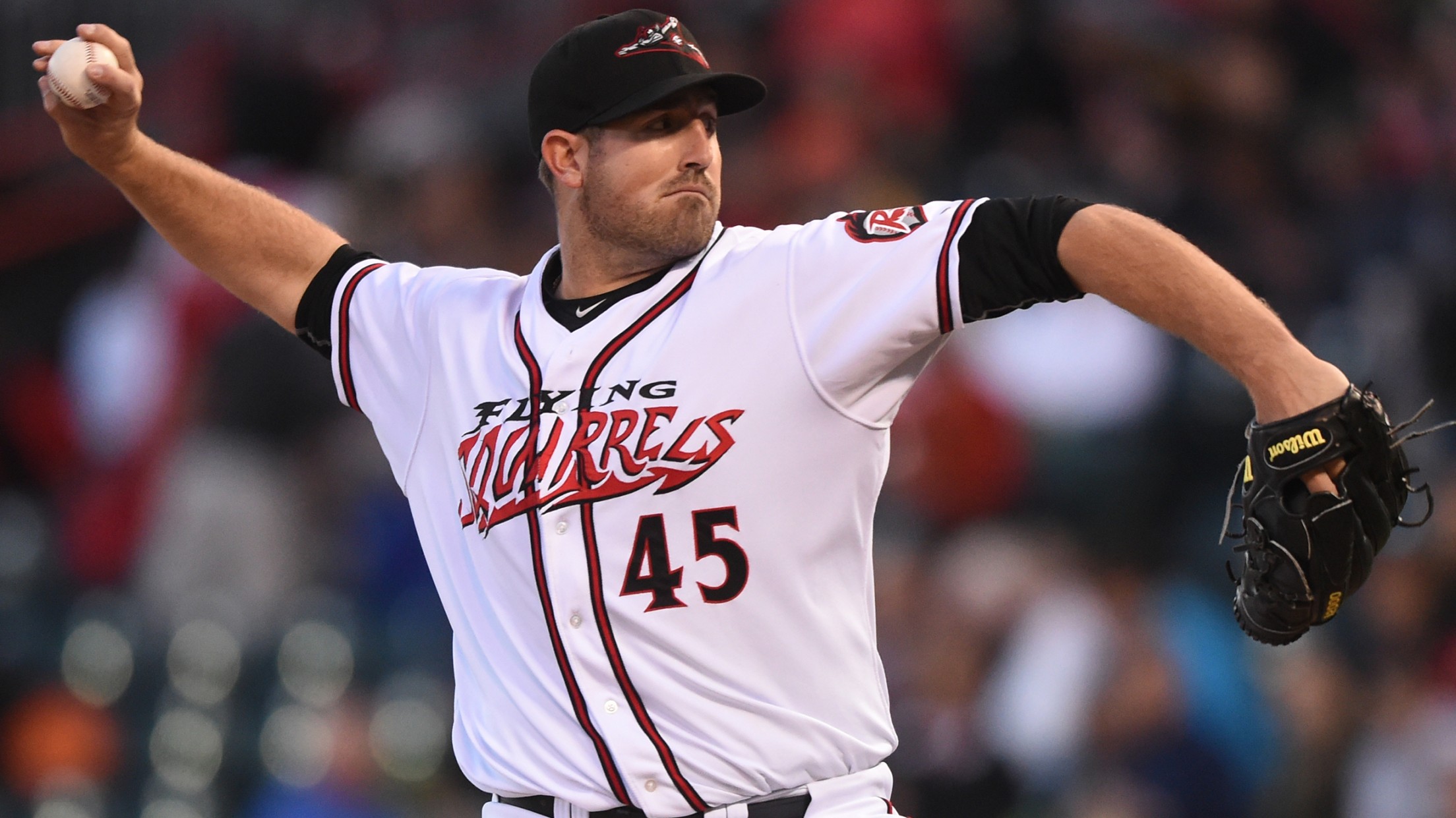 Dan Slania has a 3.54 ERA with 47 strikeouts and 22 walks over 68 2/3 innings this season with Richmond. (Kevin Pataky/MiLB.com)
Dan Slania hadn't recorded the final out of a baseball game since he was a closer more than a year ago. Doing so on Saturday brought back those memories. The same could not be said of the 20 outs that preceded it.The Giants right-hander went the distance as Double-A Richmond
Dan Slania hadn't recorded the final out of a baseball game since he was a closer more than a year ago. Doing so on Saturday brought back those memories. The same could not be said of the 20 outs that preceded it.
The Giants right-hander went the distance as Double-A Richmond topped Akron, 2-0, to complete a doubleheader sweep. Slania walked one and struck out eight over seven innings for his first win since July 30.
Gameday box score
Slania (4-3) surrendered a leadoff single to Indians No. 8 prospectGreg Allen and a two-out single to third-ranked Bobby Bradley before striking out Eric Haase to the end opening frame.
The 25-year-old faced one over the minimum through the final six innings. Slania stranded Haase after a two-out walk in the fourth and erased Bradley with a double play after he reached on an error by second baseman C.J Hinojosa in the seventh.
"That first inning, I was still kind of trying to warm up and find my way from my bullpen," the Notre Dame product said. "Once I got into a rhythm, and [catcher Aramis Garcia] was right there with me, we just started rolling and kept going."
Slania struck out Mike Papi on five pitches to complete his first professional shutout. The outing was the 6-foot-5, 275-pound hurler's longest of the season without allowing a run and lowered his ERA with the Flying Squirrels to 3.54.
"Everything was feeling good," Slania said. "The fastball was coming out with some life and pretty decent command today and my off-speed pitches were working as well. It's very nice to trust your defense and have a great catcher behind the plate like Aramis Garcia."
Slania has bounced around the San Francisco organization this year, with stops at Richmond, Triple-A Sacramento and a one-inning cameo in the big leagues. The Giants sent him back to the Eastern League on July 1 after he went 0-8 with a 7.82 ERA in 12 Pacific Coast League starts.
"It's definitely been an interesting year," Slania said. "It's been a fun year. It's showed me what I need to do and what I need to work on. Working with all the pitching coaches from Double-A to Triple-A to the big leagues and then coming back and working here with [pitching coach Steve] Kline, I've been really trying to find myself again."
• Get tickets to a Flying Squirrels game
Slania returned to the Flying Squirrels with clear goals in mind: improve his command and bring his off-speed pitches up to snuff.
"It's been a fun year, but it's been a year that's kind of been a struggle," the 2013 fifth-round pick said. "Every outing is one where I've got to lock it in and just get going."
Matt Whitehouse (7-7) also pitched a complete game for Akron. He gave up two runs -- one earned -- on four hits with a walk and four strikeouts over six innings.
Richmond scored seven runs in the first inning and held on for a 9-7 win in Game 1.