Cal notes: Webb, Marshall push each other
Giants pitching prospects on similar road back from surgeries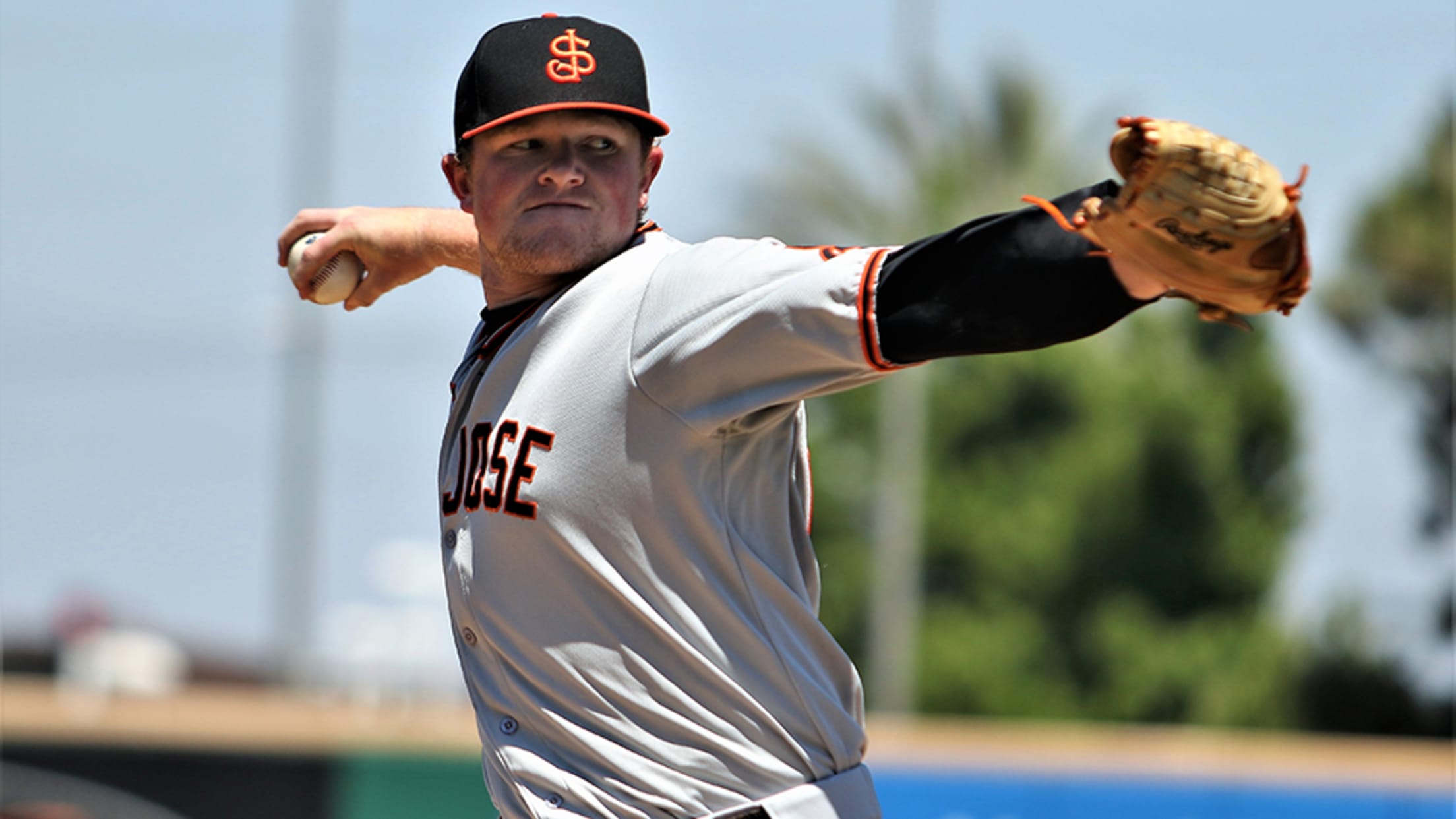 Logan Webb compiled a 17-inning scoreless streak that spanned six starts from May 13-June 3. (Jerry Espinoza/MiLB.com)
San Francisco Giants prospects Logan Webb and Mac Marshall have a lot in common.They were both drafted in the fourth round, albeit a year apart -- Webb in 2014 and Marshall in 2015. They were both born in 1996. Both are pitchers. And they're both recovering from arm surgeries and
San Francisco Giants prospects Logan Webb and Mac Marshall have a lot in common.
They were both drafted in the fourth round, albeit a year apart -- Webb in 2014 and Marshall in 2015. They were both born in 1996. Both are pitchers. And they're both recovering from arm surgeries and limited to three innings per outing for the San Jose Giants.
OK, maybe they wish they didn't have that last one in common.
Webb underwent Tommy John surgery in 2016, while Marshall had nerve transposition surgery a year later.
Webb said he knew the ligament replacement procedure was a possibility when he started feeling pain in his elbow in 2015. He finally reached a point where he felt it was time to take the next step.
"I started to feel some elbow pain and I talked to my trainers about it and it was kind of a wait-and-see kind of process," Webb said. "I finally said, 'All right, I think it's time to get it.' I got the surgery and it was kind of a blessing in disguise."
Making that decision was, understandably, a little scary for Webb, who was 19 years old at the time.
"I was definitely scared," he said. "I talked to a lot of people; a lot of my teammates helped out a lot. And they just kind of told me it's going to be all right and they said I would come back better from it. So I tried to take that to heart and just focus on being the best I can be during my rehab process."
Marshall began experiencing an issue with the nerve in his arm in high school and it followed him to Chipola Junior College. There, he started experiencing nerve subluxation, where the ulnar nerve slides back and forth from its normal position. After he was drafted, it bothered him "every now and then." At Spring Training last year, he started losing the feeling in his hand.
At first, Marshall said, it was thought something was wrong with his ligament. Luckily, that wasn't the case. That's when ulnar nerve transposition, in which the nerve is moved from the back of the elbow to the front, was suggested.
"I just told them what I'd been feeling and we were all pretty confident that my nerve needed to be moved," Marshall said. "Thankfully, that happened and I got the surgery. My arm has felt pretty good, so far this year, just a couple of scar tissue issues, that's about it."
After his surgery last year, Marshall and Webb went to Arizona to rehab together. They were roommates and have helped each other's recovery.
"I've known Mac since he was drafted," Webb said. "He came up to Salem-Keizer and I was there. … We've helped each other out pretty much our entire careers, even when we weren't hurt. Now, coming back from the injuries, we help each other out. We kind of feed off each other a lot. It's nice having him here with me, doing all this together the last year and a half."
The two started on the same three-inning limit. Webb, two years out from surgery, has progressed well, working his way up to four innings. Marshall has had a couple of stints on the disabled list dealing with scar tissue issues, but he's rooting for his friend.
"We're good friends off the field, too," Marshall said. "We're roommates on the road. It's helped, for sure, in the grand scheme of things. We can help each other and I think we both want what's best for each other. Hopefully, he'll keep pitching the way he has been. He's looked really good."
Webb has 15 starts under his belt, compiling a 1.94 ERA over 51 innings. He's gone four innings five times, including June 29, when he allowed three hits and three walks while striking out seven at Visalia.
"I feel great. My body feels good," Webb said. "The trainers have been working with me a lot and help me out every time I get sore or I need to do a little extra work. So it's been going well and I'm hoping I can continue on this path for the rest of the season, help the team win as much as I can."
Webb said he should be able to get up to five innings by the end of the season. He tries to get stronger every day, simply by following the same regimen.
"I think that helps out a lot staying loose, staying on the right workouts you do every day and just kind of going with it every time, even if I don't want to do it," Webb said. "Make sure I'm doing it to make sure I stay strong and I just stay on the right routine."
Marshall had another setback in his last start on June 27 when he suffered a strained hip flexor in his left leg, his pushoff leg. The diagnosis was good, however, as he got a cortisone shot and advised to rest for a week or two. He's on the seven-day DL.
"My biggest issue is staying on the field right now, moreso than what's happening on field," Marshall said.
The Georgia native has a 2.52 ERA over 25 innings in 10 starts. He went three innings in six of those outings.
The mental aspect of the game is what Marshall works on to get stronger. He said he's appreciated the advice he's gotten from Giants right-hander Casey Kelly, who's pitching for Triple-A Sacramento, and former Giant Ryan Vogelsong. Kelly, who's also battled injuries, has helped him find his footing and confidence.
"He helped me with how he went about it and stuff and just helping me just take things one day at a time," Marshall said. "If I had a bad catch session or bullpen session that day, just forget about it, it's on to the next day, so being able to put things behind, which really helps."
Vogelsong helped with the mental aspect of the game.
"Just staying in the moment and one pitch at a time," Marshall said. "Those few things have really helped this year and, when I am on the field, help your team win, which is obviously the priority each and every time you go out there."
Both Webb and Marshall are hoping to be able to help their team in a push for the North Division second-half title.
"We have a very good team, so we have a very good shot of competing for the second-half title," Webb said.

In brief
Bullpen fun:
Modesto Nuts relievers like to create designs on the bullpen fence using empty paper cups. Sometimes it's just a smiley face, while other times it's a bigger design -- like on June 14 when they created a gas pump that said NUTS. According to Nuts broadcaster Keaton Gillogly, the bullpen has dubbed itself "The Gas Station" because they come in and fill it up.
Michael Koval
and
Seth Elledge
were two of the creators of the gas pump paper cup art.
New season:
The start of the second half has been kind to some teams and not so kind to others. Modesto lost six straight before picking up two wins and, through the first nine games, sat in last place with a 2-7 record behind North Division first-half champion Stockton (7-2), Visalia (5-4) and San Jose (4-5).
In the South, first-half champion Rancho Cucamonga picked up where it left off and leads the division with a 7-2 mark. Lancaster is second at 5-4, followed by Inland Empire (4-5) and Lake Elsinore (2-7).
Merisa Jensen is a contributor to MiLB.com.