Lakeland's Baez ties career high with 11 Ks
Tigers No. 16 prospect spins 7 2/3 scoreless, now 3-0 in August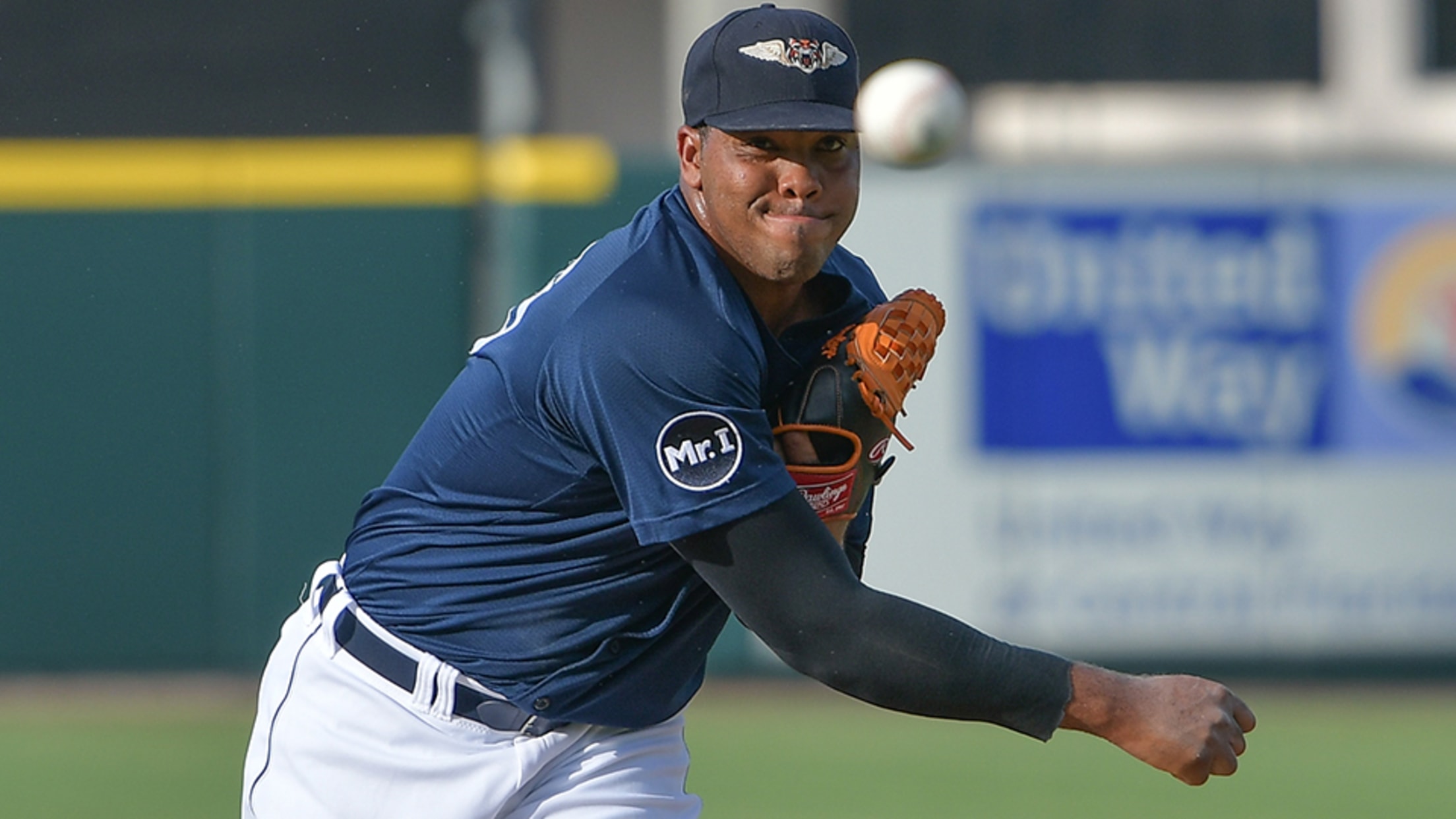 Sandy Baez is 25-26 with a 3.64 ERA in 88 Minor League games, including 83 starts, since 2012. (Tom Hagerty/MiLB.com)
After earning a reputation as a power pitcher behind a fastball that can run into the high 90s, Sandy Baez is finiding success for Class A Advanced Lakeland with some better developed off-speed weapons.The Tigers' No. 16 prospect matched a career high with 11 strikeouts over 7 2/3 innings in Lakeland's
After earning a reputation as a power pitcher behind a fastball that can run into the high 90s, Sandy Baez is finiding success for Class A Advanced Lakeland with some better developed off-speed weapons.
The Tigers' No. 16 prospect matched a career high with 11 strikeouts over 7 2/3 innings in Lakeland's 2-0 victory over Daytona on Friday night at Joker Marchant Stadium. Baez (6-7), who yielded four hits and a walk, improved to 3-0 this month.
"He just really had a good mix," Flying Tigers pitching coach Mark Johnson said. "He was able to expand the zone nicely. Instead of trying to be a power pitcher, he was able to change speeds with his changeup and his slider."
Box score
The 23-year-old set a personal best for strikeouts on June 20 against Dunedin and has 92 punchouts in 88 2/3 innings this season.
"He got ahead for one and was able to make put-away pitches when he was ahead in the count," Johnson said. "He had a good feel of his changeup and his slider. He stayed within himself and just executed for the strikeouts."
Signed out of the Dominican Republic in 2011, Baez was assigned to the Major League 40-man roster in the offseason as protection from the Rule 5 Draft after he went 7-9 with a 3.81 ERA and 88 strikeouts in 113 1/3 innings with Class A West Michigan.
He came into this season with a good feel for his four- and two-seam fastballs as well as a changeup while working to perfect a slider.
"It's still in development, but as he gets better, he's got to use it," Johnson said. "He's understanding when he makes a bad mistake on the slider, he comes back and is able to make the adjustment and make a better quality pitch."
The right-hander was perfect in his first trip through the order, getting five of the final six batters on swinging strikeouts.
That run ended when No. 10 Reds prospectAlfredo Rodriguez led off the fourth by drilling a grounder back up the middle for Daytona's first hit. Shane Mardirosian followed with a line single, but Rodriguez was thrown out by center fielder Jake Robson trying to take third. Baez ended the frame with swinging strikeouts of Luis Gonzalez and Reydel Medina.
James Vasquez lined a one-out single to left in the fifth, but was erased on a double play by Chris Okey. Baez started the sixth with a pair of swinging strikeouts before Rodriguez slapped a single to right and Mardirosian bounced out.
• Get tickets to a Lakeland Flying Tigers game »
Baez worked a 1-2-3 seventh and retired the first two batters he faced in the eighth before walking Blake Butler. Eduardo Jiménez relieved Baez and surrendered two hits over the final 1 1/3 innings en route to his fourth save of the season.
Will Allen was 3-for-3 with two doubles, drove in one run and scored another, while Blaise Salter singled twice and scored a run for Lakeland.
Rodriguez recorded his 11th three-hit game of the season for Daytona.
Gerard Gilberto is a contributor to MiLB.com. Follow and interact with him on Twitter, @GerardGilberto4.