Hightower fans 10 over five hitless innings
Pirates righty utilizes 69 pitches to set career high in strikeouts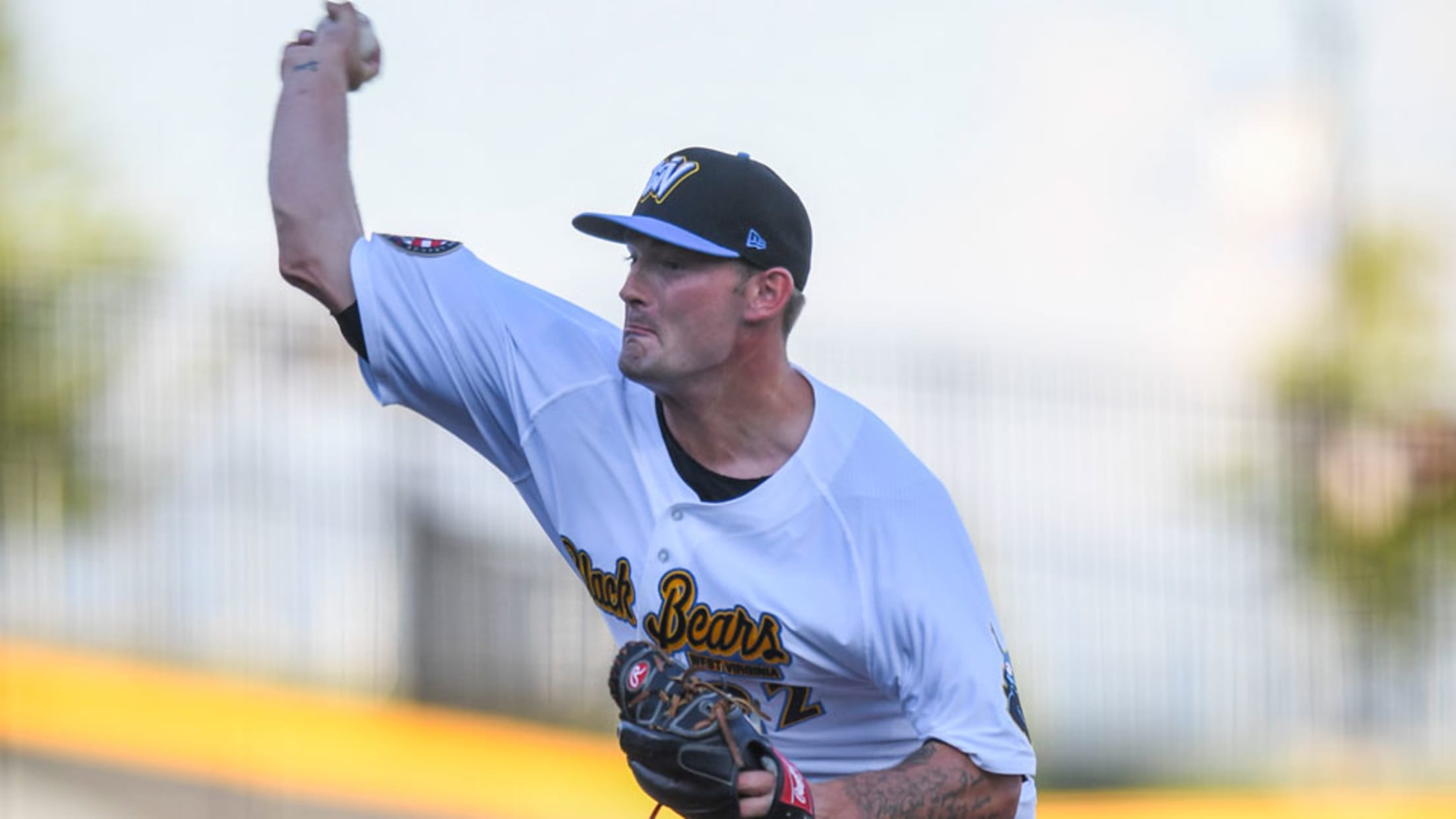 Scooter Hightower tops the New York-Penn League with 12 whiffs through his first six innings. (West Virginia Black Bears)
Scooter Hightower hadn't started a game since 2015, but he made a strong case to remain in Class A Short Season West Virginia's rotation after Thursday's outingThe Pirates right-hander delivered five hitless frames in the Black Bears' 3-1 win over the Williamsport Crosscutters at BB&T Ballpark. Hightower struck out a
Scooter Hightower hadn't started a game since 2015, but he made a strong case to remain in Class A Short Season West Virginia's rotation after Thursday's outing
The Pirates right-hander delivered five hitless frames in the Black Bears' 3-1 win over the Williamsport Crosscutters at BB&T Ballpark. Hightower struck out a career-high 10, including the last four batters and five of the final six.
Gameday box score
"I was locating my fastball really well in, out and up in the zone and getting a lot of swing-and-misses," Hightower said. "I was feeling great and I was just working with my catcher [Yoel Gonzalez]. We were on the same page the whole time, attacking with the fastball and letting the off-speed work after that."
Hightower (1-0) retired the first 14 batters, nine via strikeout, before running into trouble with two outs in the fifth inning. A missed catch at first base by Jose Barraza extended the inning and the right-hander hit Rodolfo Duran with the next pitch with West Virginia up 1-0. But Hightower fanned Jonathan Guzman to end the inning and his outing after 69 pitches.
"Right after [the missed catch] happened, I looked at [Barraza] and said, "Everything's OK, it'll be all right,'" the 6-foot-6, 215-pound righty said. "I let a changeup slip to the next batter and hit him and then just attacked with the fastball. Nothing really changes in that situation. My mind-set coming in is attack with the fastball and trust your stuff."
Pasquale Mazzocoli tossed two hitless innings in relief before Guzman ended the no-hit bid with a one-out single off Andrew Potter in the eighth. Williamsport managed one additional hit, a leadoff double to center by Greg Pickett in the ninth, but he was stranded to end the game.
Hightower, the Pirates' 15th-round pick in 2015, went 4-5 with a 2.38 ERA over 45 1/3 innings in 18 relief appearances last season for the Black Bears and Class A West Virginia. On Monday, the Tennessee native struck out two in a perfect inning in relief of rehabbing right-hander Mitch Keller, Pittsburgh's No. 2 prospect.
"Two years ago, I played with [Keller] when I got drafted," Hightower said. "He's a smart guy, very talented and knows what he's doing. We had a meeting with the whole pitching staff and he was talking about attacking with the fastball, keeping good tempo and keeping your defense in the game with your tempo.
"I work pretty fast as it is, so my focus was pounding the strike zone with first- and second-pitch strikes. I think that helped me out quite a bit along with my tempo, getting swings-and-misses and keeping hitters off balance. I think some batters didn't have enough time to get their routine in when they stepped into the box, I thought I did really well with that."
The 23-year-old is uncertain whether he'll remain in the rotation or move back to the bullpen. He made four starts for Rookie-level Bristol in 2015, posting a 3.79 ERA with a 1.11 WHIP, 25 strikeouts and two walks in 19 innings.
"I'm not really sure what they have mapped out for me. It's wonderful to be back throwing innings one through five," Hightower said. "Being in a long relief role last year, I'm pretty familiar with throwing multiple innings, but it's the first time I've thrown five in two years. It was nice to get out there and be able to control the game in the first inning.
"As of right now, I'm a starter, hopefully looking forward to staying as a starter and doing everything in my control to stay there. But if the organization says, 'Hey we need you in the bullpen, you're better off there,' I'm all for it."
Ryan Nagle and Nick King had two hits apiece for the Black Bears. Nagle, who reached three times, also scored an insurance run on Gonzalez's sacrifice fly in the seventh.
Julian Garcia (0-1) allowed one run on three hits and a walk while striking out seven in five innings for Williamsport.