Scorching Melendez keys Legends barrage
No. 4 Royals prospect tops weekend career high with six RBIs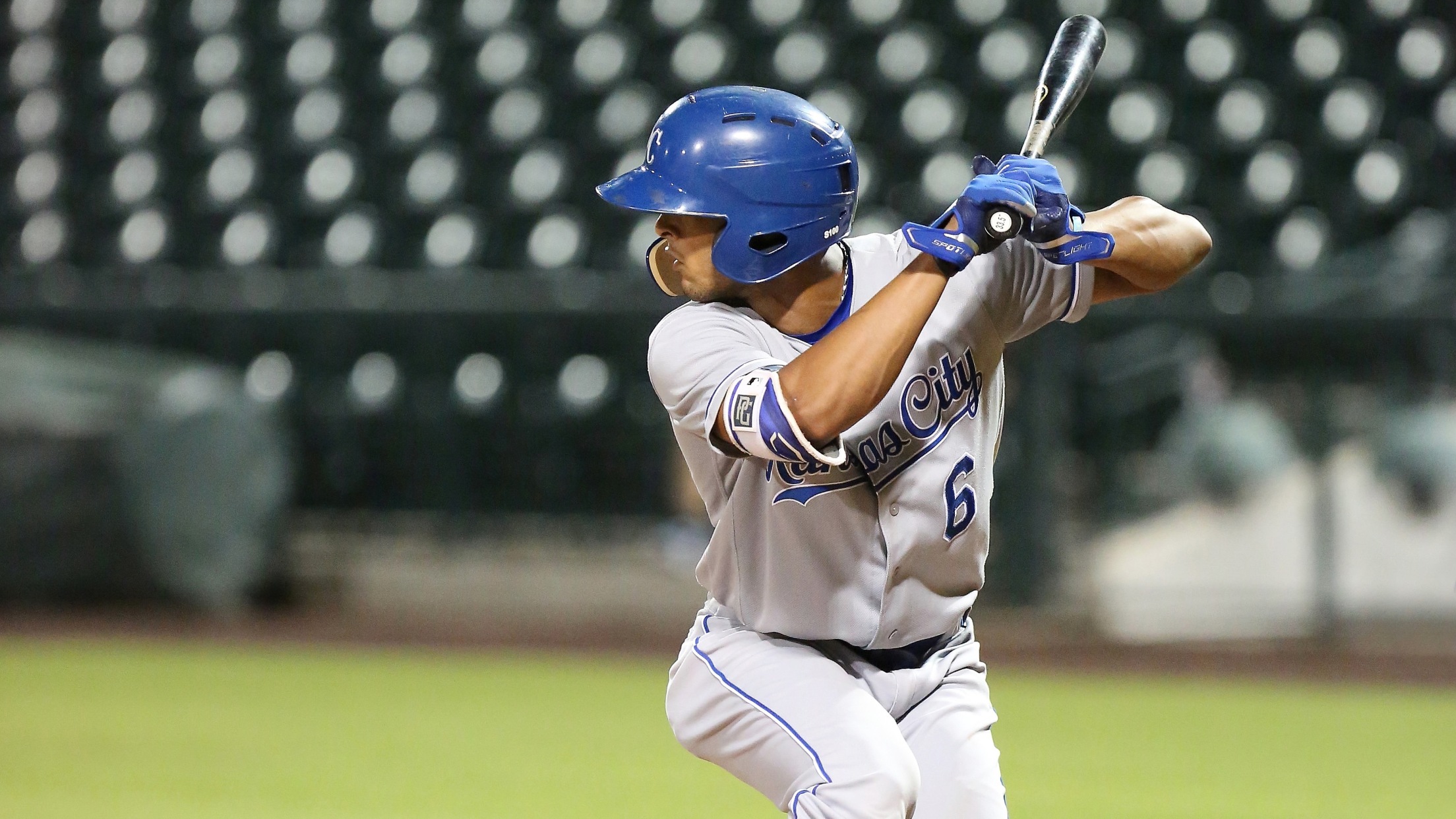 MJ Melendez has picked up three three-hit games over his last six outings. (I.B. Lee/MiLB.com)
On a night in which all Class A Lexington's bats broke out, MJ Melendez had the biggest night of all.Just three nights after setting a career high in RBIs, Kansas City's No. 4 prospect topped himself with six in the Legends' 18-2 shellacking of the Rome Braves. Dennicher Carrasco racked
On a night in which all Class A Lexington's bats broke out, MJ Melendez had the biggest night of all.
Just three nights after setting a career high in RBIs, Kansas City's No. 4 prospect topped himself with six in the Legends' 18-2 shellacking of the Rome Braves. Dennicher Carrasco racked up five hits and Brewer Hicklen fell a triple shy of the cycle on a four-hit night en route to Lexington's fifth straight win.
"Tonight was really fun to watch," said Legends hitting coach Jesus Azuaje. "The guys came out swinging from the beginning. What I'm glad to see is the guys make adjustments and not miss their pitches. That's exactly what we are looking for."
Melendez blasted his eighth homer of the season -- a three-run shot to left-center field in the fifth inning, the Legends' first big frame of the night. After driving in a run with a groundout to first in the seventh, he keyed the five-run eighth by lining a two-RBI double to center. He also doubled to right in the third.
Gameday box score
"With MJ, we've been working on him staying within himself and shortening up his swing a little bit," said Azuaje. "Because he's at a young age, all the talent he has, the power he has, he can try to do too much. He's been making a lot of adjustments in the past week and has had good results right now. He's not trying to do too much, all he's got to do is make contact. He has a lot of power, and he's doing it now. We hope he continues to do it."
Carrasco got into the hit column in the fourth with a ground ball to left. He singled in a run with a liner to left in the fifth. The 22-year-old infielder plated another run with a ground ball up the middle in the seventh and crossed the plate on a roundtripper by Sebastian Rivero. When the Legends batted around, he sent another single up the middle before doing the same with a knock to center in the eighth.
"We never doubt his hitting," Azuaje said. "We know that he can hit. He started a little slow adjusting to the league, but he's come along the last few games. It's the same thing with him not trying to do too much and having a good approach. We want him to go gap-to-gap, that's the biggest thing for the young hitters. They go up and try to do too much and that gets them in trouble. They need to let it happen."
Hicklen got the offense started in the first with a two-run blast to right-center. He led off the seventh with a double to center and later dropped in a line drive to center in the same frame. The 22-year-old outfielder finished his night with an RBI double to center in the eighth.
"Brewer is an older guy, but he's done a great job for us lately," said Azuaje. "He's had a consistent approach. The key for him is not missing his pitch. When he gets into hitters' counts, he doesn't miss. That's the thing for all hitters -- if you get into that count and you get the pitch to hit and don't miss it. That's what he's been doing lately and he's gotten hard contact. He's had great opposite-field power."
Andres Sotillet (2-2) allowed one unearned run on five hits while striking out nine over eight frames.
Marisa Ingemi is a contributor to MiLB.com. Follow her on Twitter @Marisa_Ingemi.