Blue Rocks' Blewett finally bests P-Nats
Royals No. 4 prospect posts seven zeros to win in fourth meeting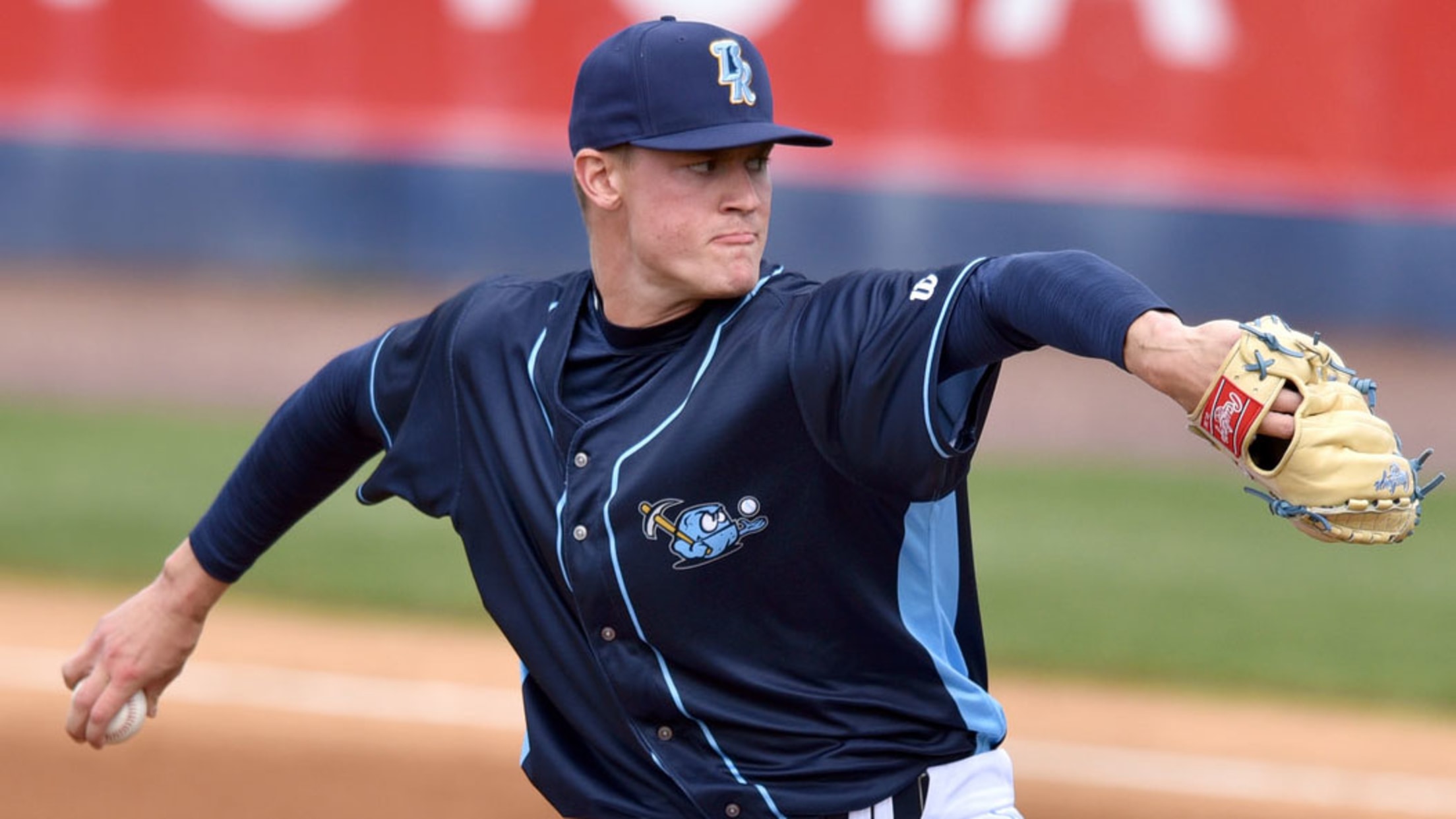 Scott Blewett has allowed 14 earned runs in four starts against Potomac this season. (Ken Inness/MiLB.com)
For more than a month, Class A Advanced Wilmington's Scott Blewett couldn't solve Potomac. He finally did so on his fourth try Monday. "I was pretty juiced coming into today," the Royals' No. 4 prospect said. "That was the one team I wanted to beat really badly."Blewett scattered three hits and
For more than a month, Class A Advanced Wilmington's Scott Blewett couldn't solve Potomac. He finally did so on his fourth try Monday.
"I was pretty juiced coming into today," the Royals' No. 4 prospect said. "That was the one team I wanted to beat really badly."
Blewett scattered three hits and two walks while striking out six over seven innings in the Blue Rocks' 2-0 win at G. Richard Pfitzner Stadium. Of the 18 earned runs the right-hander has allowed this season, 14 were scored by the Nationals.
"My last time facing them, I started off pretty strong. And then the second and third time through the order, we stuck with the same gameplan. They started cheating on some balls and strung a few hits together and scored some runs," Blewett said of his May 10 start against Potomac in which he surrendered a season-high six runs over 5 2/3 innings. "Today, we had a gameplan for every time we are going to face each hitter, and I think that was the key."
Box score
The Nationals tallied all their hits, including doubles by Kelvin Gutierrez and Edwin Lora, in the first three innings.
"Usually with runners on second base, I'm a little more comfortable because I don't have to worry about guys stealing and my rhythm is kind of better," the 2014 second-round pick said. "I didn't really feel the pressure all that much and that's been a big thing for me. When there are runners in scoring position, I've been able to maintain my mentality and just stay calm and not let the game speed up to me. I just slowed the game down and made some pitches."
Blewett retired 13 of the final 14 batters he faced, fanning four of them.
"As the game went on, the confidence got there," he said. "Once the confidence is there, you just zone in and make pitches. The catcher [Nathan Esposito] and I were on the same page today and that was huge. You trust each other everything just kind of flows. I was pretty excited about that."
The Baldwinsville, New York native improved to 2-3 in his first Carolina League campaign after finishing a second full season last year with Class A Lexington. He went 8-11 with a 4.31 ERA over 25 starts with the Legends.
"As you go up, obviously everybody is going to get better," Blewett said. "The hitters are going to get better and guys are going to have an approach against you. And if you make a mistake, you're going to pay for it. So I've learned to try not to beat myself up too much about the bad outings and have a short memory.
"The biggest thing is just make sure you make pitches. There are times you'll make mistakes, but you've just got to let it go and move onto the next one. Just focusing on every pitch and not taking a single pitch off is huge, especially for my progression moving up."
Franco Terrero allowed a hit and struck out two over two innings to pick up his second save.
Cody Jones tripled and singled for Wilmington.
Michael Peng is a contributor to MiLB.com. Follow him on Twitter @MichaelXPeng.