Scott's Story | Ems Fan, MLB Umpire, And LGBTQ+ Activist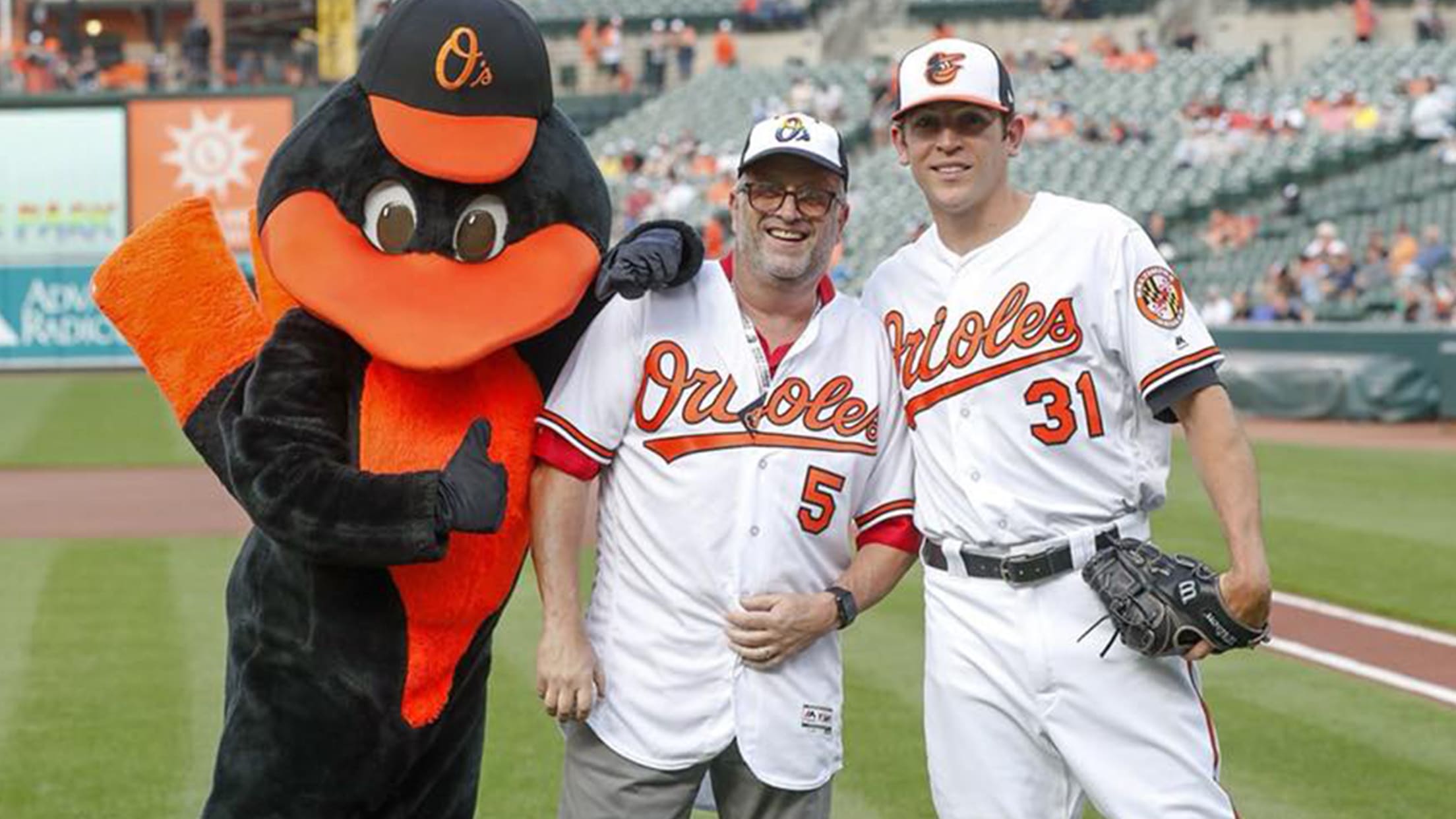 Scott (center) poses with the Baltimore Orioles mascot and a player prior to the team's LGBT Pride Night in 2018.
The name Dale Scott is one that many sports fans in the Emerald Valley might not know but should. 
The name Dale Scott is one that many sports fans in the Emerald Valley might not know but should.
In recent years, the Eugene native has attracted nationwide notice for being the first active male official in major American male sports (MLB, NBA, NFL, NHL) to have come out as openly gay.
While there is far more to Dale than that admittedly noteworthy nugget, it's a note that can't help but garner attention. Indeed, when you're the first to do anything you're likely to gain a disproportionate amount of attention, and Scott is no exception.
No matter, though. For those that only see Scott's identity as being a gay man and nothing more are unable to see the forest for the trees, let alone accurately call balls and strikes.
As a kid, he spent summers at Civic Stadium watching former Phillies greats during the Emeralds' Triple-A era in the late 1960s and early 1970s.
A graduate of Sheldon High School and a devout Oregon Duck fan, Scott enjoyed a 37-year umpiring career that included calling outs at the highest levels. From All-Star Games to World Series matchups, Scott has seen it all, and few umpires have experienced a career as long and as storied as his.
In short, the man loves baseball and has built a lifetime around the game, and yes, he just so happens to be gay, too.
____
Growing up in the Sheldon neighborhood of Eugene, Scott attended Gilham Elementary, Cal Young Junior High, and Sheldon High School throughout his childhood.
Like most kids, though, a majority of the school year was spent focusing on the upcoming summer, and there was one place that Scott loved to spend his summers more than most.
"I loved going to Civic Stadium and watching the Ems," says Scott. "I just loved the game for as long as I could remember. Being able to go watch the pros was such a highlight for me. My birthday is in August, and I always asked if we could go to an Ems game for my birthday. That's what I wanted to do."
Scott's childhood coincided with the brief Triple-A era of the Ems, then an affiliate of the Philadelphia Phillies. During that period, a large number of future MLB stars - both players and managers alike - passed through the old WPA-built stadium.
"I saw players like Bob Boone, Denny Doyle, Larry Bowa, Cal Emery, Oscar Gamble, and my favorite player, Joe Lis," recalls Scott. "One of my best friends and I would go when Spokane was in town, who then was a farm team for the Dodgers. Tommy Lasorda managed them, and we would bet on what inning he would get ejected since it seemed like he was always getting thrown out or in multiple arguments every game."
As it turns out, players and coaches weren't the only on-field personnel that caught Scott's attention while attending games at Civic Stadium.
"I remember watching and knowing the names of many of the umpires from that time," he recalls. "Guys like Bruce Froemming, Terry Tata, Dutch Rennert and Paul Runge. I had no idea that I would actually work with some of these guys some twenty years later."
While Scott's dream to be a pro ballplayer never quite came to fruition - "I couldn't hit, run, throw or field," he jokes. "King of important!" - his love for the game and, perhaps more importantly, his understanding of the game led him to a different pursuit: umpiring.
After attending umpiring school, Scott got his start back in the familiar territory of the Northwest League. Little did he know, that was the beginning of a decades-long career that would see him rise through the ranks all the way to the majors.
"Thinking I could umpire at the Major League level didn't happen until I was working Triple-A," says Scott. "Your goal is just to get to the next level, taking it one season and one level at a time. Any MLB thoughts, even when in the system, is so far out there that it's not even a reality."
However, it did become a reality for Dale. He soon became a mainstay within the MLB umpiring ranks, even earning calls to umpire multiple All-Star Games and World Series. All the while, though, his sexual identity largely remained hidden from those within his profession.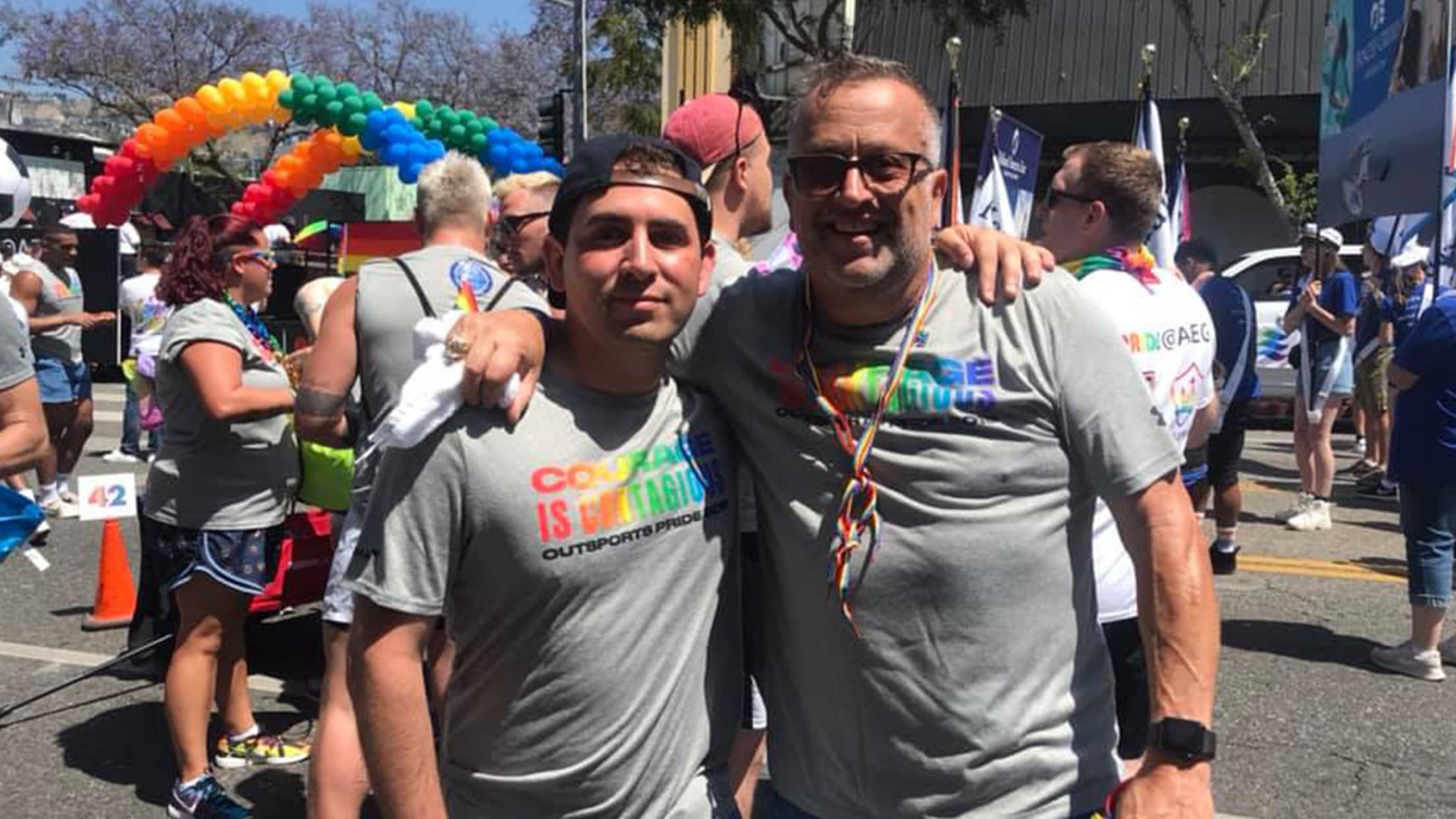 In 2014, after conducting an interview with Referee magazine, Scott was asked to provide a non-game photo for use in the article. As he outlined in a later interview with Outsports, Scott discussed the matter with his partner, Michael Rausch, and decided to send a photo of the two of them together, a subtle yet notable nod to his sexual identity.
Soon, the secret was out. The reaction? Subdued, to be honest.
"I publicly came out in December, so it wasn't during the season," Scott recalls. "That made things simpler since I wouldn't be bombarded with local media every few days when I would be working in a different city. I received several mock texts from fellow umpires who had known I was gay for years saying, "You're gay? Really? I'm shocked!"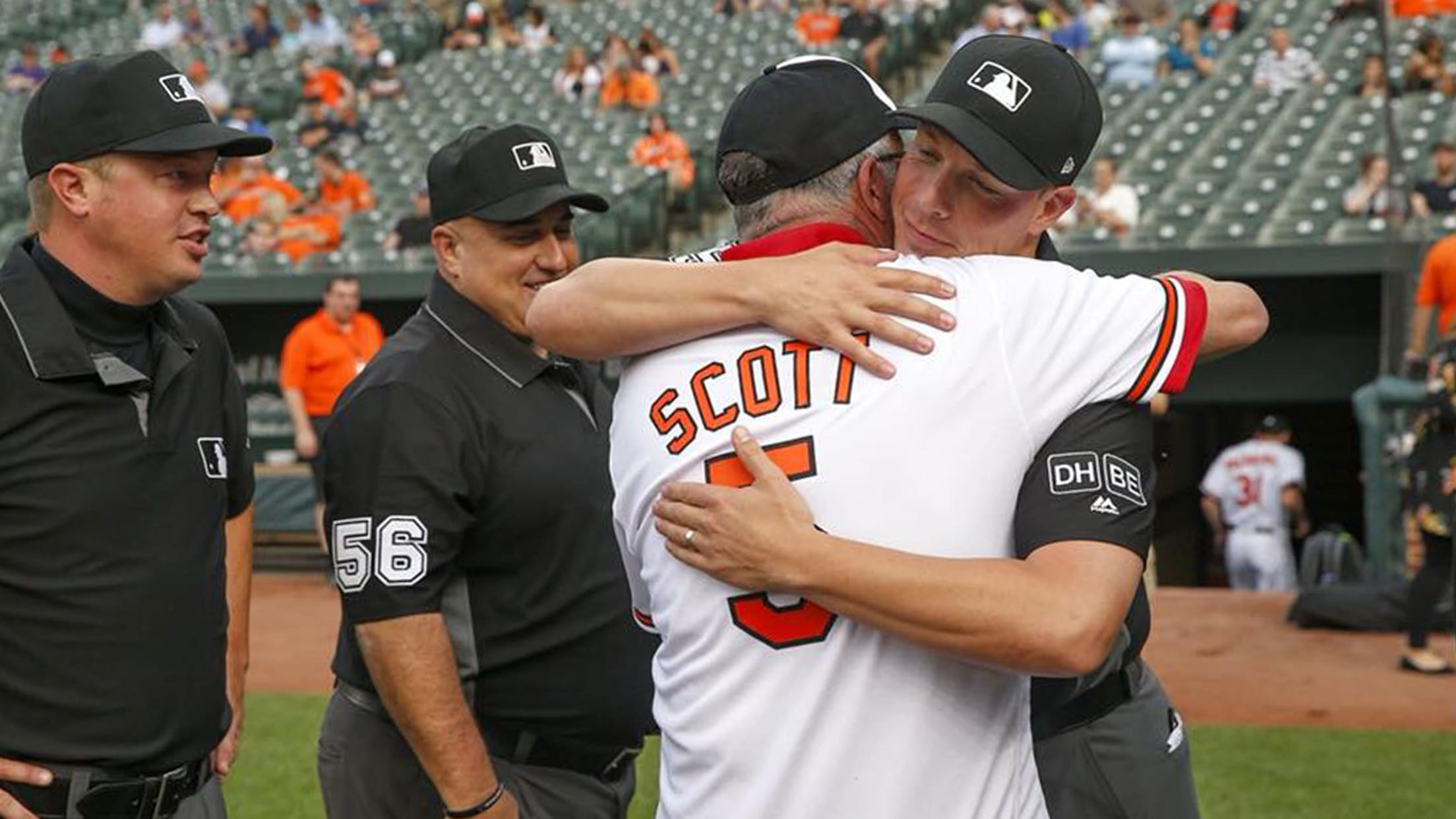 The lighthearted responses from his fellow umpires helped ease the anxiety that had naturally manifested, but the reaction he received from a few players during his first Spring Training game that following March was beyond expectation.
"It was three months later and, frankly, I think a lot of people had forgotten it was even a story," says Scott. "But that first game, I did have two players from the Reds who congratulated me and said how proud they were for my coming out."
"One, Marlon Byrd, ran up to me, gave me a big bear hug and said, 'Dale, I'm so happy for you. You're free now, brother, you're free!' I didn't know what to expect when I walked on the field that day, but I was very touched by his reaction."
As the actions and reactions of players, coaches and umpires soon showed, Dale's sexual identity didn't change their opinions of him one bit. Perhaps unsurprisingly, the only thing that could really change their opinions was his accuracy in making calls on the diamond.
"Only a couple of other on-field personnel that entire season said anything to me, all positive, and that's a good thing," said Scott. "The reality was it didn't matter as long as I just did my job, got pitches and plays right."
Now retired, Scott struggled to pick a peak moment in a 37-year career that included too many memories to count, but a few certainly stick out.
"My first World Series in 1998 and the 2001 World Series are up there," says Scott. "The backdrop in 2001, with America still in shock after 9/11 and my plate job being Game Three, the first game in New York, set the stage for such a memorable seven-game series. Then add the fact that Game Three had President Bush at Yankee Stadium throwing out the first pitch. It can't help but be a significant memory in a long career."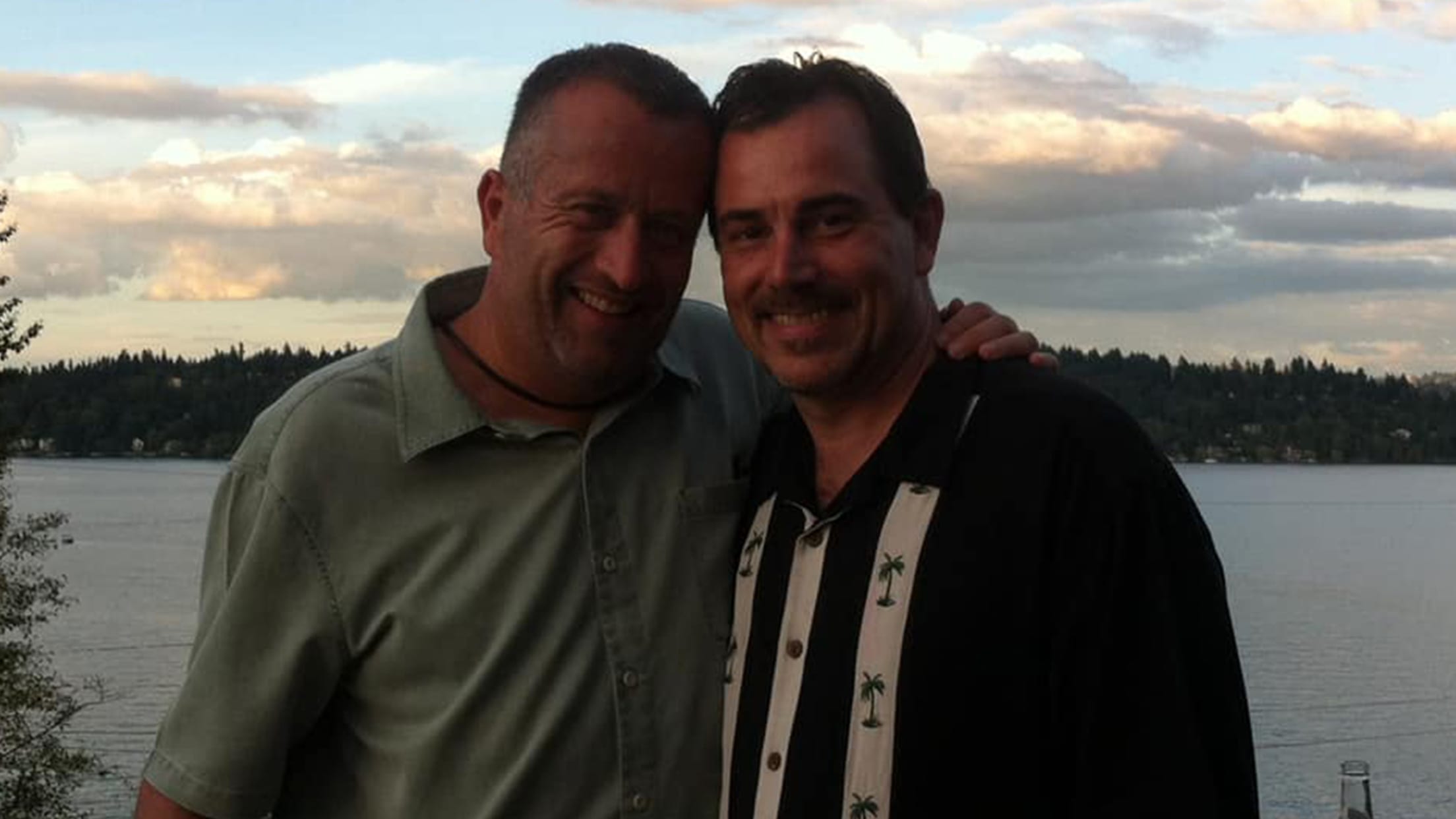 Dale and his partner, Michael, now primarily reside in Portland, Oregon. Dale will be participating at a number of MLB/MiLB Pride events throughout the 2019 season, including this upcoming June 25 with MLB's Los Angeles Angels.
Earlier this month, Minor League Baseball announced the official launch of the largest documented PRIDE celebration in professional sports, as part of the organization's diversity and inclusion initiative. Nearly 70 MiLB teams, including the Emeralds, will host Pride nights or events this season.
For more information about MiLB Pride visit www.milb.com/about/pride.