Scouting report: Dodgers' Bobby Miller
No. 85 overall prospect finding early success with Great Lakes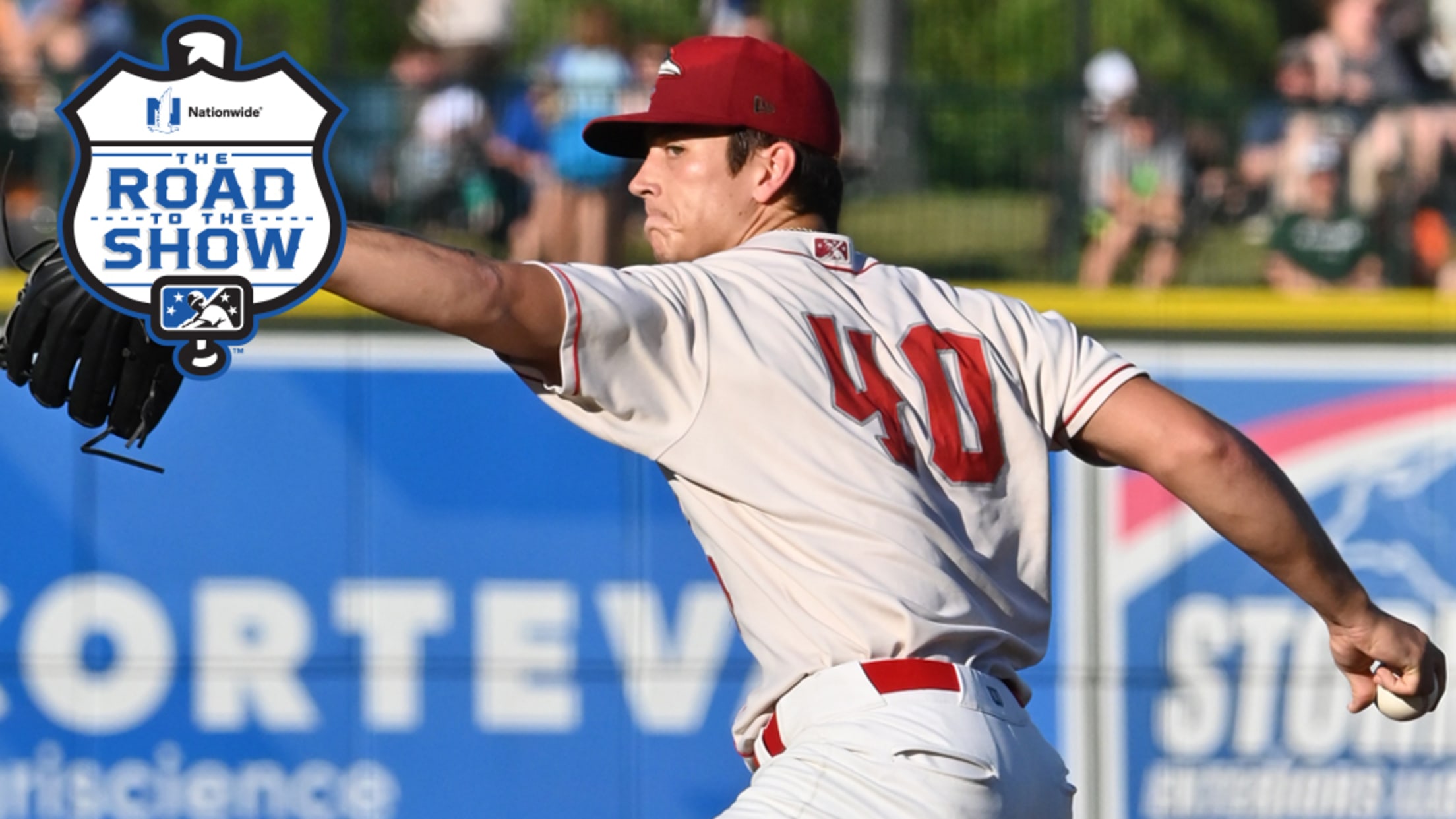 (Great Lakes Loons)
MiLB.com's Scouting Report series spotlights players who are just starting their professional careers, focusing on what the experts are projecting for these young phenoms. Here's a look at fourth-ranked Dodgers prospect Bobby Miller. For more player journeys on The Road to The Show, click here. The Dodgers have a successful
MiLB.com's Scouting Report series spotlights players who are just starting their professional careers, focusing on what the experts are projecting for these young phenoms. Here's a look at fourth-ranked Dodgers prospect Bobby Miller. For more player journeys on The Road to The Show, click here.
The Dodgers have a successful history of developing aces within their system.
Although he only has less than a full season under his belt, Bobby Miller has emerged as a candidate for the next pitcher in the line of succession behind Clayton Kershaw and Walker Buehler as the next homegrown ace in Chavez Ravine.
The Dodgers' fourth-ranked prospect went to McHenry-West High School in Illinois where he posted a 0.83 ERA, a 0.95 WHIP and 93 strikeouts in 59 innings in his senior year. Miller was set to be a high pick in the first round of the 2017 MLB Draft, but he had to undergo surgery a week before the draft to repair a torn meniscus in his right knee. The Baltimore Orioles selected him in the 38th round that year, but he declined and attended the University of Louisville.
In his first season as a freshman at Louisville, Miller earned 2018 Freshman All-America honors after closing the season with 6-1 record, 2.97 ERA and 55 strikeouts in 66.2 innings and nine starts. Miller was setting up for his best season yet in his junior year before the coronavirus pandemic cut the season short, posting a 2.31 ERA with 34 strikeouts across 23 1/3 innings in his first four starts.
He was best known for the 2019 NCAA Super Regional performance against East Carolina where he carried a no-hitter into the ninth inning, leading to a 12-0 victory that punched Louisville's ticket to the College World Series. In three seasons with the Cardinals, where he was used as a starter in 24 of 40 total appearances Miller recorded 15 wins and only two losses, a 3.28 ERA and 170 strikeouts in 175 innings pitched.
With the 29th pick, the Los Angeles Dodgers select RHP Bobby Miller from the University of Louisville. #MLBDraft pic.twitter.com/WZTBAlkMcH

— Los Angeles Dodgers (@Dodgers) June 11, 2020
His stellar college career vaulted him back to the first-round talent that he was destined to be out of high school, and he went to the Dodgers with the 29th overall pick the 2020 MLB Draft.
"I've always been a huge fan of the Dodgers growing up. I went to a game with my dad and being in that stadium, seeing how electric it is, and how successful the program has always been, I was like I would love to be a Dodger one day. It's the best program in baseball, I'm so glad I got this opportunity. I wouldn't have it any other way," Miller told Spectrum SportsNet LA after the draft in June.
The hard-throwing, right hander was able to pitch at Spring Training as well, receiving raving reviews from big-league skipper Dave Roberts.
"Getting in a big league game, I know adrenaline was going. Really good fastball, breaking ball got a nice double play. Really good. I'm excited to watch him continue to develop, Dodgers manager Dave Roberts said to Spectrum Sportsnet LA in March.
So far, Miller, MLB Pipeline's No. 85 overall prospect has been equally impressive with High-A Great Lakes. He posted a 2.03 ERA with 53 strikeouts in 44.1 innings over his first 10 starts and helped the Loons toss the first no-hitter in team history.
Led by 5 IP from Dodgers No. 5 prospect Bobby Miller, High-A Great Lakes tossed the first no-hitter in team history!

➡️ https://t.co/qc77n9eCdk pic.twitter.com/DcCzqJoihF

— MLB Pipeline (@MLBPipeline) July 24, 2021
"It's very humbling. This is the right team to do it though. We've got a special group of guys here. I feel really good about that," Miller told MLB.com in July.
Before that no-hitter, Miller prepared by studying both their tendencies and reactions of the opposing team.
"Looking at the spots they hit best, looking at the spots they aren't so great in. Looking at a certain type of bat path. Say he has a horizontal bat path, that tells me I can get under the bat. Different swings, different kinds of players, knowing what those are and sticking with what I know," Miller told MLB.com in July.
Miller hasn't pitched since that July 23 no-hitter and is currently on the injured list for an unspecified reason. But he looks to be on the path toward Hollywood stardom.
Here's what the experts at MLB Pipeline have to say about Miller:
Scouting grades (20-80 scale)
FASTBALL: 65
CURVEBALL: 50
SLIDER: 60
CHANGEUP: 55
CONTROL: 50
OVERALL: 55
"Miller enjoyed nothing but success and continually improved after joining Louisville's weekend rotation as a sophomore in 2019, yet there were mixed opinions about his delivery and where exactly he belonged in the 2020 Draft. Though he improved his control during the shortened college season, he was available with the No. 29 overall pick, which the Dodgers gladly spent along with a $2,197,500 bonus to land him. He since has raised expectations with the way he pitched at Los Angeles' alternate site and in instructional league last year and in his pro debut in 2021.
Miller throws harder than most starters, working into the mid-90s deep into games, topping out at 99 mph with a riding four-seamer and operating at 93-95 with a heavy two-seamer. He also dodges bats with a sharp mid-80s slider that grades as well above-average at its best, and he can morph it into a cutter that reaches 90 mph. He trusts his mid-80s changeup, which features fade and sink and shows signs of becoming a plus pitch, and has added a spike curveball since turning pro.
While there's some effort in Miller's delivery, the Dodgers believe it has improved significantly as he has gotten more acclimated to starting. His control and command continue to get better, and his strong 6-foot-5 frame is built for durability, so they see him as a definite starter. Instead of wondering if he might wind up in the bullpen like some did in the past, scouts now ponder whether he'll become a frontline starter."
Michael Huang is a contributor to MiLB.com.