RubberDucks advance behind Brady's gem
Indians prospect scatters seven hits over seven shutout frames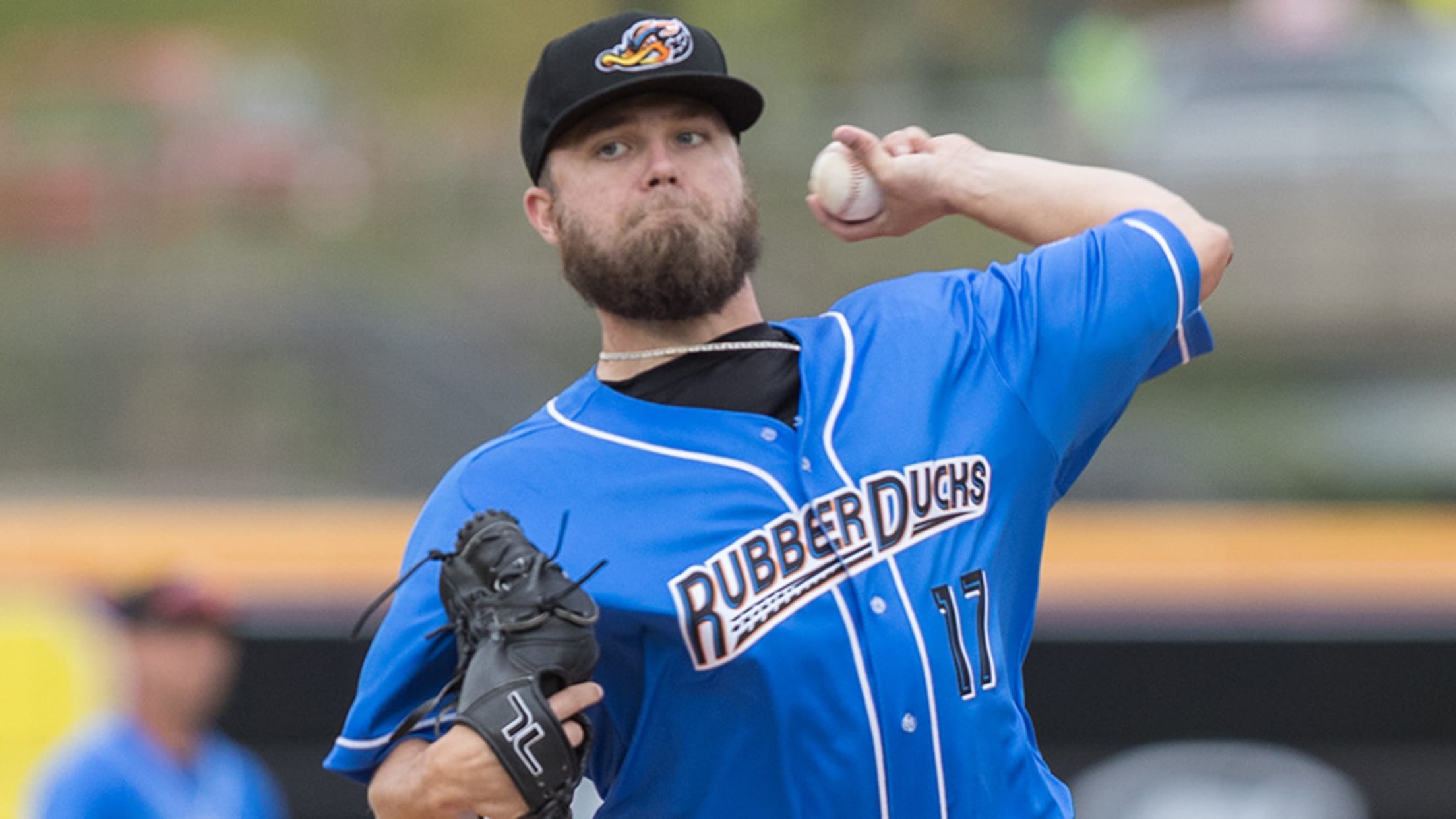 Sean Brady went 2-0 and allowed three earned runs in his final three starts of the regular season. (David Monseur/MiLB.com)
For the second time in three seasons, Akron will play for the Eastern League title. Indians prospect Sean Brady scattered seven hits and struck out three without issuing a walk over seven innings as the RubberDucks blitzed Altoona, 9-0, to win the best-of-5 semifinal series, 3-1, on Saturday at Peoples Natural
For the second time in three seasons, Akron will play for the Eastern League title.
Indians prospect Sean Brady scattered seven hits and struck out three without issuing a walk over seven innings as the RubberDucks blitzed Altoona, 9-0, to win the best-of-5 semifinal series, 3-1, on Saturday at Peoples Natural Gas Field.
"The ride's been great," said first-year Akron manager Tony Mansolino. "It's definitely something gratifying and we're excited about it."
Gameday box score
Brady (1-0) pitched to contact throughout, recording eight ground-ball outs and seven through the air. His offense staked him to a two-run lead before he even took the mound, with a run-scoring groundout from Tyler Krieger and RBI single by Andrew Calica giving Akron a 2-0 lead in the first. Calica added a two-run homer in the fourth and finished 3-for-4 with three RBIs and two runs scored.
"[Calica]'s been beat up a little bit this season," Mansolino said. "Happy for him. That's a big moment that he took advantage of."
The left-hander faced the minimum the first time through the order, despite allowing two hits. He induced a double play from Logan Hill to end the second and picked off Stephen Alemais for the second out of the third.
The 2013 fifth-round pick encountered his most serious challenges in the fifth and seventh, when he gave up back-to-back singles in each instance. Pirates No. 16 prospectWill Craig and Jin-De Jhang led off the seventh with knocks, but with a nine-run lead, Brady stayed on the attack. He recorded three consecutive flyouts to keep a zero on the board.
The Cape Coral, Florida, native threw 64 of 96 pitches for strikes, and it was his ability to stay around the zone that convinced Mansolino to let him finish the seventh.
"The conversation was ultimately, we needed somebody to throw strikes," he said. "And in a nine-run game or whatever it was, who better to throw strikes than the guy who had been doing it the previous six innings? We were going to cover our backs a little bit, but the idea was that he was going to finish that inning."
• Complete postseason coverage »
In 27 regular-season starts, Brady went 7-7 with a 4.53 ERA. He's come on strong down the stretch, allowing three earned runs over 23 innings in his last four starts and stretched his scoreless streak to 15 frames, dating back to his Aug. 28 start against Bowie.
"He's a high ground-ball guy," his manager said. "Hitters get singles, but there's a pretty good likelihood he'll get those ground balls to help him out. But that's a pretty big game right there, especially with the rain here. There was some pressure there. But, man, that's a big game and a big step forward in his career."
Mansolino said Akron will take Sunday off before holding a workout Monday. The RubberDucks will host New Hamphire in Game 1 of the Championship Series on Tuesday.
"That New Hampshire team that's coming in, they're loaded," the skipper said. "Altoona's loaded, too. So it'll be a challenge. I'm sure we'll be the underdogs. We'll go out there and do what we can and see what happens."
Chris Bumbaca is a contributor for MiLB.com based in New York. Follow him on Twitter @BOOMbaca.