Guenther intimidates in Greensboro two-hitter
Miami lefty fans seven, doesn't issue any walks in seven frames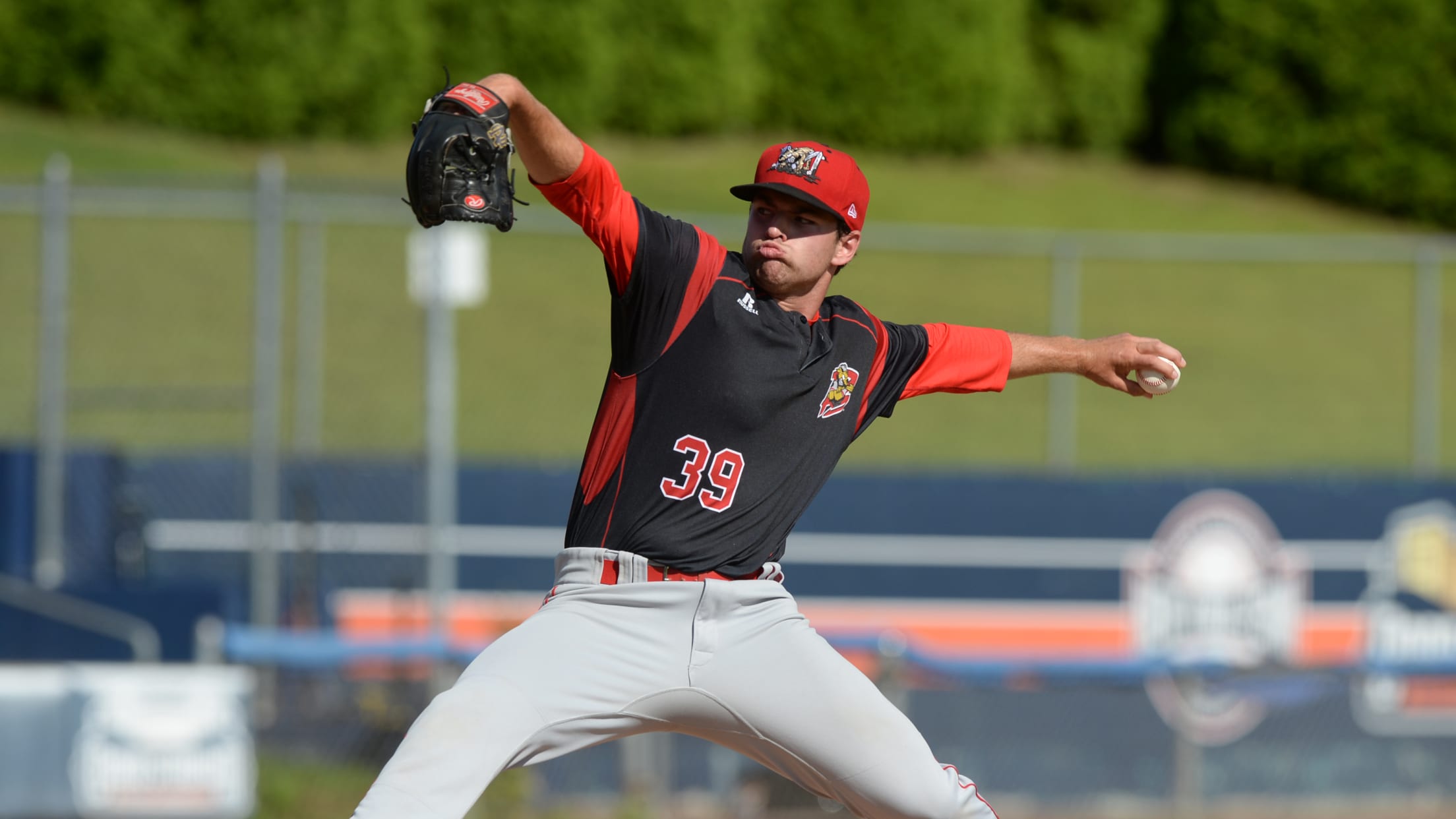 Sean Guenther improved his ERA to 4.75 in the South Atlantic League. (Kevin Pataky/MiLB.com)
Sparing the bullpen is always the goal of a doubleheader, and Sean Guenther did that and more MondayThe Miami southpaw allowed just two hits over a career-long seven innings to lead Class A Greensboro a 2-0 win over Kannapolis in Game 2 of a doubleheader at Intimidators Stadium. He struck
Sparing the bullpen is always the goal of a doubleheader, and Sean Guenther did that and more Monday
The Miami southpaw allowed just two hits over a career-long seven innings to lead Class A Greensboro a 2-0 win over Kannapolis in Game 2 of a doubleheader at Intimidators Stadium. He struck out a professional-best seven and didn't issue any walks.
Gameday box score
"We had a rainout with these guys a while ago, so we're trying to play five games in four days," said Guenther. "We're already pretty short on our bullpen. They've been doing a great job battling the rainouts and picking up longer innings than they're probably used to. Giving them a little bit of a break today, hopefully that helps us out tomorrow. If I couldn't have gotten it done at the end, though, there's really no one I trust more than the guys at the back of our bullpen to win that one."
The Grasshoppers split the double dip after falling to the Intimidators, 1-0, in Game 1, with Colton Hock, Brandon Miller and Gabriel Castellanos sharing the pitching chores. In Game 2, Guenther (3-3) needed just 83 pitches to wrap up the shutout.
"Both my slider and changeup felt good," he said. "My catcher J.D. Osborne did a great job of giving a really heavy mix to work with. I only shook him off once the entire game and that was pretty great, especially for the first time of him catching me."
The 22-year-old retired the first seven batters and didn't allow a hit until the third inning. Johan Cruz lined a one-out single to right field and was stranded at second after advancing on a passed ball.
Guenther sat down the next 11 before No. 27 White Sox prospect Luis Curbelo singled on a sharp liner to right to lead off the seventh. The 2017 seventh-round pick retired the next three in a row to notch his first career complete game.
After going on the disabled list due to an arm injury in late May, Guenther has bounced back and continued to work on physical adjustments, which started to click before Monday's game.
"I've been trying to make a few mechanical changes and the pitching coach here, Mark DiFelice, has been a huge help in that," he said. "In the bullpen warming up before, he told me to kind of walk in on trying to lift from my knee and not my foot, because I kind of lift my leg up when I get going. Every time I was missing, that would be my first spot, to try to really stay poised up to my balance point. That helped me get back in count if I had a first-pitch ball."
The Notre Dame alum started the season in the Florida State League, then joined the Grasshoppers in late June after his DL stint. Guenther allowed 22 runs -- 14 earned -- in his last 17 innings before delivering his best outing of the year Monday.
"I've been struggling leading into this outing," he said. "I think I have two [starts] left, maybe three in the regular season. For me, I just want to show what I can do and finish the year on a strong note and try to carry that into the offseason."
Fourth-ranked Marlins prospect Connor Scott drove in Greensboro's runs with a solo shot -- his first professional homer -- in the first inning. Miami's first-round pick in this year's Draft also lofted a sacrifice fly in the third that plated Samuel Castro, who had the only other Grasshoppers hit of the game.
Marisa Ingemi is a contributor to MiLB.com. Follow her on Twitter @Marisa_Ingemi.