'King' Felix sharp in second rehab outing
Rehabbing Mariners ace retires first 14 batters, allows one hit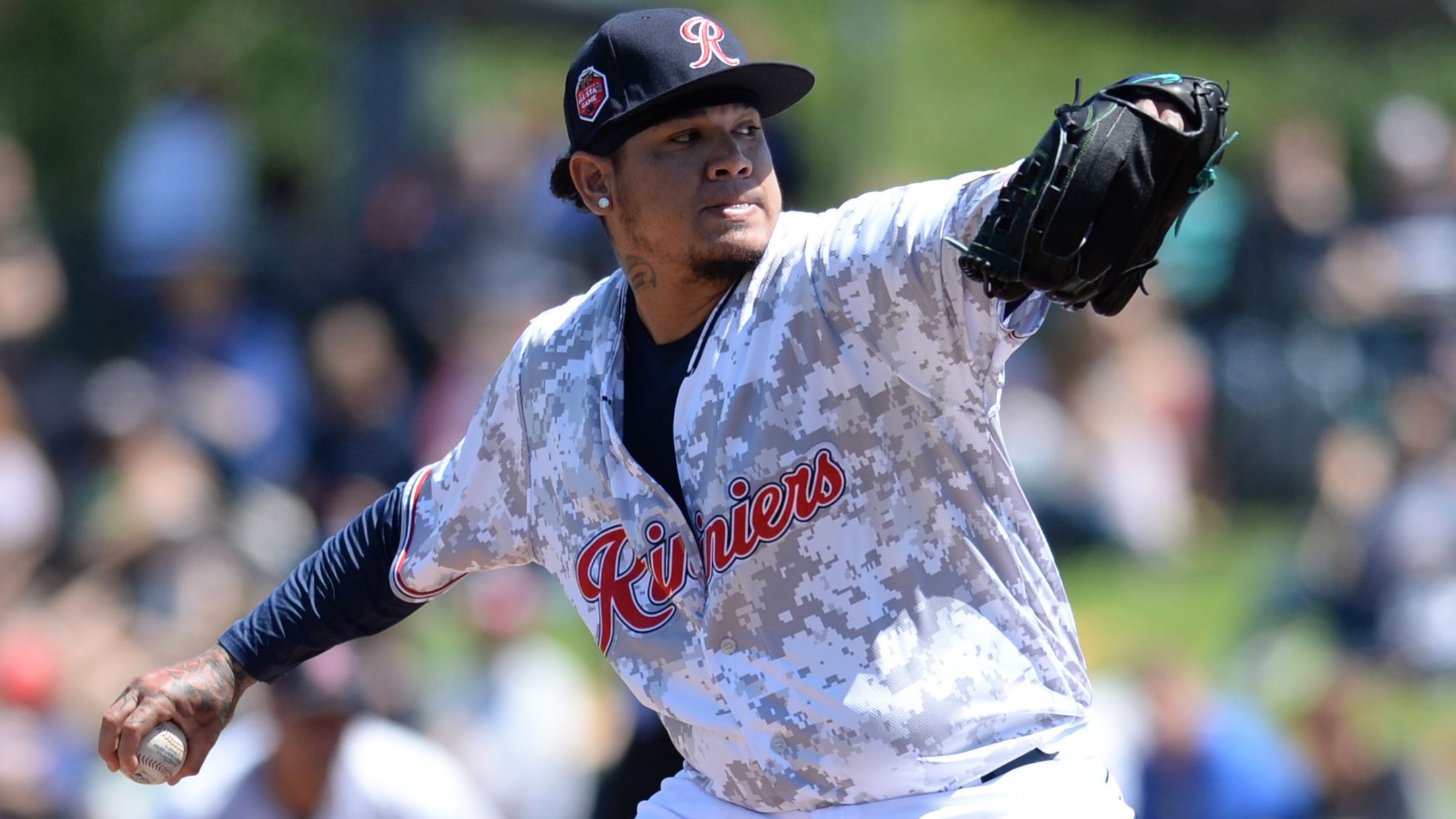 Felix Hernandez allowed two baserunners in his second rehab start for Tacoma. (Jeff Halstead/Tacoma Rainiers)
Five days after getting his rehab assignment off to a rough start, Félix Hernández was back to his old ways on Sunday.The 2010 Cy Young Award winner retired the first 14 batters he faced and gave up one run on one hit over five innings to lead Triple-A Tacoma to a
Five days after getting his rehab assignment off to a rough start, Félix Hernández was back to his old ways on Sunday.
The 2010 Cy Young Award winner retired the first 14 batters he faced and gave up one run on one hit over five innings to lead Triple-A Tacoma to a 5-3 victory over Las Vegas in front of 7,290 at Cheney Stadium. Hernandez, who got the win, fanned five, walked one and threw 39 of 64 pitches for strikes.
"I knew it was going to be better today because it had been a while since I had been on the mound," Hernandez told reporters. "Last time, I couldn't find myself and I was all over the place. Today was different. I had command of my fastball and all of my pitches, and it worked."
Gameday box score
In his first outing with Tacoma, Hernandez was touched for five runs on four hits, including a grand slam, in two innings against Reno.
"The rhythm. I had better mechanics, better rhythm," Hernandez said of the difference between the two starts. "The ball came out nice out of my hands and I was able to throw a lot of strikes. I'm just trying to feel good and have good command, good mechanics, [and be] pain-free."
Working under a 65-pitch limit, Hernandez needed 44 to get through four consecutive 1-2-3 innings.
"I was able to put the ball where I wanted, in and out and up and down. It felt much better than last time," the six-time American League All-Star said.
After getting two quick outs in the fifth, Hernandez walked Desmond Jennings and allowed an RBI double to Jayce Boyd, prompting a visit from Rainiers manager Pat Listach.
"He asked me how I felt and if I was getting tired," Hernandez said. "I was like, 'Yeah, I am a little bit, but I think I can get this guy out.' And he told me it was the last batter and I got him out."
Hernandez finished his outing, by retiring Gavin Cecchini on a fly ball to right field.
"It's hard. I'm not used to this," Hernandez said. "Every fifth day, I'm on the mound, but it's been a while, so it's hard to get my rhythm back. I was working on my bullpen back in Seattle and the results today were much better."
Hernandez was placed on the disabled list on April 26 with bursitis. Prior to the injury, the 31-year-old Venezuelan had a 4.73 ERA and 1.58 WHIP over 26 2/3 innings in five starts for the Mariners.
It was expected that Hernandez would make a third rehab start before rejoining Seattle, but said he hopes his effort on Sunday showed he's ready for the big leagues.
"We don't know that. I showed them that I'm ready to go," Hernandez said. "We'll see. I'll fly with the team today and we're going to talk and see if I need one more of if they give me the green light to face Texas."
Ryan Kelly followed Hernandez with two hitless innings, but Ryne Harper gave up two runs in the eighth. Jean Machi recorded the final five outs, striking out three, for his eighth save.
Mariners No. 9 prospect D.J. Peterson homered in his third straight game for the Rainiers, who got two hits and an RBI from Boog Powell.
Las Vegas starter Rafael Montero (0-2) surrendered four runs on six hits and four walks to go with five strikouts in six innings.
Michael Leboff is a contributor to MiLB.com.