Misiewicz dazzles in second start for Travelers
Mariners lefty faces one over minimum in seven scoreless frames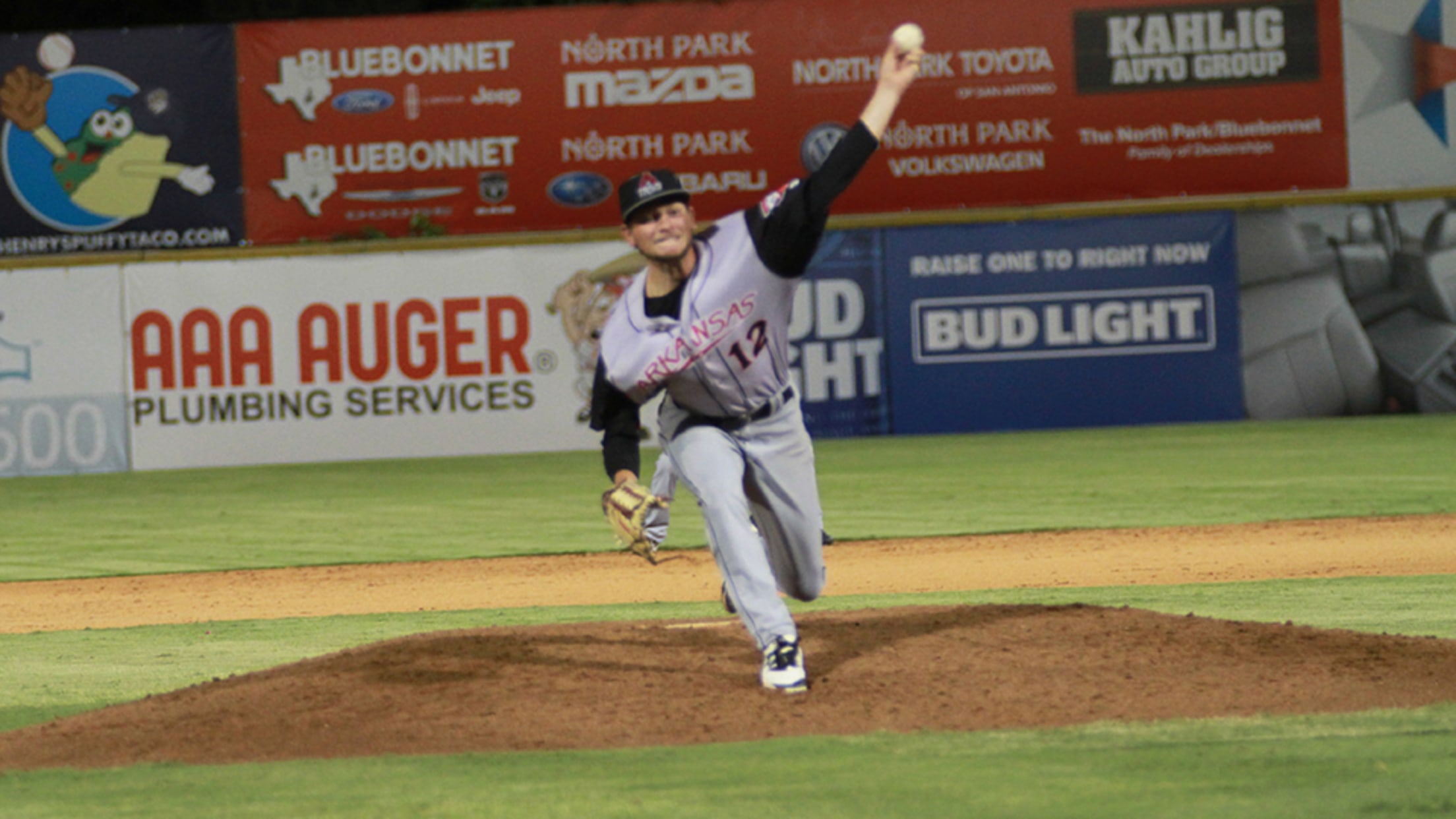 Anthony Misiewicz is 6-2 with a 4.45 ERA and 98 strikeouts in 91 innings across two levels this season. (Stephanie Michael./Arkansas Travelers)
Anthony Misiewicz's first Texas League start did not result in a permanent rotation spot as he had hoped. In his second, he did more than enough as he tries to hold on to it.The Mariners left-hander faced one batter over the minimum as he allowed one hit, walked two and
Anthony Misiewicz's first Texas League start did not result in a permanent rotation spot as he had hoped. In his second, he did more than enough as he tries to hold on to it.
The Mariners left-hander faced one batter over the minimum as he allowed one hit, walked two and struck out six over seven innings in Double-A Arkansas' 3-0 blanking of San Antonio on Friday at Nelson Wolff Stadium.
Misiewicz (1-0) was tagged for a single by fourth-ranked Padres prospectLuis Urías to lead off the game, but erased him one batter later on a double play.
Gameday box score
"It was a good pitch, well-executed," Misiewicz said of the ball Urias hit to center field. "He got his bat out and got a little knock off it. Looking back, maybe it wasn't the right pitch, but I know it was the right pitch in my head, so I'm all right with that."
The Michigan State product issued a walk to Urias in the fourth and another free pass to Nick Schulz in the seventh. Misiewicz erased Schulz on a double play to finish his night, having faced 22 batters.
"Just staying under control of my body and trusting my catcher, Marcus Littlewood, behind there," the Detroit native said. "What he puts down, I'm good with. I was just keeping my cool and making good pitches in good spots."
Misiewicz made his first start with the Travelers on June 23. He yielded two runs on five hits with a walk and seven strikeouts over six innings and didn't factor in the decision in a 6-4 loss to Springfield, but learned after the game he would be returning to Class A Advanced Modesto. The 22-year-old initially struggled with the news.
"I was kind of upset at first, but I just control what I can control and, at that point, I couldn't control anything about it," he said. "I kept my nose to the grindstone and I kept pitching well."
Misiewicz found out during his second start back in the California League that his hard work paid off with another promotion.
"When I talked with the Modesto coaches they said this was for good this time," the 2015 18th-round pick said. "As long as I keep pitching well, I should be up here the rest of the year."
Misiewicz has gotten off to an impressive start in the Texas League, striking out 13 over 13 innings while pitching to a 1.38 ERA.
"I hoped I would keep pitching well and hoped I would get back up here and I did," Misiewicz said. "It was all good tonight."
Tyler Knigge worked around a hit and a walk in the eighth and Darin Gillies issued a walk in a scoreless ninth to record his first save for Arkansas
Starter Brett Kennedy (7-5) was tagged for three runs on six hits with a walk and eight strikeouts over six frames for San Antonio.