Mariners Prospect Primer: Health is paramount
Lewis, White looking to bounce back from injury-limited seasons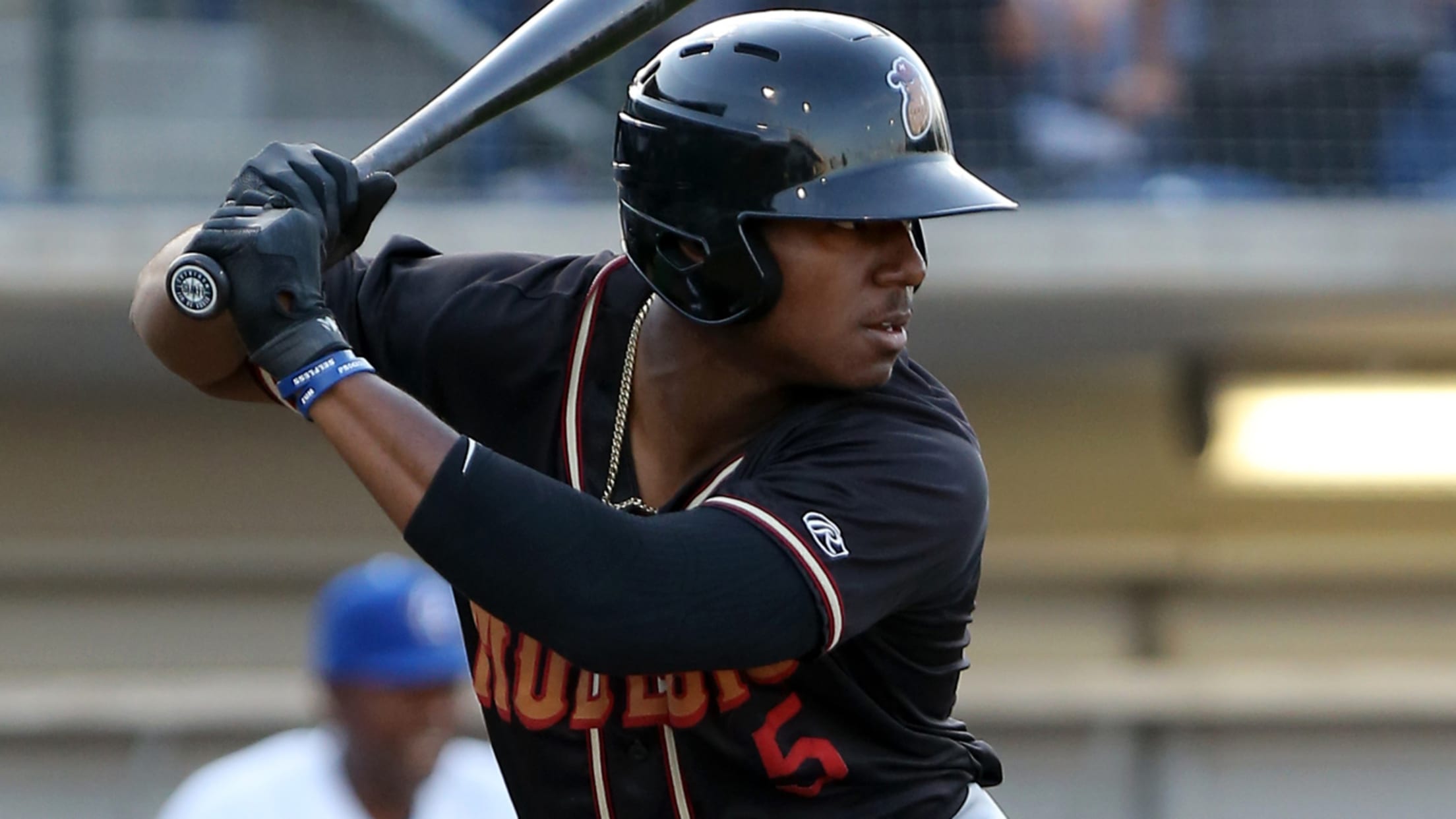 When he returned in July of last year, top prospect Kyle Lewis contributed to Modesto's California League title run. (Donn Parris/MiLB.com)
Some players are on the verge of stardom, others are entering a crucial phase of their development and still others are getting their first tastes of full-season ball. With the 2018 season approaching, MiLB.com takes a look at the most intriguing prospects from each MLB organization.Shining star: Kyle Lewis, OFAdmittedly,
Some players are on the verge of stardom, others are entering a crucial phase of their development and still others are getting their first tastes of full-season ball. With the 2018 season approaching, MiLB.com takes a look at the most intriguing prospects from each MLB organization.
Shining star: Kyle Lewis, OF
Admittedly, it's tough to assign Lewis star status when he's only been on the field for 49 games since July 19, 2016. That's the day Lewis suffered an ACL tear and a torn medial and lateral meniscus in his right knee during his debut season with Class A Short Season Everett. Still, when he's been on the field, he's flashed immense promise for the M's. Seattle brass recognizes what separates Lewis, the team's first-round pick in 2016.
"I mean, the easy answer would be just the tools, but this is a guy who loves to play the game," Seattle director of player development Andy McKay said. "It's very infectious. He's in a good state of mind when he's got a huge smile on his face. There's some similarities to a Robinson Cano. You watch Robby in the middle of an inning, and he's grinning. It's like, 'What's so funny?' But he's, 'Nothing, I'm just happy,' you know? Kyle has that."
Lewis briefly came back from his knee injury last June but didn't return for good until July. In 36 games with Class A Advanced Modesto, he batted .260/.325/.411 and helped his team to the California League title. A brief stint in the Arizona Fall League ended after just a few days due to the knee flaring up, but in limited action, the Mariners were pleased with what they saw for their No. 1 prospect.
"The one thing that's been interesting with this whole scenario over the last year and a half is he missed a complete year, walked into the Cal League and on most nights was the best player on the field," McKay said last month at Mariners camp. "Then we had to shut it down again because of the injury, walked out into the Arizona Fall League and you thought he'd been playing all year long. Granted it was two or three games but the one thing that's really helped throughout this process not only for him but for us is that when he gets on the field, he's really good. You're not having to wonder, OK, what's it going to be like when he shows up."
Lewis had his knee scoped in February, but the Mariners are targeting May 1 for his return to full-season ball.
Loudest tool: Evan White, 1B
In an unfortunate parallel to Lewis, White also had an abbreviated debut season due to injury. Seattle's 2017 first-round selection will also miss Opening Day due to a groin injury, but the injury isn't nearly as worrisome. He should be able to show off his plus glove and decent bat when he returns.
"What we do know is the ball really comes off his bat loudly," McKay said. "He's as good of a defensive first baseman as you're ever going to see. People do say things like Keith Hernandez, J.T. Snow. It is that good. He's another, when you look at the makeup and the character, it's an 80 on both [on the 20-80 scouting scale]. I just couldn't be more excited because we haven't really had Kyle Lewis and Evan White in our system for all intents and purposes. We feel like by May 1st, we have the chance to have really our last two first-round picks play for the first time."
White is known for his well-above-average defensive work at first base, a 70 grade, according to MLB.com. While his glove is his calling card, the Kentucky product flashed some pop in his debut with three homers in 14 games last season before a quadriceps injury shut him down. Overall, the 21-year-old hit .277/.345/.532 in 47 at-bats, and the Mariners expect his power abilities to grow.
"He's got the frame," McKay said. "The ball definitely comes off his bat hard enough to go over the fence. For some guys it's just figuring out how to get a little bit more loft perhaps. Other guys, they just learn how to cheat at times, but he will have power. He's too strong, and the ball comes off his bat [too hard] not to."
White is ticketed for Class A Clinton.
Breakout prospect: Braden Bishop, OF
For a player already so visible in the baseball world, Bishop's best work on the field may be ahead of him in 2018. The University of Washington product batted .296/.385/.400 in 88 games with Modesto last year and then was even better when he made the jump to Double-A Arkansas, posting a .336/.417/.448 line in 31 contests.
"For him, there was such a swing change in the offseason, I think he was still trying to figure it out. That adjustment period he went through in the Cal League, even going through that adjustment period, it went wildly well for him," McKay said. "I think he's just starting to settle into it. He just had a tremendous Major League camp, as well. He's a real defensive center fielder and has swung the bat well. For us, if we can start matching the speed with some more stolen bases, that would be another box for him to check off."
Away from the field, Bishop has tirelessly worked to raise awareness and support for Alzheimer's research to battle the disease affecting his mother, Suzy. Through his 4MOM charity, Bishop has brought a perspective bigger than baseball to his teams and his organization.
"He's clearly figured out how to use social media as a platform in such a positive way," McKay said. "It has definitely become a rallying point in every team, whether it was the Fall League team he played on or the Double-A team, even our big league clubhouse in Major League camp. It did become a common point of conversation, how many Major League players are wearing the bracelets he's sold as fundraisers, the T-shirts. What he's done is pretty remarkable."
Bishop will start the year back in Arkansas but could see Triple-A Tacoma before long.
At the crossroads: Matthew Festa, RHP
Festa's 2017 season was terrific by all measures. The reliever put up a 3.23 ERA, 1.15 WHIP and .229 opponents' average while striking out 99 in 70 innings for Modesto.
"He throws three pitches for strikes, and he's got good stuff and fills up the strike zone," McKay said. "He's always in good counts. Him and [fellow righty reliever] Art Warren, they both kind of exploded on the scene last year in that Modesto bullpen. They both went to the Fall League, but Art didn't give up a run in the Fall League, and he was the guy in big league camp that you've got your big league manager looking down going, 'Whoa, this is exciting.'"
Festa was limited in Spring Training due to a neck issue but should be healthy by the start of the season. The reason he's listed in this category at a crossroads is this: Even with all the success, Festa needs to showcase it in the upper Minors. The righty is 25 years old, despite being drafted just two years ago. His stuff has all the makings of a successful future big league reliever. This season, he'll get a chance to prove it against more advanced hitters in Arkansas.
Full-season debutant: Sam Carlson, RHP
Snagged in the second round out of a Minnesota high school last year, Carlson made just two starts and pitched only three innings in his professional debut in the Rookie-level Arizona League. With a plus fastball-and-changeup combination, Carlson is also working on a slider that has a chance to join that designation. After taking part in the Mariners' fall camp for Minor Leaguers and following it with his first pro offseason, Carlson will be ready to tackle the Midwest League this year.


More to keep an eye on: Third baseman Joe Rizzo was the surprise California League Finals MVP after a late promotion to Modesto, where he'll start 2018. … Alongside Festa and Warren, 2017 third-rounder Wyatt Mills put up a 1.77 ERA in 18 outings between Everett and Clinton, giving the Mariners a trio of intriguing relief prospects. … Infielder Bryson Brigman needs some work on his bat but can handle both second base and shortstop as he showed last year with Clinton. … Seattle signed the No. 9 prospect on MLB.com's international rankings last year, and toolsy outfielder Julio Rodriguez should make his organizational debut this summer.
Predictions:
Most home runs in the system: Lewis
Most stolen bases: Ian Miller
Most strikeouts: Max Povse
Current prospect to get most Major League playing time: Dan Vogelbach
Non-Top 100 prospect to end 2018 in the Top 100: Carlson
Tyler Maun is a contributor to MiLB.com. Follow him on Twitter @TylerMaun.