Sens win first game under new extras rule
Harrisburg scores four times in 13th inning, outlasts Bowie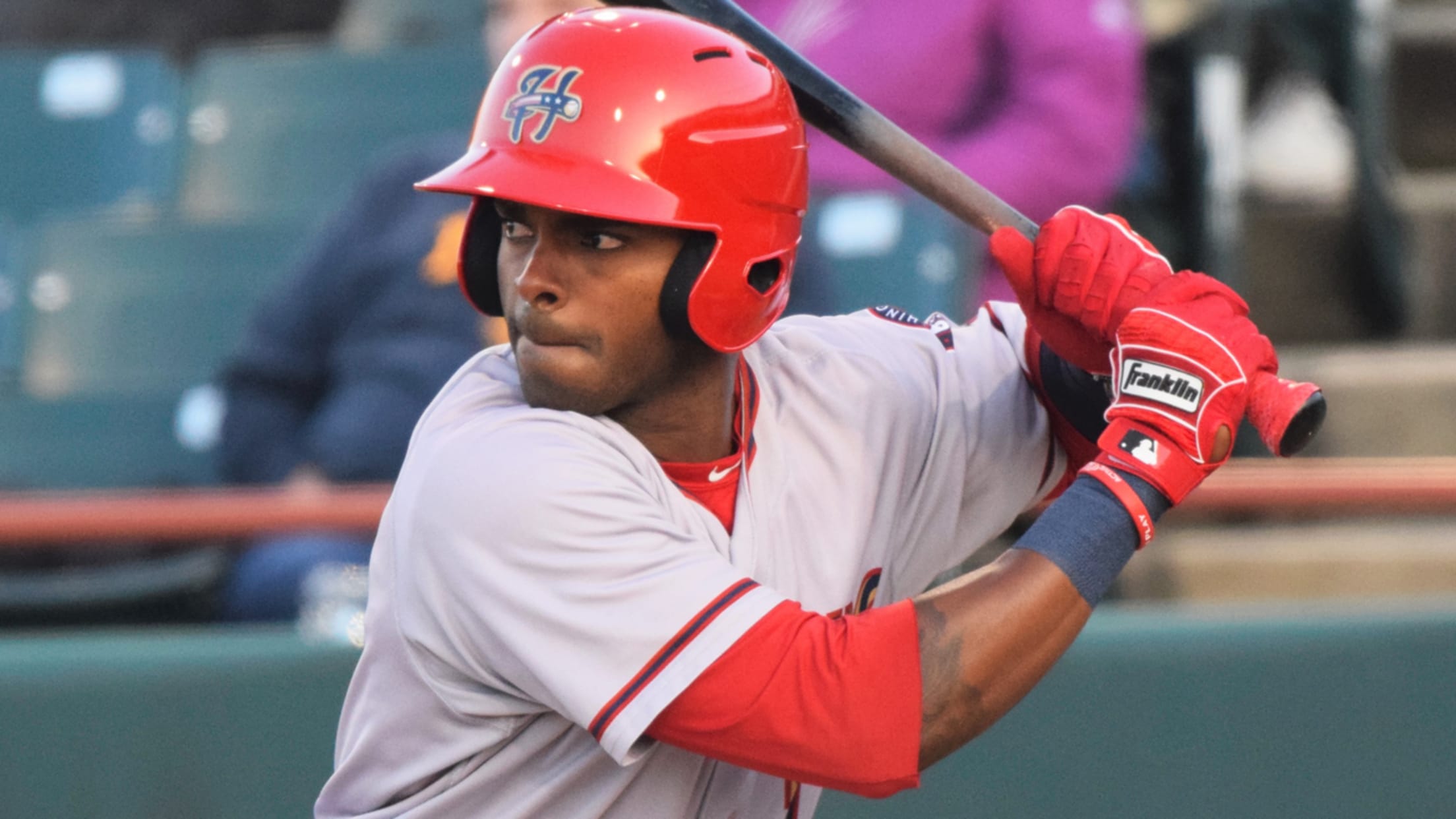 Zach Collier's three-run homer in the 13th inning was the difference in Harrisburg's season-opening win. (Patrick Cavey/MiLB.com)
Matt LeCroy knew at some point his team would encounter the Minor Leagues' new extra innings parameters. He just didn't know they'd be the ones to make history with it.LeCroy's Harrisburg Senators and the Bowie Baysox became the first teams to test the Minors' new rule that begins each frame
Matt LeCroy knew at some point his team would encounter the Minor Leagues' new extra innings parameters. He just didn't know they'd be the ones to make history with it.
LeCroy's Harrisburg Senators and the Bowie Baysox became the first teams to test the Minors' new rule that begins each frame beyond the ninth with a runner at second on a wild Opening Night at Prince George's Stadium. After the teams traded runs in the 10th and 11th, Harrisburg followed a scoreless 12th by erupting for four in the 13th, capped by Zach Collier's three-run homer, and held on for a 10-9 victory.
"It's just a strange night," said a relieved LeCroy after the win. "Implementing that rule during Spring Training and then to have it on Opening Night was kind of challenging. You're kind of sitting there with the hitting coach [Brian Rupp], figuring out what you want to do and seeing what the other team might do with their prospects, guys they can bunt, guys they won't bunt.
"Being on the road, you've definitely got to score multiple runs, really. The strategy behind it right now is you've got to score more than one. It's tough, but everybody's got to do the same thing. We're learning from it, so hopefully, we won't play too many of them."
Scoring one -- not multiple runs -- was what both teams accomplished in their first two extra-inning chances. As the clubs exited regulation at 4-4, Harrisburg's Daniel Johnson -- the Nationals' No. 9 prospect -- trotted out to second base to begin the 10th as the first inning-opening runner in the Minors. He remained there until Gamache came through with a two-out RBI single.
Bowie's Corban Joseph took his place at second to begin the bottom of the 10th as a pinch-runner for Aderlin Rodriguez, the Baysox cleanup hitter who struck out to end the ninth. After moving to third on a groundout by Anderson Feliz, Joseph scored on a sacrifice fly by No. 21 prospect Rafael Bautista to force the 11th.
"We have our own organizational policies, what certain guys can do and can't do," LeCroy said. "Us as managers, in Spring Training we talked about different ways you could go about it. You can't really put a blanket over one thing. You've just got to go out and have a feel for your club and what you can do that night, what your bullpen looks like. It'll be a learning curve for a while, no doubt."
Kelvin Gutierrez -- the Nationals' No. 10 prospect -- didn't have to wait long on second to score the Sens' next go-ahead run, coming around on a leadoff single to center by Yadiel Hernandez. But Bowie answered in the bottom of the 11th when Orioles No. 7 prospectCedric Mullins came through with a two-out triple to plate Adrian Marin.
"It's crazy because we scored and then the catcher for them was swinging the bat pretty good and coming up with a man on second with no outs," LeCroy said, referring to Bowie's Martin Cervenka, who already had two hits when he came to the plate leading off the 11th. "They decided to hit and once we got him, I thought, 'Here we go. Now we've got a chance to win.' But Mullins got a big hit."
After each club stranded its runner in the scoreless 12th, Harrisburg did enough to capture its first win an inning later.
Senators catcher Taylor Gushue started the 13th at second and moved up on Gamache's single to center. As Gushue was thrown out on a fielder's choice off Gutierrez's bat, Gamache took second and scored on Hernandez's base hit. One out later, Collier clobbered his game-breaking homer to right.
"What really gets you is the bunting part of it," LeCroy said. "When you're on the road, I'm going to try to win the ballgame. Now when the other team gets a chance, too, with a man on second, there's just a lot of things to think about. Gushue made the last out [in the 12th], so he's the baserunner at second. Well, it's really hard to bunt guys that don't run well and then you can't score them. And I can't really pinch run him because he's one of our big prospects, so there's a lot of things you've got to think about.
"Luckily, we were playing an American League game, so we didn't have to worry about any pitchers out there having to be on the bases."
Collier's shot was the deciding factor, thanks to Bowie's rally in the bottom of the 13th. Cervenka knocked in Feliz with a single to right and Mullins brought in two more with another single, but Roman Mendez got Mike Yastrzemski to fly to right with the potential tying run at first to end the game after four hours and four minutes.
"Obviously, the more you go through it, the more you'll have a feel for what you want to do," LeCroy said. "It's really based a lot on your pitching and who's hitting and who's running.
"With the weather and a back-and-forth ballgame, we got some really big hits late. For a guy like Collier, he struggled to get a bunt down in a spot where we're trying to get some extra insurance [in the 11th], and he came up with that big hit there at the end."
Beyond juggling his offensive strategy, LeCroy had to map out a bullpen plan that featured five relievers, but he did so with the weekend in mind, including a possible assist on the way from a storm headed toward the East Coast.
"Luckily for us, we saved all our long men, guys who can give us multiple innings," he said. "I'll have three guys tomorrow who can go three or four innings apiece, so that really helps. The only guy that only went [one inning] was Bryan Harper. The rest of them went multiple, so they'll have a day off. And with the weather coming in, they'll probably have another one. We'll be fine tomorrow."
As for the new rule, LeCroy knows it's here to stay.
"I'm kind of an old-school baseball guy," he said. "I'm not a big fan of it, but I've got to be willing to make adjustments. It does create a little bit different excitement for the fans. As far as player development, you don't really play a lot of 16-, 17-inning ballgames, but I know what they're trying to do in baseball. All of our guys will be willing to do it and, hopefully, it'll make things easier on everybody.
"I'm super-proud of all of them. All this new stuff, the [mound] trips and all that kind of stuff they're trying to implement, all these kids are willing to make the adjustments and they did a nice job tonight."
Tyler Maun is a contributor to MiLB.com. Follow him on Twitter @TylerMaun.