Seven-run eighth sends Daytona to 10-6 win over Dunedin
Hendrick and Minier bookend frame with two-run homers, as Tortugas win third-straight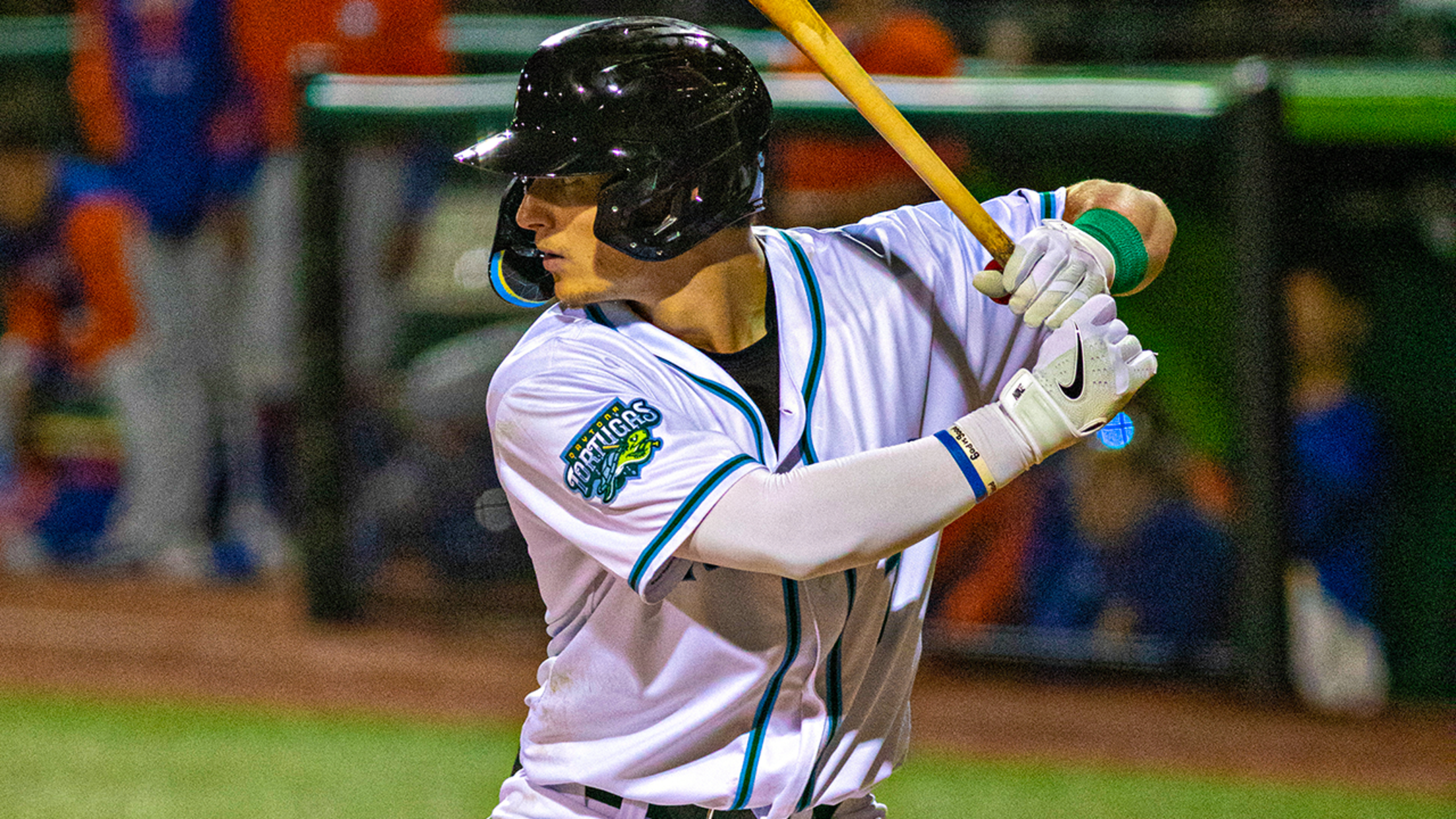 RF Austin Hendrick smashed a go-ahead two-run home run in the eighth — in his only plate appearance of the night — as the Daytona Tortugas put up seven in the frame to defeat the Dunedin Blue Jays, 10-6, in front of 1,393 fans at Jackie Robinson Ballpark on Thursday night. (Aldrin Capulong)
DAYTONA BEACH, Fla. — RF Austin Hendrick and 2B Braylin Minier — neither of which started the game — each slammed two-run home runs as a part of Daytona's seven-run eighth inning. The Tortugas rode the offensive explosion to their third-straight victory, besting the Dunedin Blue Jays, 10-6, in front
DAYTONA BEACH, Fla. — RF Austin Hendrick and 2B Braylin Minier — neither of which started the game — each slammed two-run home runs as a part of Daytona's seven-run eighth inning. The Tortugas rode the offensive explosion to their third-straight victory, besting the Dunedin Blue Jays, 10-6, in front of 1,393 fans at Jackie Robinson Ballpark on Thursday night.
Tied at three entering the eighth, CF Jay Allen II (1-3, 2 R, 2B, 2 BB) coaxed a five-pitch walk to spark a rally. Hendrick (1-1, R, HR, 2 RBI) — who pinch-ran for LF Jamal O'Guinn (1-3, RBI, SO) in the fifth — stepped up and pummeled the first offering he saw well beyond the right-field fence for a two-run home run. The 20-year-old's team-high seventh blast of the year put Daytona (16-20) back ahead, 5-3.
3B Steven Leyton (1-4, 2 R) reignited the rally with a one-out single to center and scooted to second on a walk to DH Michel Triana (1-3, 2B, RBI, BB, SO). After a fielder's choice erased the runner at second, a wild pitch enabled Leyton to score, granting the Tortugas a three-run advantage, 6-3.
Daytona would not relent, as C Wilfred Astudillo (2-4, R, 2B, RBI) added to the lead when he smacked a ground ball over the first-base bag and towards Dunedin's (14-22) right-field bullpen for a double. SS Gus Steiger (1-5, R, RBI, 2 SO) followed with a run-scoring single to center, pushing the Tortugas' cushion to five, 8-3.
Following a pitching change, Minier (1-1, R, HR, 2 RBI) put the finishing touches on the attack. In his first plate appearance after entering for 2B Tyler Callihan (1-4, SO), the 18-year-old pounded an offering off the manual scoreboard in left for a two-run home run. Minier's third of the season — and second in as many days — capped the seven-run frame with a 10-3 lead for Daytona.
Dunedin mustered a rally in the ninth. The Blue Jays picked up three runs on a DH Rainer Núñez (1-5, R, RBI, 2 SO) single, a wild pitch, and a ground out to third by LF Glenn Santiago (0-4, R, RBI, BB, SO). Tortugas' LHP Jayvien Sandridge (1.0 IP, 2 H, 3 R, SO) collected a strikeout looking to end the frame and the contest with a 10-6 win.
The Blue Jays squirted out to an early lead in the first. SS Adrian Pinto (3-3, 2 R, 2B, RBI, BB) picked up a walk to start the night and quickly stole second base. After an infield single by CF Roque Salinas (1-4, R, BB, SO), RF Gabriel Martínez (1-5, R, RBI, SO) picked up a run-scoring knock to put Dunedin ahead. Two batters later, 1B Adriel Sotolongo (1-5, RBI, SO) scalded an RBI single of his own to give the Jays a 2-0 edge.
In the fourth, Daytona scratched across their first run. Leyton reached on a one-out fielding error and scored on a double off the right-field wall by Triana. An inning later, a knock by O'Guinn tied the game at two, while a throwing error off the bat of 1B Ruben Ibarra (0-4, 2 SO) allowed the pinch-runner to score, giving the Tortugas their first lead, 3-2.
Dunedin promptly tied the game in the top of the sixth. Santiago walked, moved to third on a single to right by C Jommer Hernández (1-3, SO), and tied the game at three on a single to right by Pinto.
Neither starter factored into Thursday's decision. Tortugas' RHP Sam Benschoter (4.0 IP, 5 H, 2 R, 2 ER, 2 BB, 4 SO) bounced back from a bumpy first inning to deliver four frames. LHP Kendry Rojas (5.0 IP, 5 H, 3 R, ER, 2 BB, 6 SO) matched a season-long with five innings of work for the Blue Jays.
RHP José Franco (4.0 IP, 3 H, R, ER, 2 BB, 6 SO) yielded just one run over four innings of relief, earning his first win of the season for Daytona. Dunedin's RHP Jonatan Bernal (2.2 IP, 4 H, 6 R, 6 ER, 2 BB, SO) was charged with six of the seven runs in the eighth and suffered his fourth loss of the year.
The series continues into the weekend on Friday with the Tortugas' first Margaritaville Night of 2022. Fans are advised to arrive early, as the first 1,000 fans through the gates will receive a special Tortugas' themed Hawaiian T-Shirt Giveaway. As part of the celebration, Tortugas' players and coaches will wear specially branded uniforms that will be auctioned off during the season. Friday Night Happy Hour comes back to the ballpark, as well, with special discounts on select draft beers at the concession stands. Prior to the first pitch, fans will also be able to enjoy Live Music from Mike & Vin on the third-base riverwalk.
The Tortugas are expected to give the ball to RHP Arij Fransen (1-2, 5.73). The Blue Jays are projected to counter with Toronto's No. 28 prospect according to MLB.com — RHP Dahian Santos (2-2, 1.80). Coverage on the Tortugas Radio Network will begin on the MiLB First Pitch app and www.daytonatortugas.com at 6:50 p.m. leading up to the 7:05 p.m. first pitch from Jackie Robinson Ballpark.
Season tickets, multi-game plans, group packages, and single-game tickets are currently available and can be purchased online at www.daytonatortugas.com or by calling the Tortugas' Ticket Office at (386) 257-3172.
ABOUT THE DAYTONA TORTUGAS
The Daytona Tortugas are the Single-A Affiliate of the Cincinnati Reds and a member of Minor League Baseball's Florida State League. The Tortugas play at Jackie Robinson Ballpark in downtown Daytona Beach, Fla. Jackie Robinson Ballpark also plays host to Bethune-Cookman University, the Jackie Robinson Ballpark Museum, and many community events and initiatives of all sizes throughout the year.