Seven Run Seventh Sets Up Rubber Match
Smokies Smack Ten Hits, Eight Walks in Win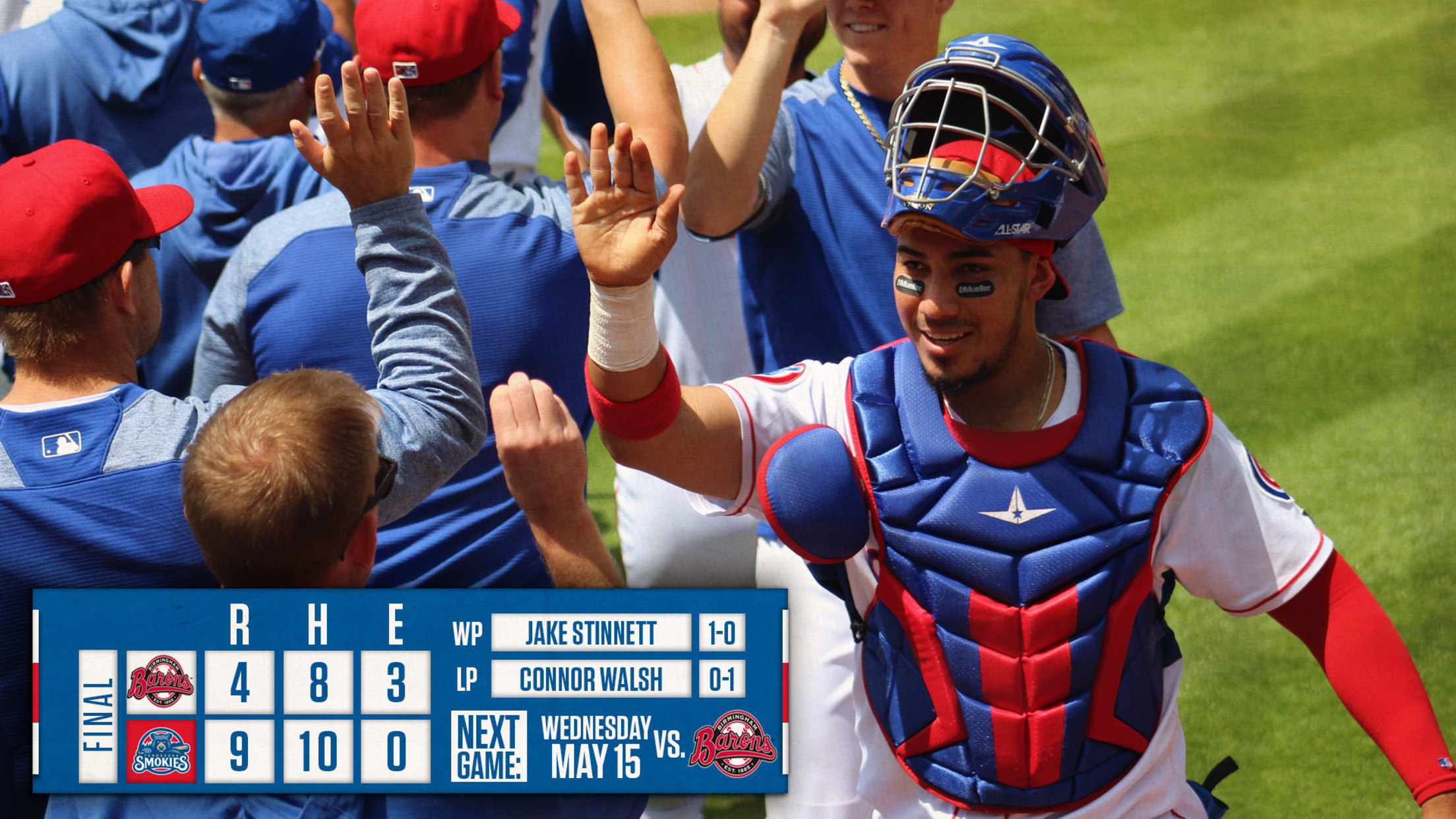 KODAK, TN - The Tennessee Smokies (18-20) defeated the Birmingham Barons (15-23) 9-4 Tuesday afternoon at Smokies Stadium. The Smokies sent a season high 11 men to the plate and scored a season best seven runs in the bottom of the seventh inning to blow the game open. Roberto Caro
KODAK, TN - The Tennessee Smokies (18-20) defeated the Birmingham Barons (15-23) 9-4 Tuesday afternoon at Smokies Stadium. The Smokies sent a season high 11 men to the plate and scored a season best seven runs in the bottom of the seventh inning to blow the game open. Roberto Caro and Charcer Burks both reached base four times in the win.
Luis Vazquez reached on an infield single to Barons shortstop Laz Rivera, he advanced to second on Rivera's throwing er- ror. Connor Myers' bunt-single moved Vazquez to third, and he scored the game's first run on P.J. Higgins' RBI-double. With two-outs and the bases loaded in the fifth, Luis Robert lined a two-run single into left field to give Birmingham a 2-1 lead.
The Smokies tied the game at two in the sixth against RHP Mauricio Cabrera. Jhonny Pereda drew a leadoff walk and moved to second on Burks' single. Gioskar Amaya's sacrifice bunt moved both runners into scoring position. Pereda scored on Jesse Hodges' sacrifice fly to left field.
The Smokies regained the lead in the bottom of the seventh. Myers drew a leadoff walk and scored from first on Caro's RBI- double to give the Smokies a 3-2 lead. Caro moved to third on a wild pitch and scored on Higgins' RBI-single. Jared Young reached on an error and Pereda walked to load the bases. Burks came up and lined a two-run single to left field, an error from left fielder Luis Basabe allowed Pereda to score from first and pushed Burks to third. Hodges added an RBI-single and Myers hit a sacrifice fly in the inning.
RHP Thomas Hatch allowed two runs and struck out three over five innings, but did not factor in the decision. RHP Jake Stinnett (W, 1-0) earned the win in relief. He allowed a hit and two walks over two scoreless innings. RHP Connor Walsh (L, 0-1) suffered the loss. He faced six batters, all six reached and scored.
The Smokies and Barons conclude their series Wednesday night at Smokies Stadium. First pitch between RHP Cory Abbott (3-2, 2.95) and LHP Bernardo Flores (2-4, 2.84) is scheduled for 7 PM ET. Wednesday is All You Can Eat Wednesdays. For just $19.99 fans can enjoy all you can eat hamburgers, hot dogs, Bush's Baked Beans, homestyle mac and cheese, nachos, Uncle Ray's potato chiips, popcorn, ice crean sandwiches, Pepsi products, and bottled water.