Sharpe carries offense in 4-3 nail-biter Wednesday
Chris Sharpe drove in all four Power runs, tying his career high in RBI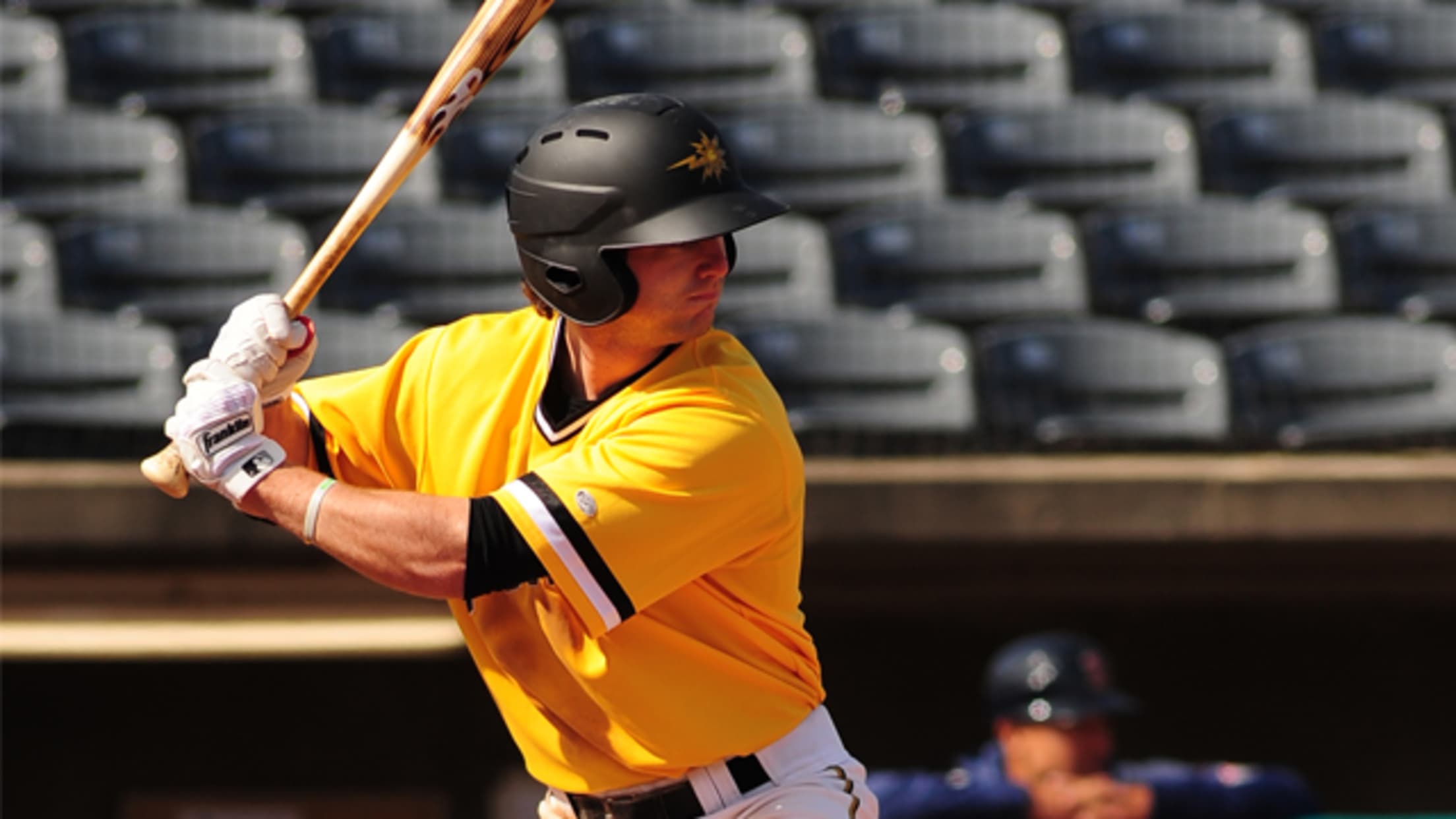 Chris Sharpe tied his career high with four RBI Wednesday in a 4-3 win over Hickory. (Sam Santilli)
CHARLESTON, WV (June 27, 2018) - Chris Sharpe's four RBI, combined with another quality start from Gavin Wallace, led West Virginia to a 4-3 victory over the Hickory Crawdads Wednesday night at Appalachian Power Park.Sharpe drove in all four of West Virginia's run in the series opener, stroking his fourth homer of
CHARLESTON, WV (June 27, 2018) - Chris Sharpe's four RBI, combined with another quality start from Gavin Wallace, led West Virginia to a 4-3 victory over the Hickory Crawdads Wednesday night at Appalachian Power Park.
Sharpe drove in all four of West Virginia's run in the series opener, stroking his fourth homer of the season to right-center field in the sixth, a three-run blast against Derek Heffel (2-2), that put the Power in front 4-2. Sharpe's home run brought in Ben Bengtson and Brett Pope, who hit a one-out single and walked, respectively, to set up Sharpe's blast.
West Virginia (5-1, 42-30) score its first run after Deon Stafford reached on a Yonny Hernandez error in the fourth. He advanced to third on a passed ball and a wild pitch from Hickory (3-4, 33-42) starter Noah Bremer before Sharpe clocked a ground-rule double to right-center that tied the game at one apiece. Sharpe's four RBI tied his career high that he set July 23, 2017, with the West Virginia Black Bears.
Those four runs were more than enough for Wallace (6-1), who worked six innings and allowed just two runs to record his seventh quality start of the season, tied for the most on the Power staff with Domingo Robles.
Joel Cesar relieved Wallace in the seventh and squashed any momentum Hickory tried to muster. Cesar spun two innings of one-hit ball before passing the baton to Matt Seelinger (S, 6) in the ninth.
Despite a home run by Tyreque Reed, Seelinger was able to slam the door for his sixth save in as many opportunities. The Farmingdale State product struck out four batters in the inning after Hernandez advanced on a strikeout followed by a throwing error on Stafford.
The Power will play the middle match in their three-game series against the Crawdads Thursday evening, with first pitch set for 7:05 p.m. from Appalachian Power Park. RHP Max Kranick (1-3, 3.99 ERA) gets the nod for West Virginia while righty Reid Anderson (2-5, 3.93 ERA) counters for the Hickory Crawdads. Pregame coverage begins at 6:45 p.m. on The Jock 1300 and 1340 AM, as well as online at www.wvpower.com and via the TuneIn Radio App and MiLB First Pitch App.
Tomorrow is Thirsty Thursday at Appalachian Power Park, presented by Rock 105. Fans can enjoy $1.00 12-ounce draft beers and Pepsi products, as well as $2.00 16-ounce domestic cans. For tickets and more information, call the Power at 304-344-2287 or visit wvpower.com.