Semple simply wonderful in RiverDogs debut
Yankees righty allows two hits, fans career-high 10 in six innings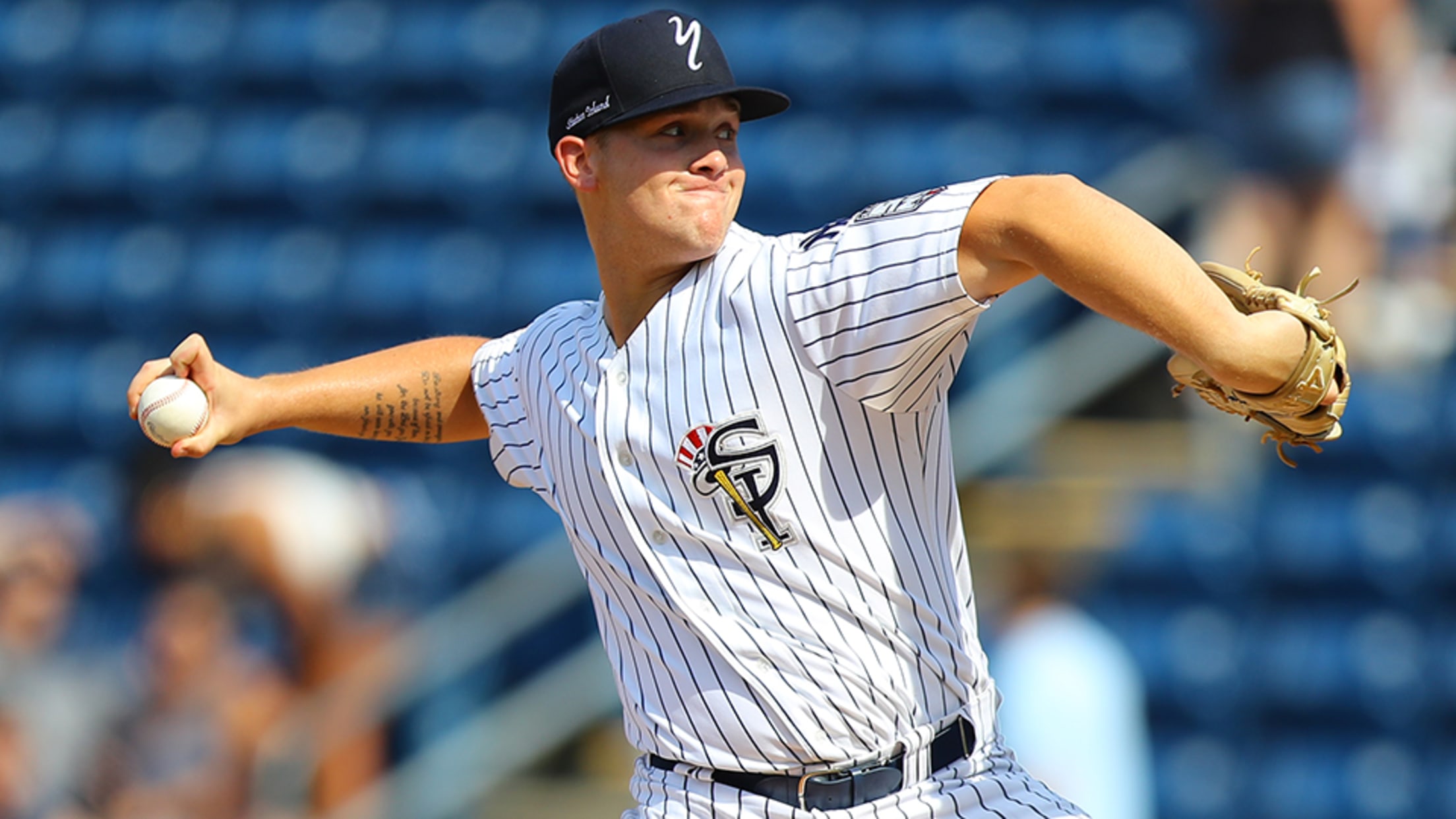 Shawn Semple was 4-0 with a 1.00 ERA and two saves in two opportunities in the Gulf Coast League last year. (Gordon Donovan/MiLB.com)
The Yankees gave Shawn Semple an opportunity to shine before closing the books on the 2018 season. New York's 11th-round pick from last year's Draft took full advantage Monday night.Making his South Atlantic League debut, Semple set a career high with 10 strikeouts, surrendering two hits without issuing any walks
The Yankees gave Shawn Semple an opportunity to shine before closing the books on the 2018 season. New York's 11th-round pick from last year's Draft took full advantage Monday night.
Making his South Atlantic League debut, Semple set a career high with 10 strikeouts, surrendering two hits without issuing any walks over six innings to set the tone in Class A Charleston's 4-0 shutout of Columbia at Spirit Communications Park.
Last Friday night, Semple looked at the Class A Short Season Staten Island's pitching schedule and didn't see his name on it. He approached manager Lino Diaz and asked, "When am I pitching?"
"Just be ready Monday," Diaz replied.
Just hours after the game, the 22-year-old was packing his bags for Charleston.
"He told me that I'd done a great job with them and deserved to be up here," Semple said. "It's always a good feeling when you have them mentioning your name with who needs to go up. I know my stuff has been good, but I haven't been able to consistently throw everything well and this was a big test. Once you go up, things aren't going to get any easier, but to go out and compete against an upper level today and show what I can do, that was a great feeling."
The University of New Orleans product knew his biggest challenge would come in his first inning. Semple said he's battled nerves during the day leading up to each start since college, and Monday was no different. Mowing down his first four batters did the trick, though.
Gameday box score
Cruising through the first frame helped set the tone for his most complete outing of the season, the first, he said, in which he's had all three of his pitches -- fastball, changeup and curve -- in a groove.
"At the start of this year, all I had was my fastball, and I was bouncing both my curve and my changeup," he said. "I was drafted in part because of my fastball and how it has a ride to it, but I haven't had much of that this year. I don't know what it was about today, whether I had more in my legs with adrenaline, but I felt like I needed to prove I still had that life in it. I threw it consistently inside and had guys chasing it outside. It's the best I've ever felt."
Zach Rheams lined a double to left field with one out in the second inning, but Semple shrugged off the knock by getting Edgardo Fermin to fly out to right and striking out Jose Brizuela.
The 22-year-old right-hander fanned the side in the third, and after retiring David Miranda on a leadoff comebacker in the fourth, he struck out Matt Winaker to collect his fifth whiff in six batters en route to recording eight consecutive outs. Rheams broke the string by legging out an infield single to start the fifth, but Semple induced infield contact off the bats of the next three Fireflies.
He struck out the side in the sixth, catching Miranda looking to cap the banner debut. He threw 95 pitches -- 66 for strikes.
Semple's callup Aug. 25 put an interesting bookend on a season in which he spent the majority of his time with Staten Island. The New Jersey native got the call down the road from extended spring training for a spot start May 31 with Class A Advanced Tampa on May 31 as the Tarpons went into a doubleheader with a depleted bullpen. He allowed three runs on five hits and a walk over four innings. Semple spent the rest of the year in the New York-Penn League, going 3-4 with a 3.00 ERA over 10 games -- seven starts.
He said he expects to get one more start with the RiverDogs on Sunday to close out the campaign. Whatever the result, Semple said Monday's outing put on display all the hard work he's put in this year.
"It felt amazing to be able to go six," he said. "To feel like I could throw any pitch in any count, that was the best feeling all season. I felt like I could locate everything and compete with all my pitches, and that gave me a big confidence boost when I needed it."
Fellow righty Brooks Kriske got the ball in the seventh for his own South Atlantic League debut. The 2016 sixth-rounder struck out three and allowed a hit over two innings.
Welfrin Mateo put Charleston on the board in the first with an RBI single to center. Chris Hess gave the RiverDogs a cushion in the third with a three-run homer over the center-field wall.
Rheams finished with three hits to lead the Fireflies at the plate.
Nathan Brown is a contributor to MiLB.com. Follow him on Twitter @NathanBrownNYC.