Shuckers and BayBears Split Twin Bill to Open Six-Game Series
Grisham Delivers Walk-Off in Game One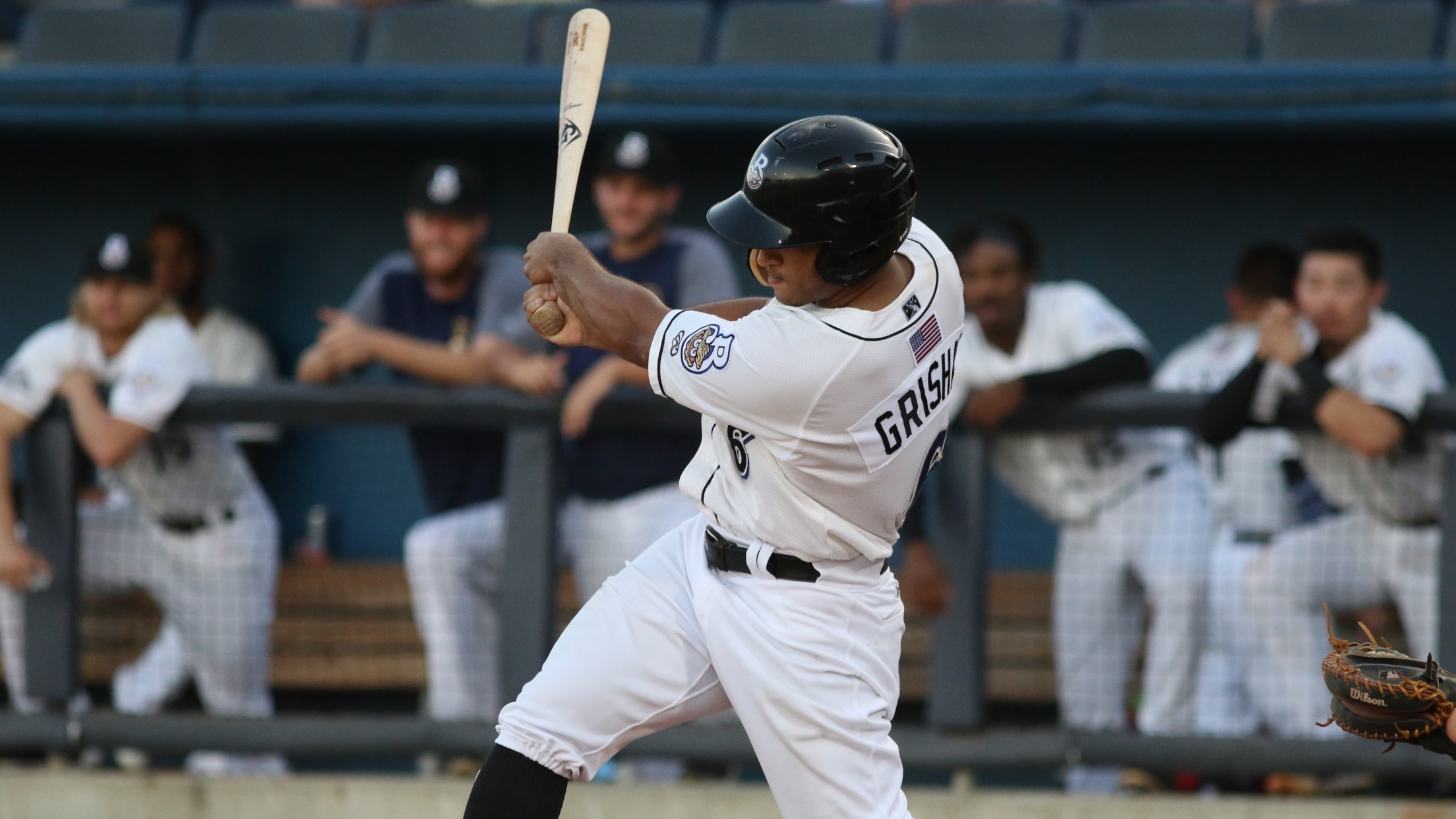 (Michael Krebs)
The Biloxi Shuckers (68-53, 27-24) and Mobile BayBears (60-58, 23-27) split a doubleheader on Tuesday night at MGM Park. Trent Grisham propelled the Shuckers to a 4-3 extra-inning win in Game One with a walk-off double, while Mobile took Game Two 4-1.Game One:The BayBears jumped out to a two-run lead
The Biloxi Shuckers (68-53, 27-24) and Mobile BayBears (60-58, 23-27) split a doubleheader on Tuesday night at MGM Park. Trent Grisham propelled the Shuckers to a 4-3 extra-inning win in Game One with a walk-off double, while Mobile took Game Two 4-1.
Game One:
The BayBears jumped out to a two-run lead early before the Shuckers made their comeback effort. Mobile plated a pair of runs in the top of the second on a single from Brandon Sandoval. Biloxi answered in the bottom of the frame with a solo home run from Grisham, but Zach Gibbons tripled in the third to hand Mobile a 3-1 lead.
In the bottom of the fourth, the Shuckers put the first three batters on base. After Clint Coulter doubled, Grisham drove him home with a single. Two batters later, with runners at the corners, Corey Ray lifted a fly ball to right field, deep enough to score Grisham to tie the game.
Both starting pitchers battled through walks and tossed four innings each, leaving the game square at three. 2016 3rd round pick RHP Braden Webb recorded four strikeouts in his Double-A debut. RHP Joe Gatto did not record a strikeout over his four frames.
RHP Matt Albers tossed a 1-2-3 frame in the top of the fifth in his first rehab appearance with Biloxi. RHP Jeff Ames, RHP Nate Griep and RHP Jon Olczak (W, 7-3) all hurled scoreless frames in relief as well, sending the Shuckers to the bottom of the eighth with a chance to win the game.
With bonus runner Blake Allemand standing at second and one out, Grisham collected his third hit of the night, rifling a double to right-centerfield off RHP Ryan Clark (L, 2-3), providing the Shuckers' seventh walk-off win of the season.
Game Two:
Mobile quickly posted a run in the top of the first inning when Zach Houchins cracked a solo home run, his eighth home run of the year. The BayBears added three more against RHP Marcos Diplan (L, 1-4) in the third, all coming with two outs. After Jo Adell singled and Houchins drew a well-earned walk, Gibbons provided a two-run double. Roberto Baldoquin followed with a run-scoring double of his own, putting the BayBears up 4-0.
In a Double-A debut of his own, RHP Matt Ball (W, 1-0) hurled five innings of one-run ball, surrendering only a sacrifice fly RBI off the bat of Coulter. LHP Adrian Almeida (H, 3) and RHP Dario Beltre (S, 1) handled the final two frames of the seven-inning contest to lock down the win for Mobile.
The two sides continue their six-game, five-day series on an All-You-Can-Eat Wednesday night at MGM Park with a 6:35 PM CT first pitch. Mobile will send RHP Jeremy Beasley (2-3, 2.87) to the bump, while the Shuckers have not named a starter.
The Biloxi Shuckers are the Double-A Affiliate of the Milwaukee Brewers. The Shuckers play at MGM Park in Biloxi, Mississippi. For more information please visit biloxishuckers.com and follow us on Twitter @biloxishuckers and at facebook.com/biloxishuckers.com. Playoff tickets and single game tickets for the Biloxi Shuckers 2018 season are on sale now and can be purchased at the MGM Park box office or over the phone through Ticketmaster at (800) 745-3000. Group outings and flex plans are also available and can be reserved by calling 228-233-3465 or visiting www.biloxishuckers.com.