Shuckers Donate Equipment To Stone County High School
Players Pass on Cleats, Shoes and More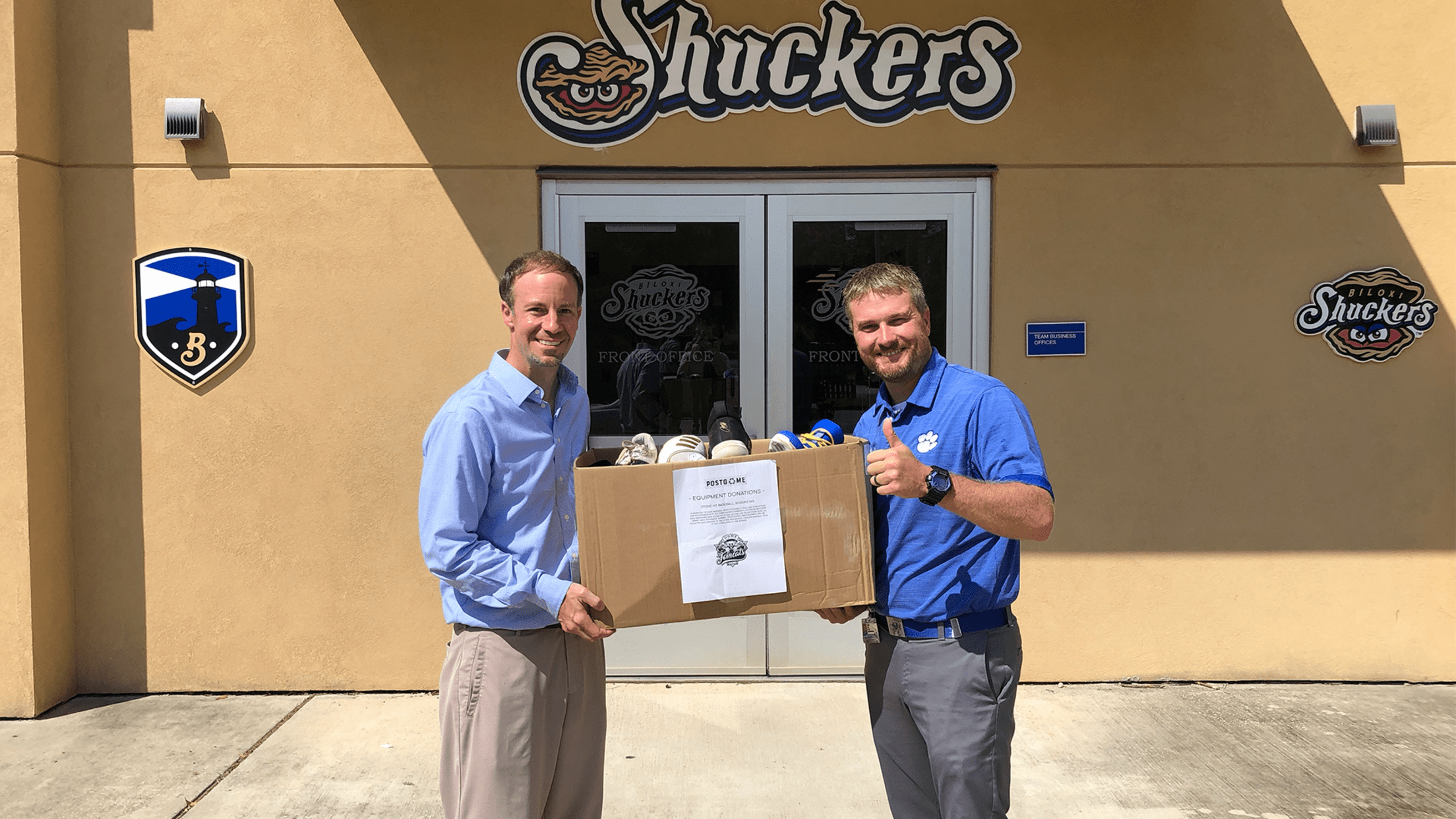 Following the conclusion of the 2021 season, the Biloxi Shuckers players collected baseball equipment and apparel that was donated to Stone County High School on Tuesday. Spearheaded by pitcher Noah Zavolas, the Shuckers' players collected lightly used cleats, turf shoes, apparel and any other equipment that could be utilized by
Following the conclusion of the 2021 season, the Biloxi Shuckers players collected baseball equipment and apparel that was donated to Stone County High School on Tuesday.
Spearheaded by pitcher Noah Zavolas, the Shuckers' players collected lightly used cleats, turf shoes, apparel and any other equipment that could be utilized by the Stone County baseball team.
"If it helps even one kid or baseball player continue his career or feel better about his career, then this was a win," said Zavolas. "Minor League Baseball is here to engage with different baseball programs. With COVID it made it difficult for us to interact with programs and players, but this was something we were able to do and give back in a small way."
"It helps us even if we can't use every piece of equipment," said Stone County Athletic Director Adam Stone. "Our kids are excited. Who doesn't like to get something donated that you didn't have to pay for, and mom and dad didn't have to pay for, that makes what you do a little easier?"
Stone County played for the Mississippi 4A South State Championship in the 2020-21 season, and prior to 2020 Spring Training Zavolas stopped in the Biloxi area and worked out at Stone County, getting to know their players and head coach Sean Miller. With a color scheme that matches the Shuckers, Stone County was a natural fit for the teams' donation.
"As Pros, a lot of this stuff gets sent to us for free, and you can forget that baseball is an expensive sport if you're buying all of your own gear," said Zavolas. "If that pair of cleats has 50 games left in them, let's get those 50 games out of them."
"Receiving this donation helps what we're trying to do, which is just get better," said Stone. "If you can improve every day then you're going to be on the right path."
The 2022 Biloxi Shuckers schedule has been announced and Shuck Nation Memberships, Flex Plans and group outings are now available for the 2022 season. Event spaces at MGM Park can be booked for private events during the offseason by calling (228) 271-3486.
ABOUT THE BILOXI SHUCKERS:
The Biloxi Shuckers are the Double-A Affiliate of the Milwaukee Brewers. The Shuckers play at MGM Park in Biloxi, Mississippi and are members of the Double-A South. For more information, please visit biloxishuckers.comand follow us on Twitter @biloxishuckers and at facebook.com/biloxishuckers.