Shuckers Split Twin Bill in Season Finale Against BayBears
Jankins, Griep Combine for One-Hitter in Game Two Victory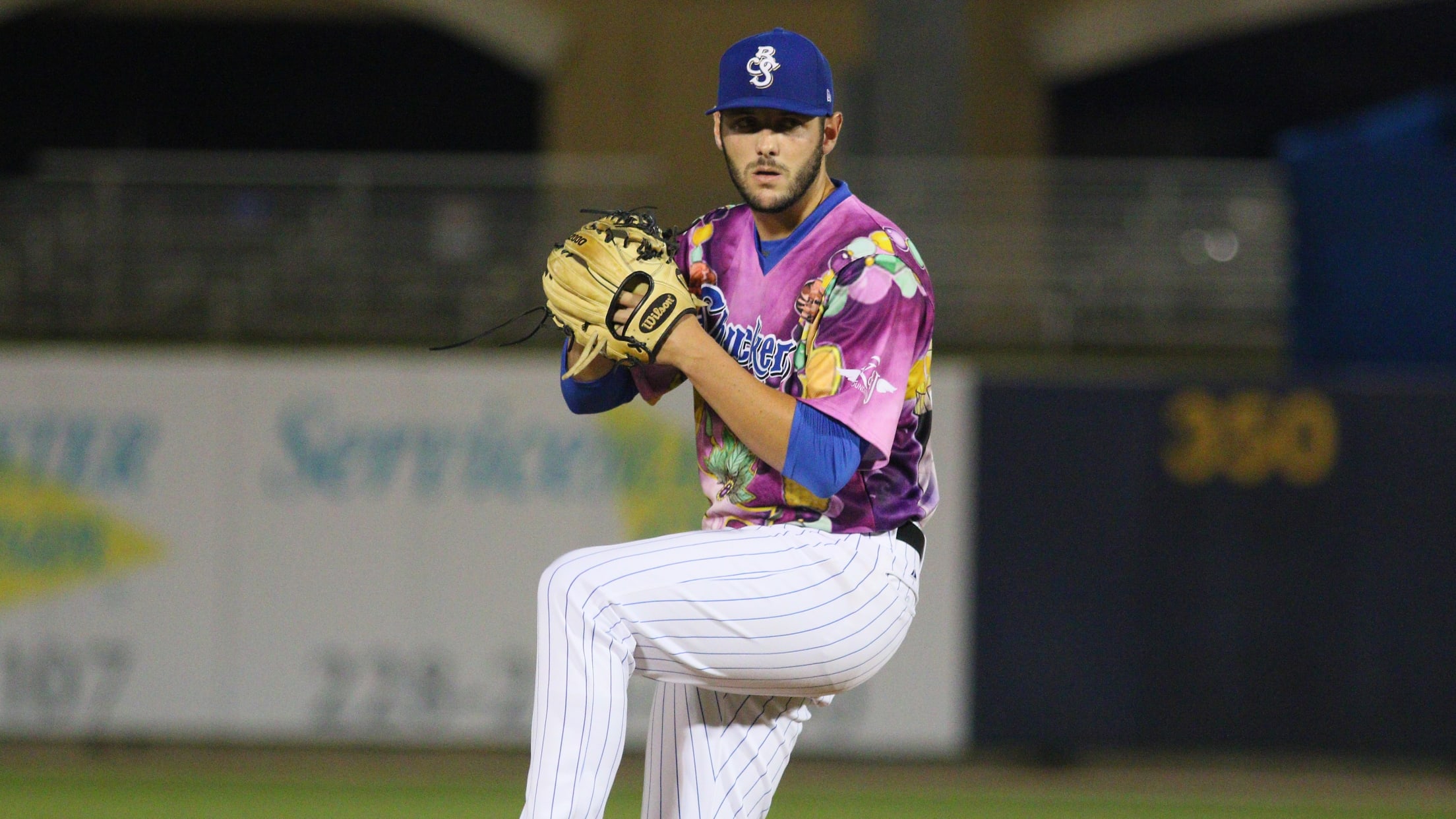 (Michael Krebs)
BILOXI, MS - The Biloxi Shuckers (71-54, 30-25) split their doubleheader with the Mobile BayBears (61-61, 24-30) on Saturday night at MGM Park. Biloxi dropped the first game 7-1 while taking the second contest 6-0. GAME ONE:The BayBears jumped on LHP Cameron Roegner (L, 0-1) to the tune of six
BILOXI, MS - The Biloxi Shuckers (71-54, 30-25) split their doubleheader with the Mobile BayBears (61-61, 24-30) on Saturday night at MGM Park. Biloxi dropped the first game 7-1 while taking the second contest 6-0.
GAME ONE:
The BayBears jumped on LHP Cameron Roegner (L, 0-1) to the tune of six runs before the rain halted play. Roberto Baldoquin slapped an RBI-single to start the scoring in the first. An inning later, Brendon Sanger belted a solo home run to extend the lead to 2-0. After recording a pair of outs, the next five batters reached, highlighted by a three-run triple from Baldoquin to give him four RBI in the first two frames. After Joe Hudson tripled to make it 6-0, the rain kept the players off the field for an hour and fifty-two minutes.
RHP Ralston Cash (W, 2-1) tossed two scoreless innings coming out of the delay. RHP Adam Hofacket and RHP Zac Ryan finished out the game for Mobile to lock up Game One.
RHP Miguel Sanchez, RHP Matt Albers and RHP Josh Uhen combined to allow just one run over 5.1 innings of relief work. Albers' scoreless rehab stanza gives him four shutout innings over three relief appearances for the Shuckers.
GAME TWO:
RHP Thomas Jankins (W, 10-8) and RHP Nate Griep (S, 30) combined to allow just one hit in the 6-0 Game Two victory. Jankins handled the first 5.1 innings while Griep retired every batter he faced to secure the five-out save.
On the offensive side, Biloxi struck for three runs in the third and sixth. The game's first run came in on a ground ball to first base with Gabriel Noriega at second. Zach Houchins bobbled the Trent Grisham grounder, and RHP Alex Klonowski (L, 9-3) mishandled the toss to him at first. The ball rolled into the Shuckers' dugout to give Biloxi a 1-0 lead. Keston Hiura added two more runs with a single up the middle to plate Grisham and Corey Ray.
In the sixth, Clint Coulter supplied his second bases-loaded, bases-clearing hit of the series. A roller down the third base line snuck past Baldoquin to give Biloxi their 6-0 cushion.
The Shuckers continue their ten-day homestand on Sunday afternoon when they begin a critical five-game series with the Pensacola Blue Wahoos. Biloxi starts the series trailing Pensacola by 3.5 games in the 2nd Half South Division standings with 15 games remaining. Both starting pitchers are TBA, and first pitch is set for 4:05 PM CT on a Military Salute Sunday.