Shuckers Top Barons 5-1 Behind Otero's Career Night
Diaz and Aguilar Drive in Two Each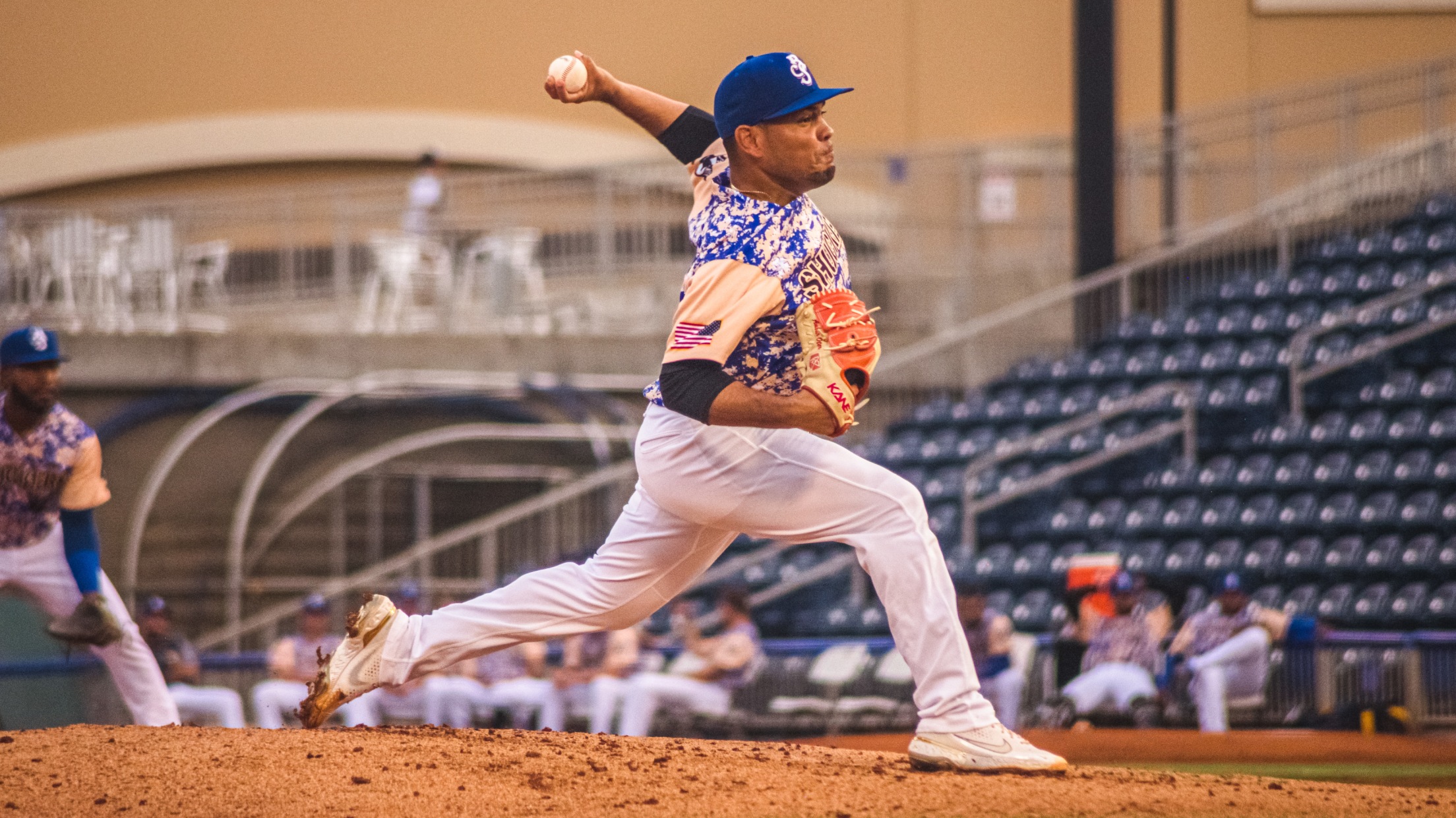 LHP Andy Otero deals a pitch at MGM Park on July 7, 2021 against Birmingham. The southpaw tossed six innings, tying a career high, and allowed just one run while striking out eight. (Photo - Katy Knauss)
Excellent pitching from LHP Andy Otero (W, 3-0) and LHP Leo Crawford (S,1) helped vault the Biloxi Shuckers (17-38) to a 5-1 victory over the Birmingham Barons (29-26) on Wednesday night at MGM Park. Otero turned in another outstanding outing for Biloxi, allowing just one run on an RBI double
Excellent pitching from LHP Andy Otero (W, 3-0) and LHP Leo Crawford (S,1) helped vault the Biloxi Shuckers (17-38) to a 5-1 victory over the Birmingham Barons (29-26) on Wednesday night at MGM Park.
Otero turned in another outstanding outing for Biloxi, allowing just one run on an RBI double in the top of the fourth inning, one of three hits surrendered by Otero. The southpaw struck out a season-high eight batters while matching a career-high with six innings pitched.
The Shuckers gave Otero the lead for good in the bottom of the fourth. Alexander Palma worked a one-out walk and after RHP Jason Bilous (L, 1-2) struck out the next batter, David Fry and Chad Spanberger knocked back-to-back singles, loading the bases with two outs. Brent Diaz followed with a single to center field, scoring two runners to put Biloxi ahead 2-1. Diaz advanced to second on a wild pitch and Ryan Aguilar roped a single to center, driving in two more to give the Shuckers a 4-1 lead.
Palma added on another run in the fifth with a solo home run to left, his fifth of the year, expanding Biloxi's advantage to 5-1. All five of Biloxi's runs scored with two outs.
Crawford came on in the top of the seventh and allowed just two base runners over the final three frames on a single and a fielding error while striking out three. The lefty has not allowed a run in his last 6.2 innings and picked up the first save of his career.
Looking to take a lead in the series, the Shuckers continue their matchup with the Barons on Thursday night. Biloxi is scheduled to send RHP Bubba Derby (0-1, 18.69) to the mound opposite Barons' RHP Kade McClure (1-3, 4.57) for a 6:35 pm first pitch. The game can be heard locally on Cruisin' WGCM AM 1240/FM 100.9 and can be streamed on MiLB TV.
Individual tickets are on sale now for all 2021 Shuckers home games and promotions for July can be found here. Full Shuck Nation Memberships and Half Shell Shuck Nation Memberships, flex plans and group outings are available by calling 228-233-3465 and selecting Option 3.
ABOUT THE BILOXI SHUCKERS:
The Biloxi Shuckers are the Double-A Affiliate of the Milwaukee Brewers. The Shuckers play at MGM Park in Biloxi, Mississippi and are members of the Double-A South. For more information, please visit biloxishuckers.comand follow us on Twitter @biloxishuckers and at facebook.com/biloxishuckers.