Singleton sets Fresno record with 10 RBIs
Young Astros power hitter swats two homers on 4-for-6 night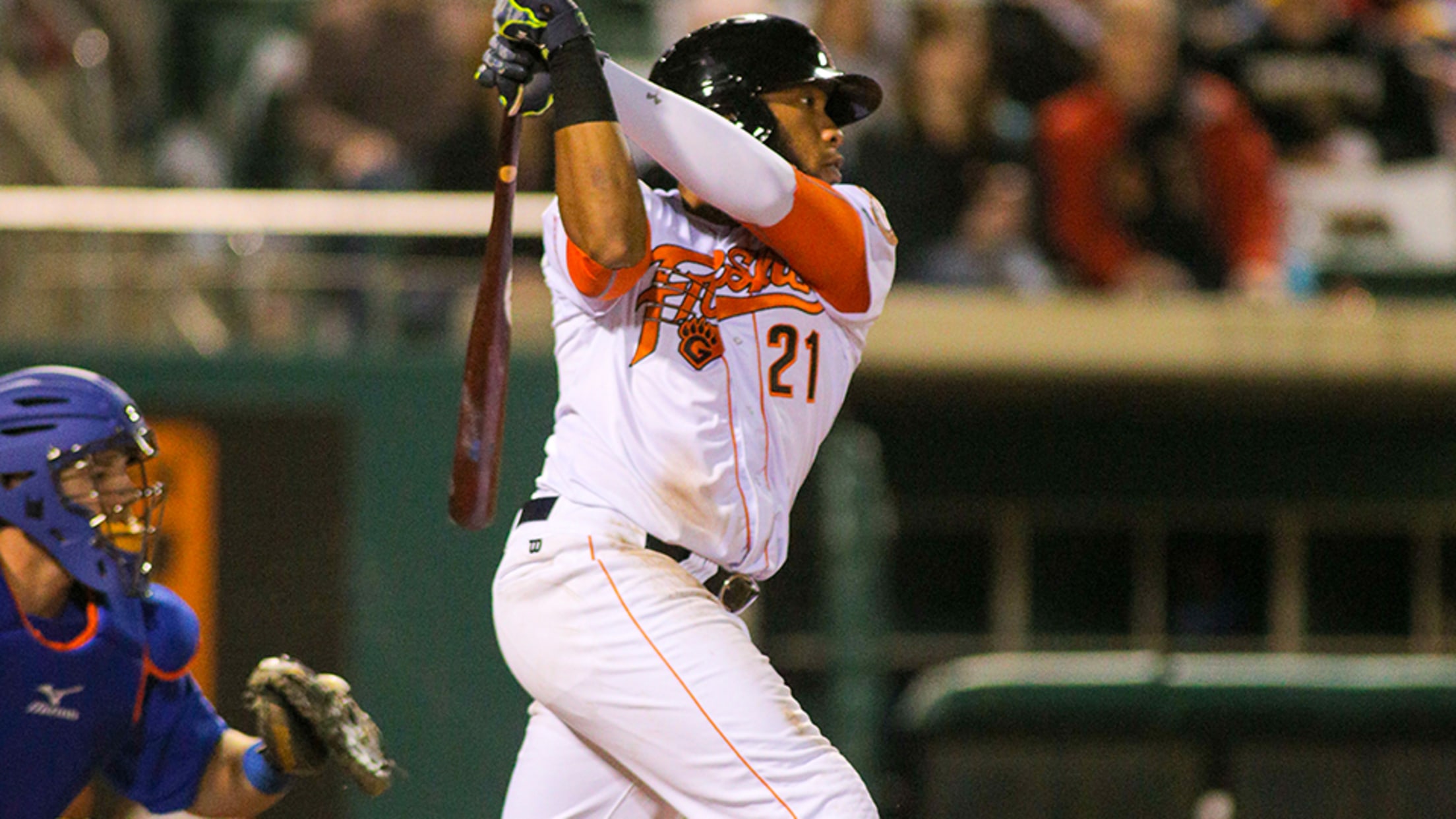 Jon Singleton has 19 extra-base hits in 32 games for Triple-A Fresno this season. (James Ramirez/Fresno Grizzlies)
The way Jon Singleton had hit the ball early this week, the Astros' developing slugger would have to have a pretty special game to surprise his manager and teammates. On Wednesday, he did. "That's an amazing feat for anybody, at any level -- 10 RBIs, a grand slam," Triple-A Fresno
The way Jon Singleton had hit the ball early this week, the Astros' developing slugger would have to have a pretty special game to surprise his manager and teammates. On Wednesday, he did.
"That's an amazing feat for anybody, at any level -- 10 RBIs, a grand slam," Triple-A Fresno manager Tony DeFrancesco said. "It's good to see him confident and with a smile on his face and believing in himself."
Singleton's 10-RBI, 4-for-6 performance gave him 18 RBIs over three days, and his grand slam and two-run homer in the Grizzlies' 17-6 win over Albuquerque at Isotopes Stadium bumped him up to four dingers -- and two slams -- since Monday. The 23-year-old first baseman leads the Pacific Coast League with 11 roundtrippers.
"It's good to see him come around. He struggled early [in the season] and he's been working on a lot of things to get back to the Major Leagues," DeFrancesco said. "But his confidence is up now, and he's hitting the ball up front and driving the ball to all fields."
The 10 RBIs set a franchise record for the Grizzlies and a career high for Singleton, who tallied six RBIs for Class A Advanced Clearwater on June 21, 2011. The modern-era PCL record stands at 11 RBIs, set by Mike Moustakas on Aug. 30, 2010.
After Isotopes starter Tyler Matzek walked the first four batters of the game, Singleton lined a two-run single into right field.
"Early in the game, I didn't know whether he was locked in or not, but he had the big base hit to get us going," DeFrancesco said. "After that, he kept battling, kept being patient. I know he was feeling good and he had a lot of good swings tonight."
In the second, Matzek walked three more and hit L.J. Hoes before giving way to Ryan Arrowood, who walked third-ranked Astros prospectDomingo Santana to keep the bases loaded for Singleton. The native of Harbor City, California, hammered the right-hander's 1-1 offering over the fence in right.
"At that point, he had six RBIs and he was on his way. He was locked in and he let it ride," said DeFrancesco.
The very next inning, Singleton victimized Arrowood again, sending the first pitch of the at-bat well past the 428-foot sign in center field for a two-run dinger.
"It didn't matter where [the pitch] was. The last three games,18 RBIs? It's amazing," DeFrancesco said. "I've seen him hit some good ones. That was the farthest I've seen, way past the trees out there."
Singleton wasn't done. With the bases loaded and Santana on first again in the sixth, the left-handed hitter lined Shane Broyles' pitch deep to the opposite field. Albuquerque left fielder and 14th-ranked Rockies prospectKyle Parker nearly caught it, keeping Santana from advancing past second and holding Singleton to a single while two more runs trotted in.
"I knew he hit it good, but it was too much on a line," to clear the fence, DeFrancesco said. "I was just glad to see him barreling balls up and being selective."
In his final at-bat, Singleton lined a hard-hit ball to right, but the Isotopes' Tim Wheeler snared it.
Hoes scored five times and Joe Sclafani added four runs. Top Astros prospect Carlos Correa, who made his Triple-A debut Tuesday, was 1-for-4 with a double, three runs scored and two walks.
Matt McBride homered twice and had four RBIs for Albuquerque.
Josh Jackson is a contributor to MiLB.com.