Six Run Fourth Helps Rome Top Hot Rods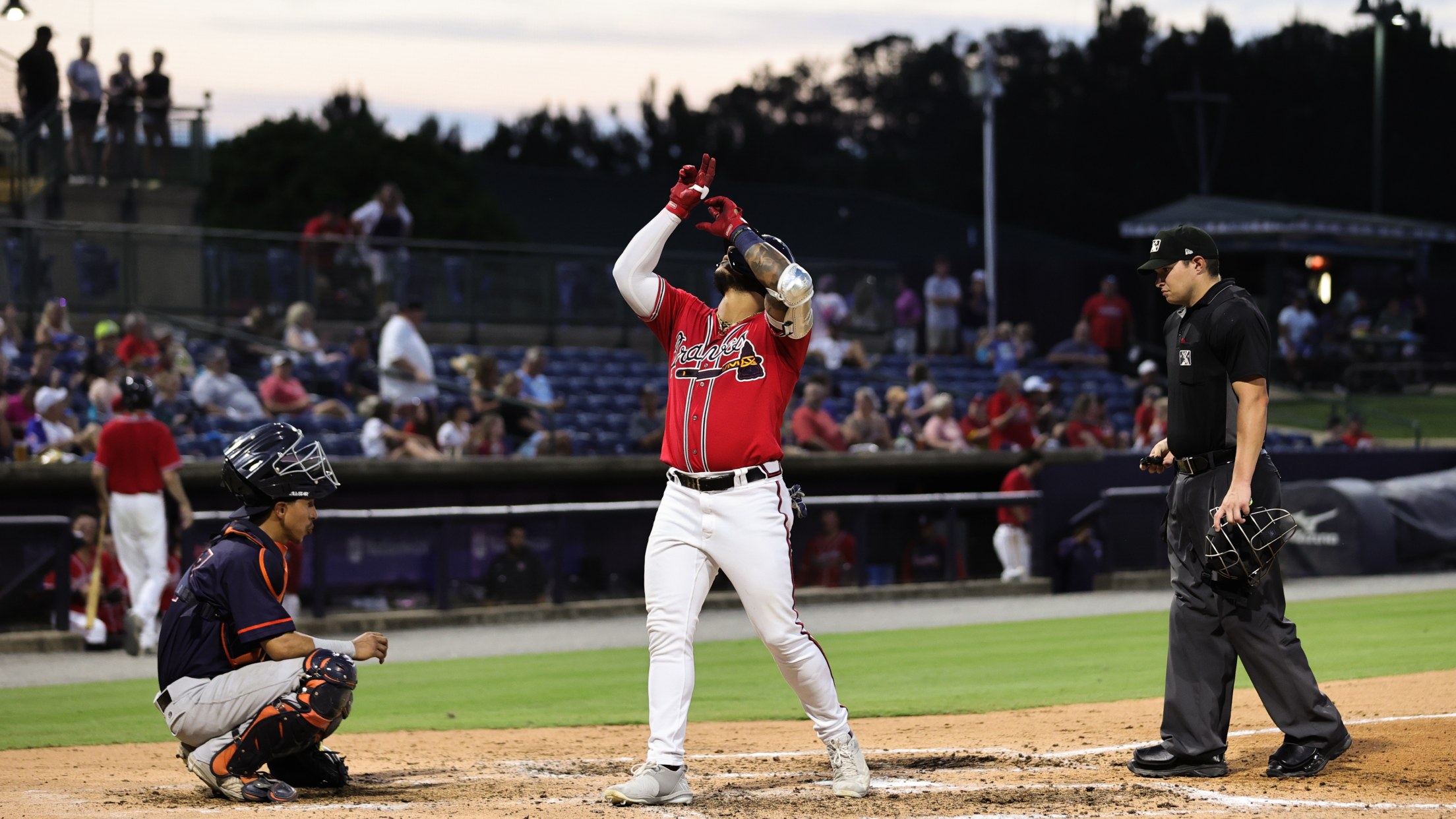 Willie Carter crosses home after homering in a 10-5 win over Bowling Green on July 15th. (Mills Fitzner)
ROME, GA - With a two and a half game lead already, the Rome Braves and Bowling Green Hot Rods met on Friday night with Roddery Munoz on the mound for the Braves. Munoz would deal and cruise despite giving up home run to Kyle Manzardo to put Bowling Green
ROME, GA - With a two and a half game lead already, the Rome Braves and Bowling Green Hot Rods met on Friday night with Roddery Munoz on the mound for the Braves.
Munoz would deal and cruise despite giving up home run to Kyle Manzardo to put Bowling Green up early. Trailing in the home half of the third, Rome's Jacob Pearson would single and drive in Beau Philip and Cade Bunnell to vault the Braves back in front two runs to one. Bryson Horne would tack on one more in the home half of the third with a singe to center that scored Jacob Pearson.
The home half of the fourth would see Rome explode for six runs on just two hits. With the bases loaded, Cade Bunnell would be hit by a pitch to plate a run. Christian Robinson would double to drive in Tyler Tolve and Beau Philip. A wild pitch would score Christian Robinson, and a Bryson Horne double would cap off the scoring to give the Braves a nine to run lead headed into the fifth.
Roddery Munoz would call it a night after going six full innings, giving up three runs on four hits while striking out eight. Ben Dum would be the first man out of the pen to relieve Munoz, and Dum would cover one and two thirds of an inning and give up two runs while striking out one. Jose Montilla would be the final man out and slam the door out of the pen. Montilla would cover one and a third of a scoreless inning, striking out two and walking none.
Willie Carter would cap off the scoring for the Braves with a first pitch pinch hit home run in the home half of the seventh, giving the Braves a ten run to five victory. Friday's win would be Rome's fiftieth of the season, and their fourteenth of the second half. Rome now sits atop the South Atlantic League's South Division with a three and a half game lead over first half champion Bowling Green.
The Braves and Hot Rods will tee it back up on Saturday night for a 6:00 PM Christmas in July special.