Six Timber Rattlers Selected to Play in 2019 Midwest League All-Star Game
Fry & Turang will start for Western Division at South Bend on June 18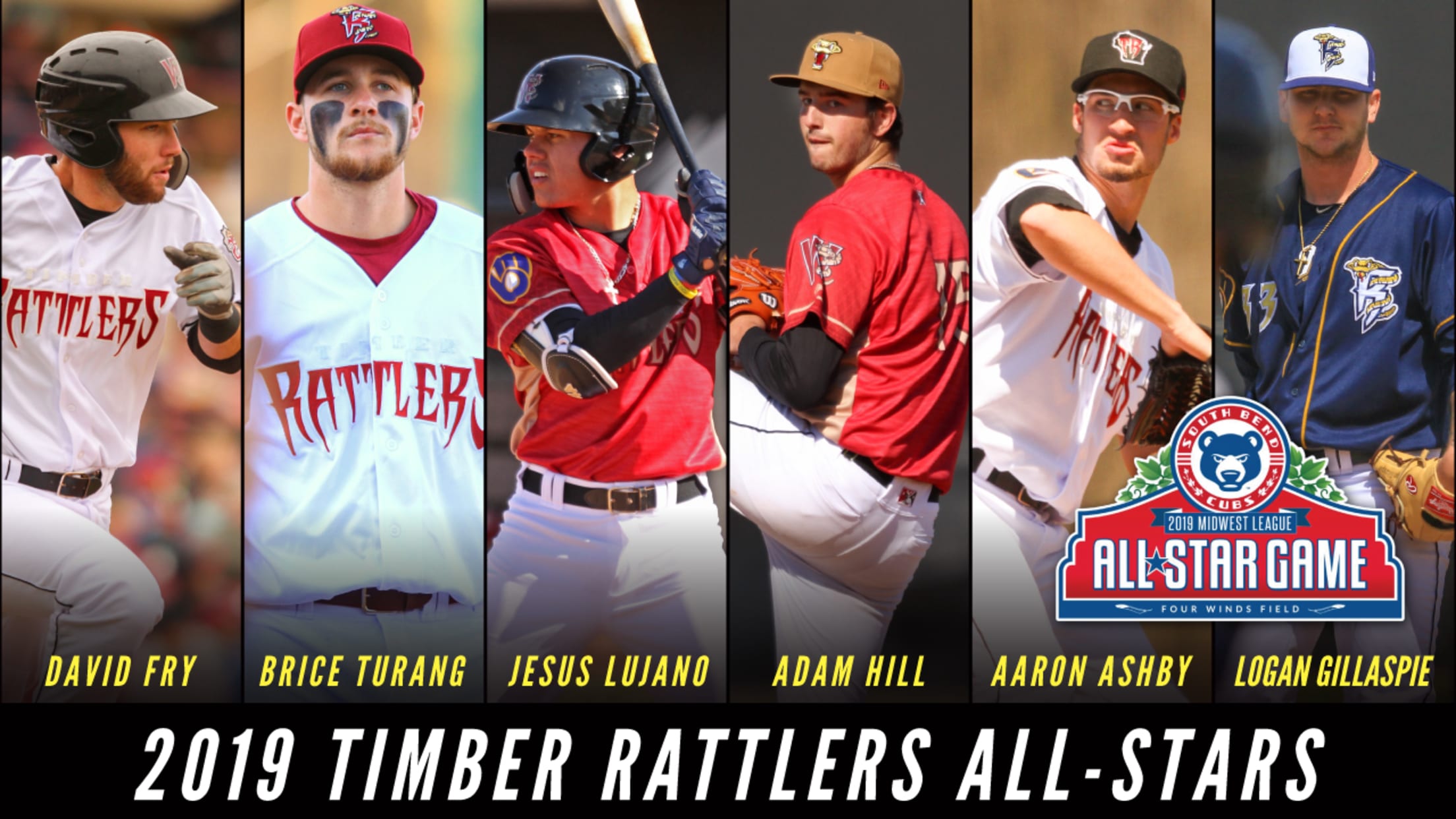 GRAND CHUTE, WI - The Wisconsin Timber Rattlers will be well-represented at the 2019 Midwest League All-Star Game at Four Winds Field in South Bend, Indiana on Tuesday, June 18. Six members of the Midwest League affiliate of the Milwaukee Brewers have been named to the Western Division squad for
GRAND CHUTE, WI - The Wisconsin Timber Rattlers will be well-represented at the 2019 Midwest League All-Star Game at Four Winds Field in South Bend, Indiana on Tuesday, June 18. Six members of the Midwest League affiliate of the Milwaukee Brewers have been named to the Western Division squad for the annual event. Brice Turang and David Fry have been named starters for the West. Jesus Lujano was elected as a reserve outfielder. Pitchers Aaron Ashby, Adam Hill, and Logan Gillaspie were also named to the team.
Turang, the #1 pick of the Brewers in the 2018 draft and their #3 prospect according to MLB Pipeline, was named the starting shortstop for the West team. Turang was first in the Midwest League in on-base percentage (.415), second in average (.322), and third in hits (64) after Tuesday's game. He has also had a pair of hitting streaks that have reached double digits with his longest reaching thirteen games.

Fry, the 7th round pick of Milwaukee in the 2018 draft, is the starting catcher for the Western Division All-Stars. Fry is hitting .288 with six homers and 37 RBI this season. He leads the league in doubles (23) and has the longest hitting streak in the league this season at 18 games.

Lujano was signed by the Brewers as an International Free Agent out of Venezuela in 2015. He will be a reserve outfielder in the All-Star Game. Lujano was hitting .281 and was 8-for-9 in stolen base attempts through action on Tuesday. He has had four games with three hits and one game with four hits this season.

Ashby, Milwaukee's 4th round pick in 2018 and their #9 prospect according to MLB Pipeline, is 3-3 with a 3.40 ERA in ten games - nine starts - for the Rattlers. He is currently third in the league in strikeouts (67). Ashby has racked up those strikeouts in 53 innings pitched.

Hill was acquired by Milwaukee from the New York Mets in a trade involving Keon Broxton in January of 2019. Hill is 5-4 with a 4.86ERA. He is tied for second in the league in wins.

Gillaspie was signed as a Minor League Free Agent off the Eastside Diamond Hoppers of the independent United Shore Professional Baseball League last summer. He is 1-2 with a 3.54 ERA with just nine walks and 45 strikeouts over 43-1/3 innings pitched for the Timber Rattlers this season.

The teams were elected by Midwest League managers from a slate of nominees provided by the managers.

You will be able to see all of Wisconsin's All-Stars in action when the team returns home to Neuroscience Group Field at Fox Cities Stadium to face the Beloit Snappers from June 7 through June 10.

Partial season, group ticket packages, and individual game tickets for the 2019 season are on sale now. Tickets are available online, over the phone at (920) 733-4152 or (800) WI-TIMBER and in person. Groups of 20 or more may order tickets over the phone or in person. The Neuroscience Group Field at Fox Cities Stadium Box Office is open from 9:00 am until 5:00 pm Monday through Friday and from 10:00am to 3:00pm on Saturdays.