Skoug drives in 2 in road loss to Suns
Kannapolis builds 4-1 lead before Hagerstown rallies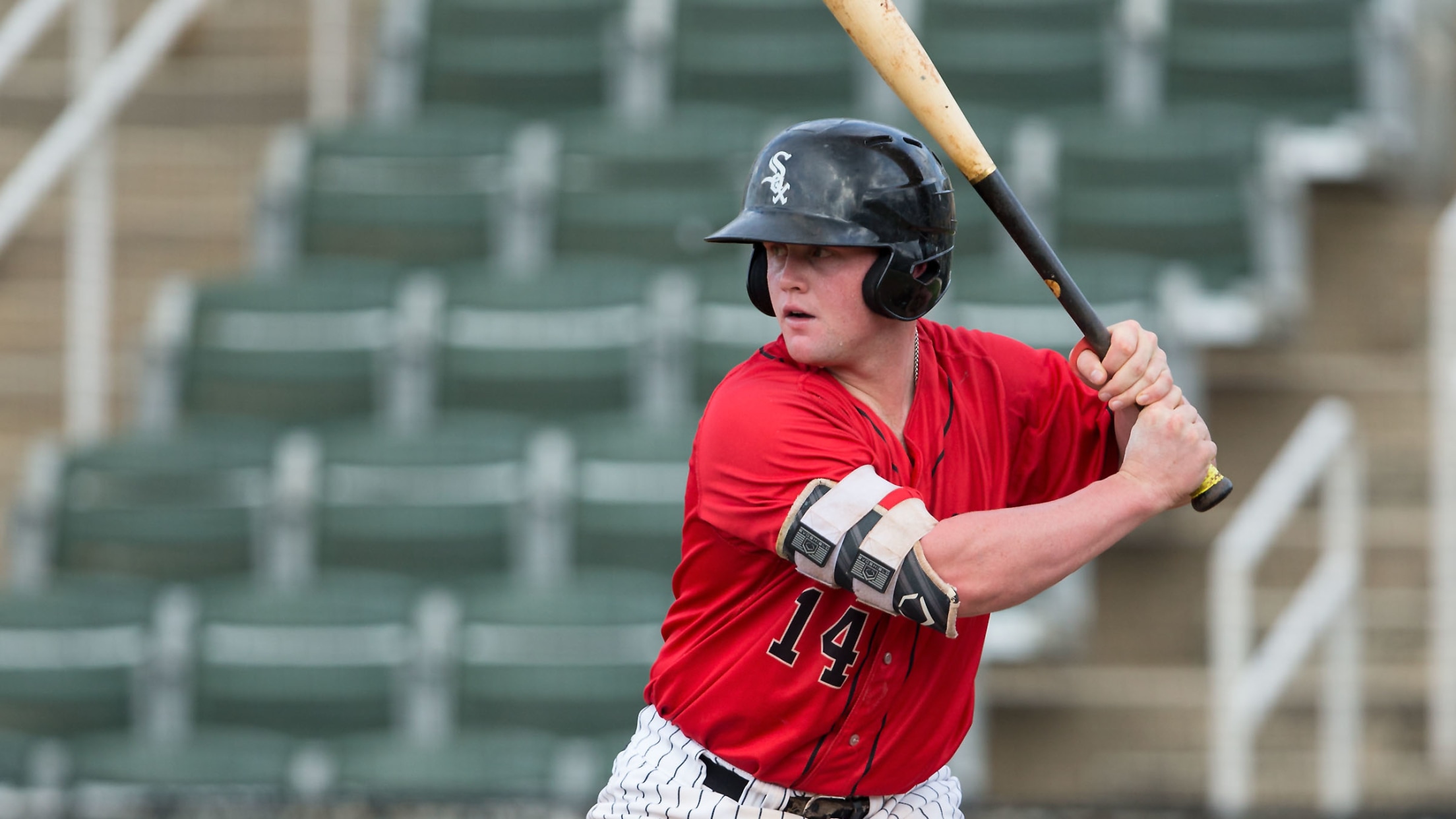 The White Sox selected Evan Skoug, a catcher out of TCU, in the seventh round of the June 2017 First-Year Player Draft. (photo by Brian Westerholt/Four Seam Images)
HAGERSTOWN, Md. (Aug. 18, 2017) - Evan Skoug drove in two runs, but the Intimidators fell short in a 5-4 loss to the Hagerstown Suns on Friday at Municipal Stadium. Kannapolis (22-32 Second Half, 61-61) plated three runs in the fourth inning to build a 4-1 lead, but Hagerstown chipped
HAGERSTOWN, Md. (Aug. 18, 2017) - Evan Skoug drove in two runs, but the Intimidators fell short in a 5-4 loss to the Hagerstown Suns on Friday at Municipal Stadium. Kannapolis (22-32 Second Half, 61-61) plated three runs in the fourth inning to build a 4-1 lead, but Hagerstown chipped away with two runs in the fourth and two more in the seventh.
A.J. Bogucki (3-2) earned the win with 2 and 1/3 scoreless innings pitched for the Suns while Jake Elliott (1-3) suffered the loss for the Intimidators, allowing two runs on three hits in 2.0 innings of work. Sam Held spun the final 1 and 1/3 for Hagerstown to earn the save (3).
Down 1-0 after the first inning, Kannapolis evened the score in the third. Alex Call drew a one-out walk, and Luis González doubled to move him over to third base. Jake Burger followed with a sacrifice fly to knot the score, 1-1. In the fourth, Mitch Roman led off with a ground-rule double, and Grant Massey singled to put men on the corners with one out. Skoug put the Intimidators ahead with a 2-run triple, scoring Roman and Massey, and the Kannapolis catcher scored on a wild pitch for a 4-1 lead.
In the home half of the fourth, Telmito Agustin hit a 2-run home run (8) to pull the Suns within a run. In the seventh, Carter Kieboom doubled in a run, his second double of the game, and Aldrem Corredor singled to cash Kieboom to put Hagerstown ahead.
Kannapolis continues this 4-game series on Saturday at 6:05 p.m. as RHP Blake Hickman takes the ball for the Intimidators against Suns' LHP Ben Braymer. The Intimidators return home for the final home stand of the regular season August 22-27, and tickets are available by calling the F&M Bank Box Office at 704-932-3267, or by visiting IntimidatorsBaseball.com.