Smokies End 10-Game Homestand With 4-3 Loss to Chattanooga
Isabel's Late Two-Run Home Run Caps Lookouts' Comeback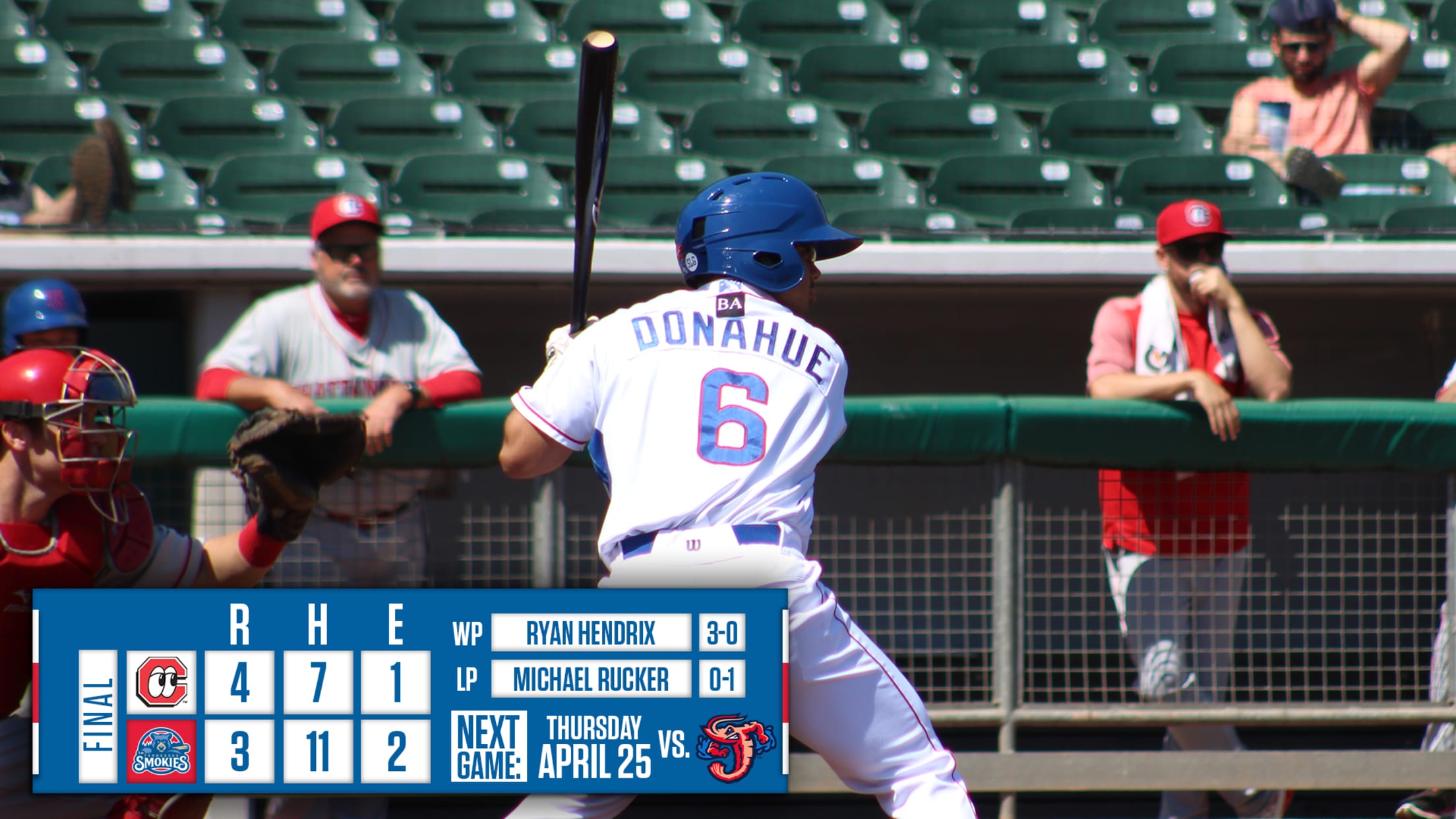 KODAK, TN - A pair of runs in the seventh and eighth innings from the Chattanooga Lookouts (7-11) produced a 4-3 win over the Tennessee Smokies (10-8) to wrap up a 3-2 series win for the Smokies at Smokies stadium on Wednesday after- noon.After a scoreless first four innings, Robel
KODAK, TN - A pair of runs in the seventh and eighth innings from the Chattanooga Lookouts (7-11) produced a 4-3 win over the Tennessee Smokies (10-8) to wrap up a 3-2 series win for the Smokies at Smokies stadium on Wednesday after- noon.
After a scoreless first four innings, Robel Garcia's three-run homer to right field got the Smokies on the board first. Chat- tanooga would cut the deficit to one in the seventh when Luis Gonzalez doubled to score two.
Ibandel Isabel's two-run homer completed the comeback in the eighth to make it a 4-3 lead for Chattanooga. The Smokies stranded ten baserunners in the loss and were 2-for-13 with runners in scoring position.
Smokies starter RHP Zach Hedges looked solid throwing for five innings allowing three hits, no runs, and striking out three. Chattanooga's right-hander Tony Santillan endured a rough 4.1 innings giving up eight hits and three runs.
Picking up the loss was RHP Michael Rucker (L, 0-1) after surrendering four runs off four hits over three innings. On the win- ning side, RHP Ryan Hendrix (W, 3-0) collected the win from two strikeouts in one inning. RHP Alex Powers (S, 3) earned his third save of the season.
The Smokies head to Jacksonville (5-14) to take on the Jumbo Shrimp with game one coming Thursday night at 7:05 PM ET. RHP Cody Poteet (1-2, 5.06 ERA) gets the ball for Jacksonville, while the Smokies hand the ball to the righty Brad Markey (0-0, 27.00 ERA).