Smokies Fall In Jacksonville 4-3
Robel Garcia's Home Run in The Ninth Not Enough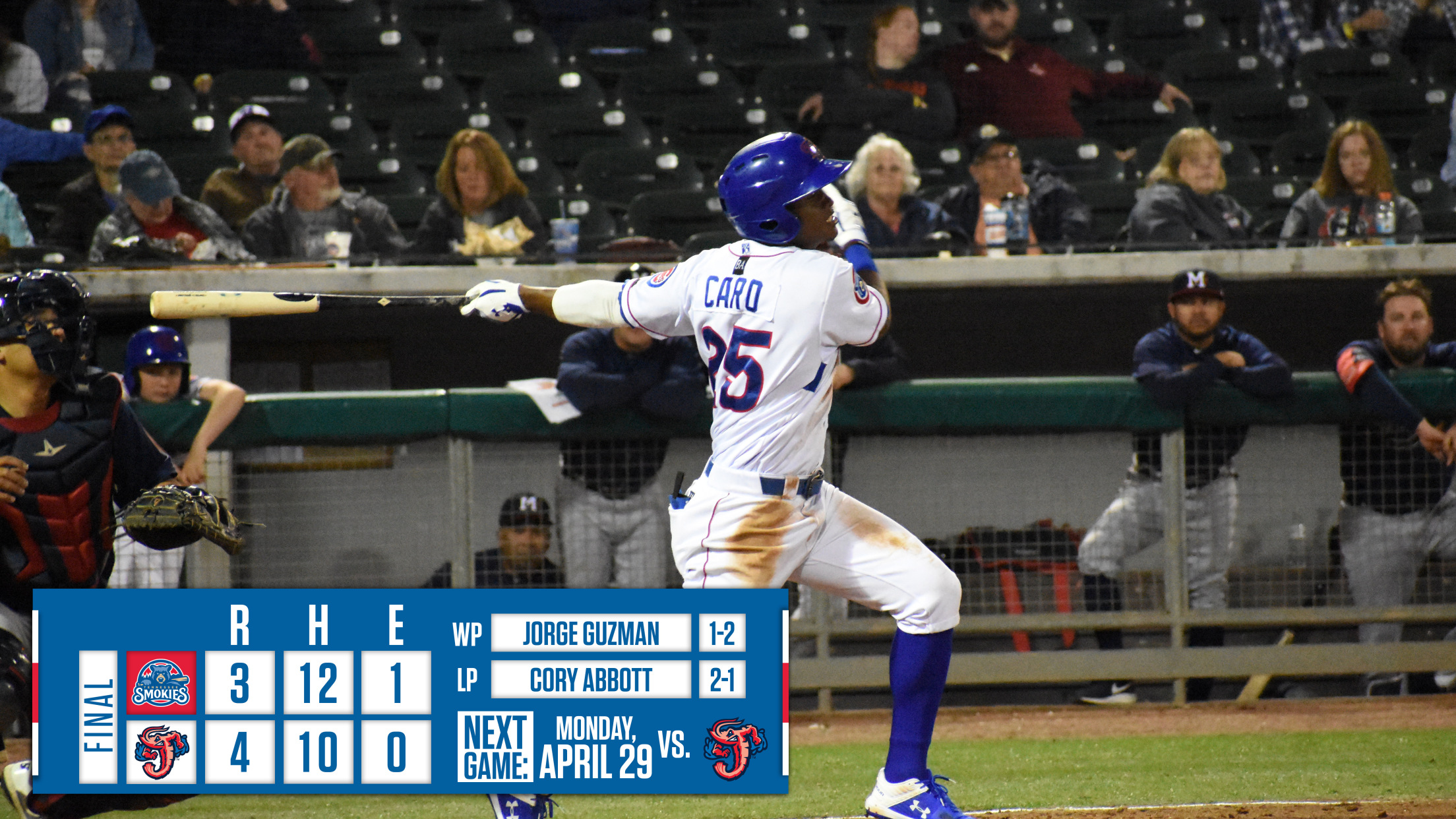 JACKSONVILLE, FL - The Tennessee Smokies (10-12) dropped their fifth straight game after losing to the Jacksonville Jumbo Shrimp (10-14) 4-3 on Sunday afternoon at the Baseball Grounds of Jacksonville. For a third straight game, Jacksonville scored early against the Smokies in the first inning, after J.C. Millan doubled to send
JACKSONVILLE, FL - The Tennessee Smokies (10-12) dropped their fifth straight game after losing to the Jacksonville Jumbo Shrimp (10-14) 4-3 on Sunday afternoon at the Baseball Grounds of Jacksonville.
For a third straight game, Jacksonville scored early against the Smokies in the first inning, after J.C. Millan doubled to send Magneuris Sierra home.
Fast-forward to the fifth inning when Jacksonville's John Silviano homered to right field off RHP Cory Abbott (L, 1-2) to add a second run. Corey Bird tripled a few batters latter to add two more runs bringing the score to 4-0. Abbott allowed his four runs over six innings while fanning five. LHP Xavier Cedeño tossed a scoreless inning in relief as part of his Major League rehab.
The Smokies plated their first run in the seventh when Christian Donahue singled to right field, bringing Jesse Hodges home and making it 4-1.
In the ninth, Robel Garcia rocketed his fifth home run of the season with a two-out, two-run bomb to left field cutting the deficit to one. Representing the tying run, Jhonny Pereda grounded to shortstop to end the game.
RHP Jorge Guzman (W, 1-2) earned his first win of the season after tossing five innings and allowing five hits, no runs, with two strikeouts. RHP Brett Graves (S,1) picked up his first save of the season.
The final game of the series is tomorrow at 12:05 PM ET in Jacksonville. On the mound for Jacksonville is RHP Jordan Yamamoto (1-2, 4.50 ERA). The Smokies have yet to announce their starting pitcher.