Smokies Hurl Combined No-Hitter in Exhibition Tune-Up
Hoerner Collects a Pair of Hits, While Pitching Staff Strikes Out 13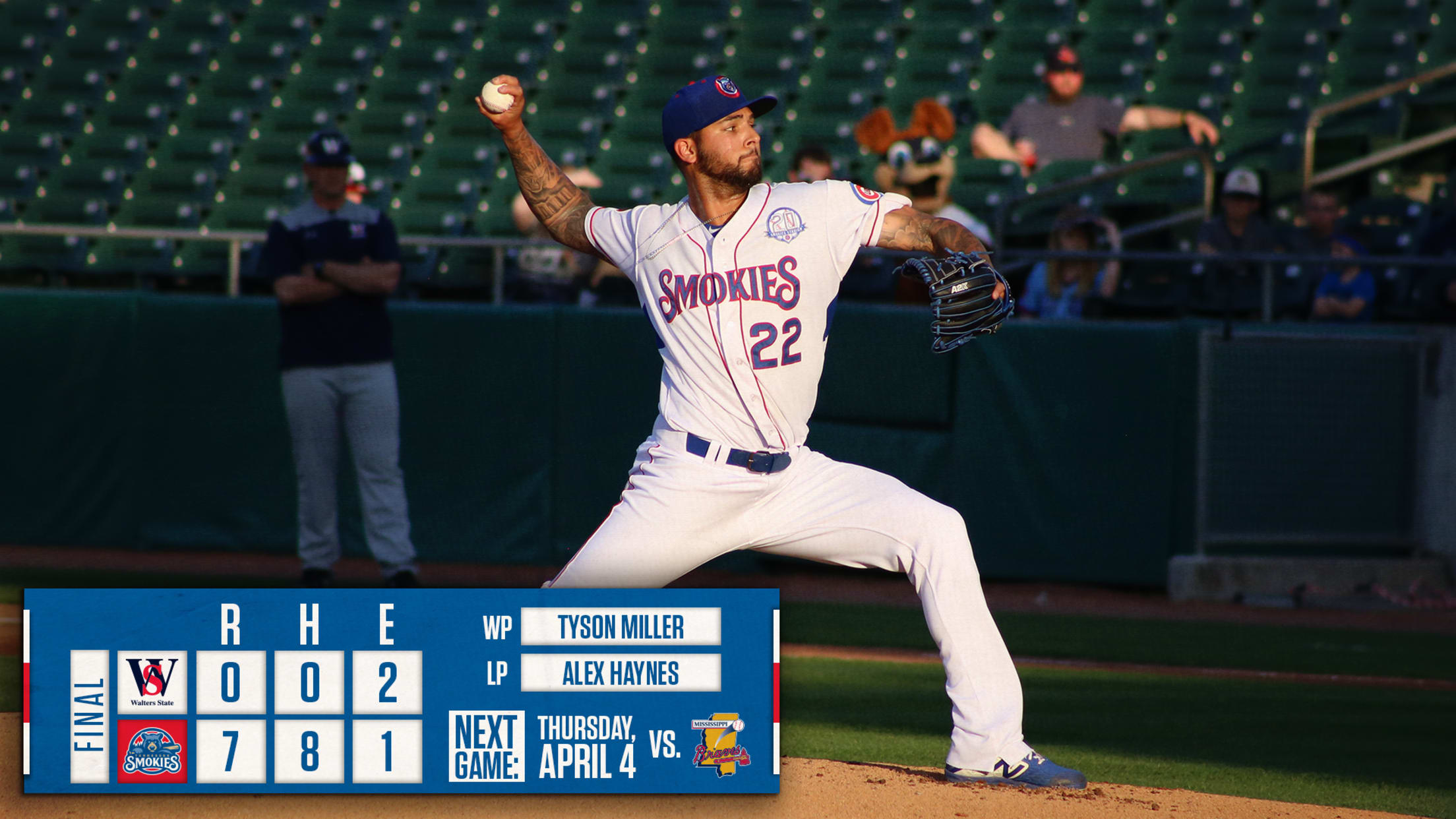 The Tennessee Smokies pitching staff fired a seven-inning no-hitter as part of a 7-0 victory over Walters State in their final tune up before Thursday's regular season opener. RHP Tyson Miller, RHP Michael Rucker, LHP Manuel Rondon and RHP Zach Hedges combined to strike out 13 batters in the shortened
The Tennessee Smokies pitching staff fired a seven-inning no-hitter as part of a 7-0 victory over Walters State in their final tune up before Thursday's regular season opener. RHP Tyson Miller, RHP Michael Rucker, LHP Manuel Rondon and RHP Zach Hedges combined to strike out 13 batters in the shortened contest. The lone baserunner for the Senators came on a Christian Donahue error in the third inning.
The offense provided run support both early and late in the win. Chicago Cubs' top prospect Nico Hoerner smacked a double to left centerfield in his first plate appearance in a Smokies' uniform. He finished the night with two hits, an RBI and a run scored. Charcer Burks led the charge with three hits on the night to go along with two stolen bases, while Jared Young walked three times.
The Smokies start the 2019 season Thursday night at 7 PM ET as they begin a five-game series at home against the Mississippi Braves. RHP Thomas Hatch gets the ball for the Smokies on opening night, while RHP Ian Anderson deals for the M-Braves.
All games can be heard on the new Smokies Radio Network, Talk Radio 92.3 FM / AM 760 as well as TuneIn Radio and the MiLB First Pitch app. MiLB.TV subscribers can enjoy the Smokies' brand new high definition video feed. The full season schedule and season ticket information can be found online at smokiesbaseball.com, or by calling the Smokies Ticket Office at 865-286-2300.