Smokies Lock Down 7-6 Finale Win in Extras in Biloxi
Charcer Burks' 4 RBIs Delivers for the Smokies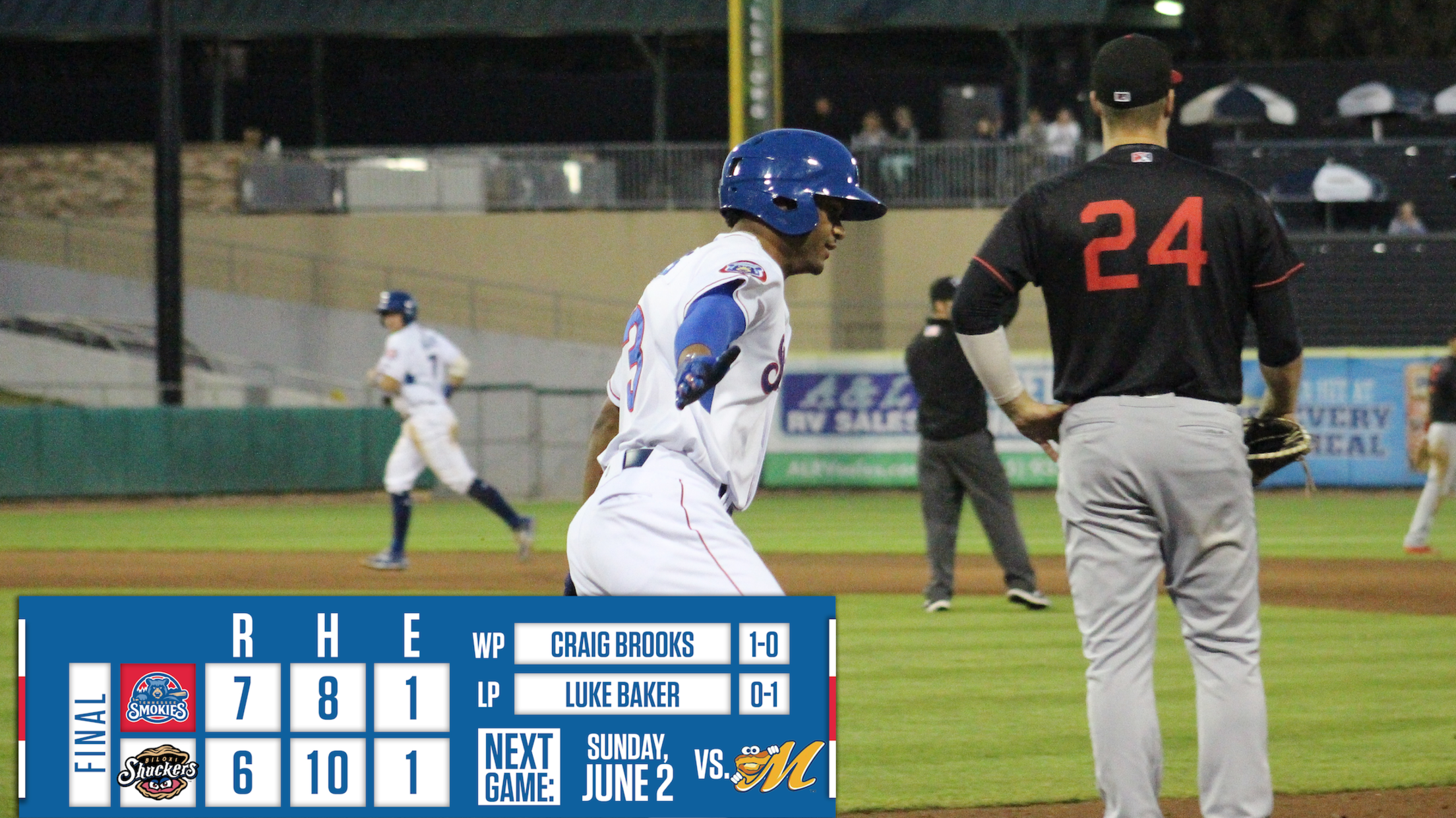 BILOXI, MS - Despite an early five-run lead slipping away, the Tennessee Smokies (27-27) hung on to win 7-6 in Biloxi over the Shuckers (31-24) to finish the series on Saturday night. The Smokies jumped out to a commanding 5-1 lead early. Biloxi struck first with a Dillon Thomas RBI-single scoring Trent
BILOXI, MS - Despite an early five-run lead slipping away, the Tennessee Smokies (27-27) hung on to win 7-6 in Biloxi over the Shuckers (31-24) to finish the series on Saturday night.
The Smokies jumped out to a commanding 5-1 lead early. Biloxi struck first with a Dillon Thomas RBI-single scoring Trent Grisham in the first inning. Then in the second, Charcer Burks homered to left field, plating three runs. Vimael Machin doubled later to add another two runs, giving the Smokies a 5-1 lead.
Biloxi mounted their comeback in the fourth inning. Cooper Hummel got things started with a triple scoring C.J. Hinojosa. An inning later, Grisham grabbed his second run of the game when he hit a solo home run cutting the deficit to 6-3. Bruce Caldwell doubled to score Thomas adding another Shuckers run.
Smokies RHP Cory Abbott concluded his start after five innings, allowing eight hits and three earned runs while striking out seven batters.
In the sixth, a sacrifice fly from Patrick Leonard made it a one run game, and the tying run came home off the bat of Dillon Thomas who singled to score Hummel.
Three straight scoreless innings from RHP Wyatt Short and RHP Craig Brooks (W, 1-0) preserved the tie and pushed the contest into extra innings.
In the top of the tenth, Roberto Caro reached and scored as the bonus runner on a fielders choice from Jared Young off RHP Luke Baker (L, 0-1) to regain the lead.
Brooks worked out of a bases loaded two-out jam in the bottom of the tenth to earn his first win of the season.
Heading to Montgomery, the Smokies continue their ten-game road series with five games against the Biscuits. RHP Oscar De La Cruz (2-2, 3.62 ERA) gets the start against Montgomery's RHP Riley O'Brien (1-3, 5.55). First pitch is at 6:05 EDT from Riverwalk Stadium.