Smokies Win 5-1 in Series Opener Over Birmingham
Tyson Miller Impresses Again in Smokies Win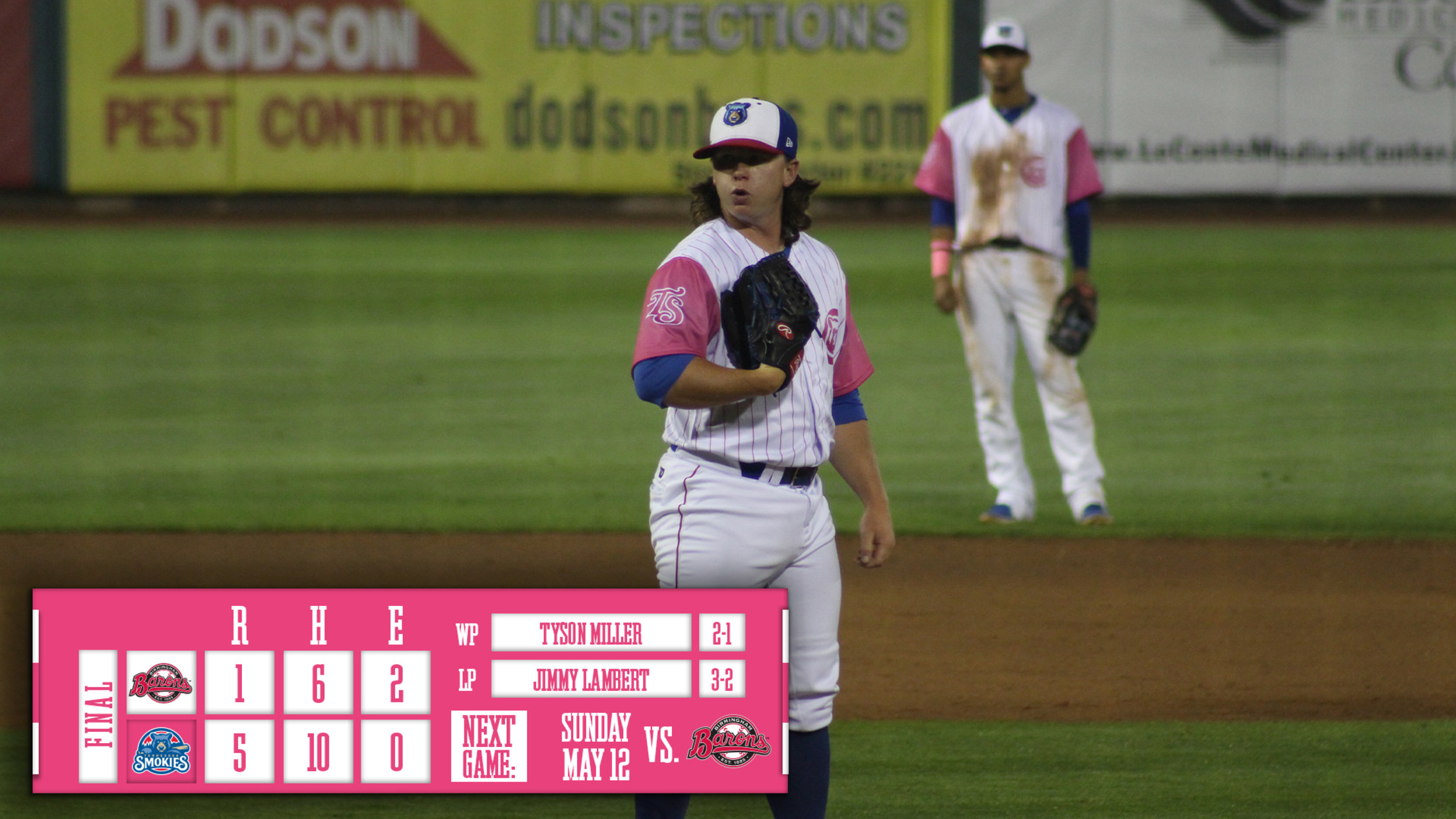 KODAK, TN - RHP Tyson Miller (W, 2-1) stole the show once again in the Tennessee Smokies (17-18) 5-1 win over their fellow Chicago Major League Affiliate, the Birmingham Barons (13-22) at Smokies Stadium on Saturday night. Miller added another strong performance to his stats. He tied a career high
KODAK, TN - RHP Tyson Miller (W, 2-1) stole the show once again in the Tennessee Smokies (17-18) 5-1 win over their fellow Chicago Major League Affiliate, the Birmingham Barons (13-22) at Smokies Stadium on Saturday night. Miller added another strong performance to his stats. He tied a career high by pitching seven innings and gave up a lone run while striking out three. It is his third straight start of 6+ innings.
Tennessee scored first and never looked back. Christian Donahue hit a sacrifice fly to send Jhonny Pereda home and put the Smokies on the scoreboard in the second. An inning later P.J. Higgins tacked on the second run after he singled which scored Charcer Burks.
Birmingham would respond in the fourth inning with a Gavin Sheets solo home run bringing the Barons to within one run.
Smokies insurance runs were added in the fourth off a Connor Myers RBI triple and Jhonny Pereda's sacrifice fly in the fifth inning. A wild pitch in the bottom of the eighth scored Luis Vazquez to finish the scoring at 5-1. Two scoreless innings from reliever RHP Wyatt Short (S, 2) earned him the six-out save.
RHP Jimmy Lambert (L, 3-2) took the loss for the Barons after allowing eight hits and four runs in five innings.
LHP Justin Steele (0-2, 10.97 ERA) trots out to the mound for the Smokies on Sunday while Birmingham turns things over to LHP Kyle Kubat (1-0, 0.00 ERA) for his third start to the season. First pitch is set for 2:00 pm ET.