Snyder, Chiefs fall in short in opener to Clippers
Raburn hits first Chiefs homer in loss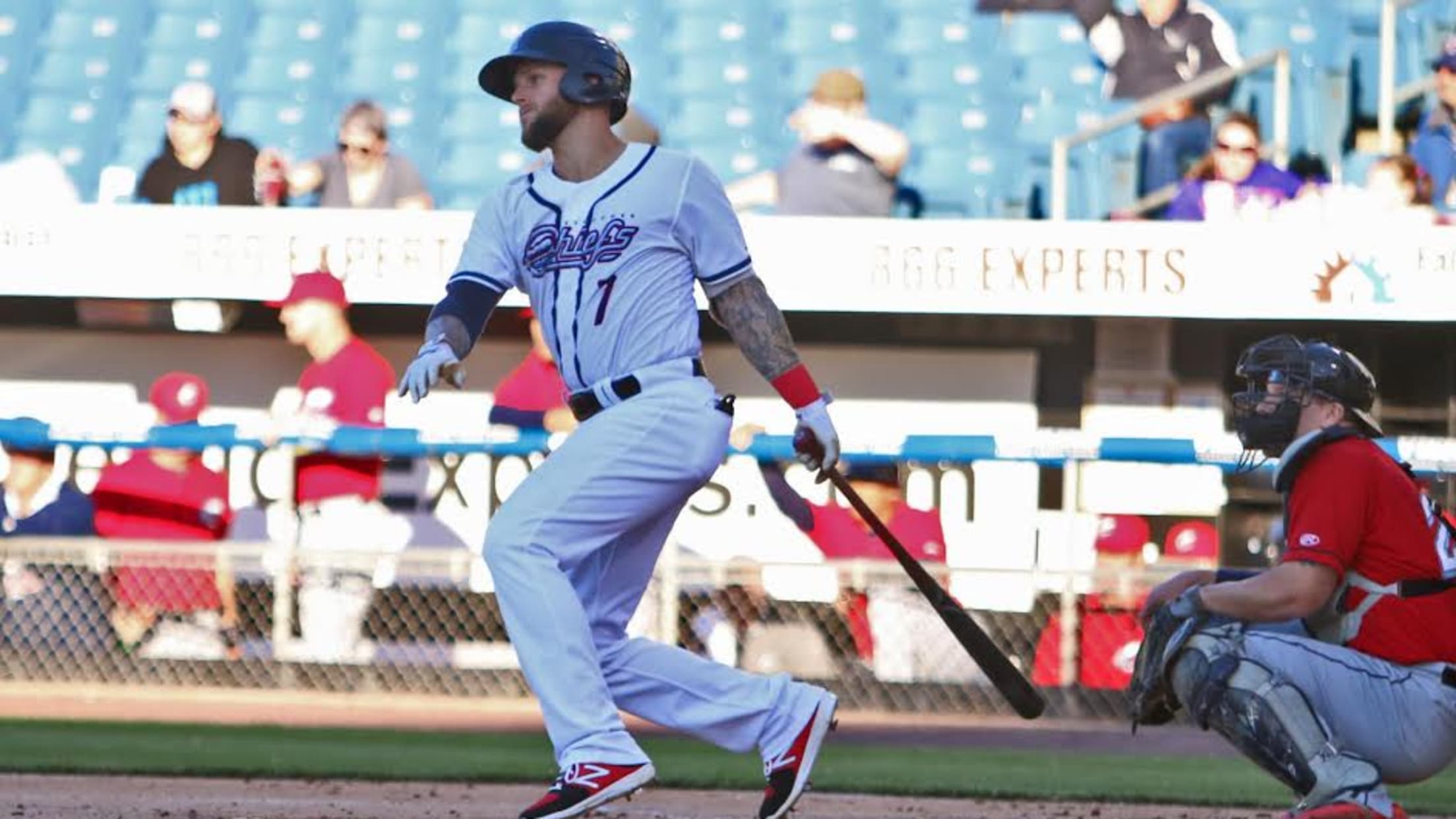 Brandon Snyder hit his team-high tenth home run on Friday night (Danny Tripodi)
The Syracuse Chiefs fell to the Columbus Clippers, 11-5, on Friday night at NBT Bank Stadium. Brandon Snyder became the Chiefs' home-run leader this year with a three-run shot in the third inning.Columbus (25-29) opened the scoring in the top of the first inning. Yandy Diaz singled off Kyle McGowin's
The Syracuse Chiefs fell to the Columbus Clippers, 11-5, on Friday night at NBT Bank Stadium. Brandon Snyder became the Chiefs' home-run leader this year with a three-run shot in the third inning.
Columbus (25-29) opened the scoring in the top of the first inning. Yandy Diaz singled off Kyle McGowin's first pitch. After Josh Wilson and Chris Colabello walked, Richie Shaffer grounded into a double play but Diaz scored on the play.
Syracuse (17-33) tied it up in the bottom of the first. With two outs, Ryan Raburn homered off Adam Plutko for his first time as a Chief to right.
The Clippers responded with a five-run third inning. Todd Hankins led off the inning with a double on a ground ball down the third-base line. Diaz walked. Wilson reached on a sacrifice bunt plus a throwing error by McGowin which loaded the bases. Colabello singled to right, scoring Hankins. Shaffer cleared the bases with a grand slam to left, his tenth homer of the year.
Syracuse narrowed the lead in the bottom of the third thanks to the bat of Snyder. Grant Green first reached on a throwing error by third baseman Diaz. Caleb Ramsey walked. And two batters later, Snyder crushed a shot to right-center to put the Chiefs within two. The home run was his team-leading tenth of the year.
In the top of the sixth, Adam Moore singled on a ground ball to right. After back-to-back wild pitches, Nellie Rodriguez walked. Jeremy Lucas then singled to left, scoring Moore. Cody Satterwhite came in immediately after the Lucas single. Diaz was hit by Satterwhite's pitch. Rodriguez scored the play later on a sacrifice fly hit by Wilson. Colabello then doubled on a fly ball to center, scoring both Lucas and Diaz.
The Chiefs stole a run back in the bottom half of the sixth. Joey Butler walked with one out. One batter later, Irving Falu doubled to center, plating Butler.
In the top of the seventh, Wander Suero made his debut out of the bullpen with the Chiefs. Mike Papi walked to lead off the inning. After a strikeout, Nellie Rodriguez smashed a ground ball down the third-base line for a double. Papi scored on the play.
The Chiefs return to action Saturday night at 7:05 against the Clippers. Sean O'Sullivan will make his first Syracuse start while Shawn Morimando pitches for Columbus.